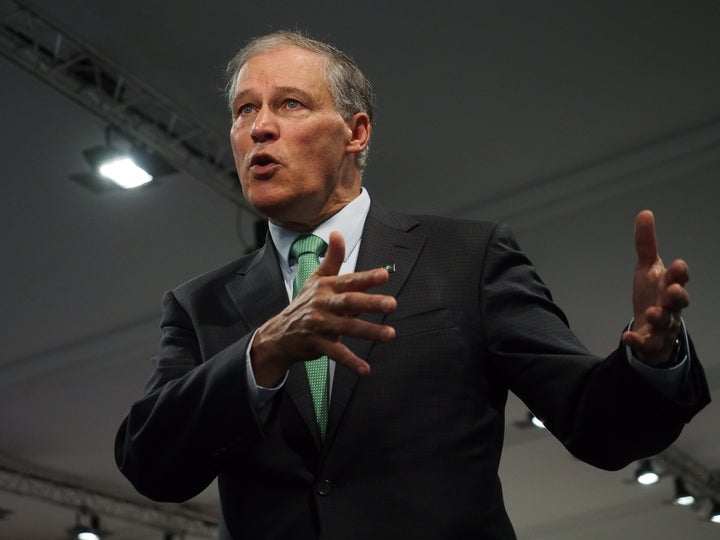 Washington Gov. Jay Inslee (D) and Washington Secretary of State Kim Wyman (R) announced Tuesday that the state would pay the postage for all ballots in the 2018 general and primary elections.
Officials said they hope that paying the postage will eliminate a barrier and make it easier for people to vote. Washington, Oregon and Colorado are the only three states that conduct all their elections by mail, but Washington will be the first state to pay for postage among them.
The state will contribute a combined $1.2 million to cover election postage, but only for contests this year, Wyman and Inslee said. The governor added that he and Wyman plan to lobby the legislature so the state can pay for the postage permanently.
"More voter participation makes for a stronger democracy. Because Washington is a vote-by-mail state, pre-paid postage is one important way we can reduce barriers to casting ballots," Inslee said in a statement.
Finding a stamp and placing [the ballot] in the mailbox could be a barrier to someone participating in the process ... Not many people have a book of stamps in the drawer like they used to.

Erich Ebel, spokesman for Washington Secretary of State Kim Wyman
The push for funding came after King County, home of Seattle and the state's most populous county, approved $381,000 in funds to pay for the postage on its residents' ballots. Wyman requested additional funding to make sure it would be just as easy to vote in other parts of the state.
The move was particularly important this year because there are elections in districts that contain King as well as neighboring counties, and it would be unfair if some voters had to pay to vote for a candidate while others did not, Wyman spokesman Erich Ebel told HuffPost.
"This is about leveling the playing field and making elections equal for all citizens of Washington State," Wyman said in a statement.
"Somebody finding a 49 cent stamp and placing [the ballot] in the mailbox could be a barrier to someone participating in the process," Ebel explained. "Not everybody has a 49 cent stamp. The data that has been uncovered in those few test examples has shown that millennials and people who are of a younger generation, they do most of their communication via email and texting and phone calls. Not many people have a book of stamps in the drawer like they used to."
(Perhaps strengthening his own argument, Ebel later acknowledged he didn't realize the price of a stamp had in fact gone up to 50 cents.)
It can be hard to pin voter turnout on a single factor, but King County tested prepaid postage in two 2017 special elections and saw a correlation with higher turnout.
Charles Stewart, an MIT professor who is founding director of the MIT Election Data + Science lab, cautioned that there needs to be more research to understand the effect of a state paying postage on ballots.
"In the end, whether paying for return postage increases the number of votes cast in an election is an empirical question," Stewart said in an email. "I would prefer for us to answer these questions empirically, before just jumping in to pay the cost."
Stewart also said he wasn't a big fan of returning ballots through the mail because people lose track of who handles their ballot once they put it in the mailbox. Washington has already invested in drop boxes where people can deliver their ballots without a stamp, and Stewart said he would like to see the state create more of those.
The state enacted a series of reforms designed to get more people voting earlier this year. The measures included pre-registering 16- and 17-year-olds to vote and allowing same-day voter registration.
Calling all HuffPost superfans!
Sign up for membership to become a founding member and help shape HuffPost's next chapter
BEFORE YOU GO
PHOTO GALLERY
U.S. State Capitol Buildings