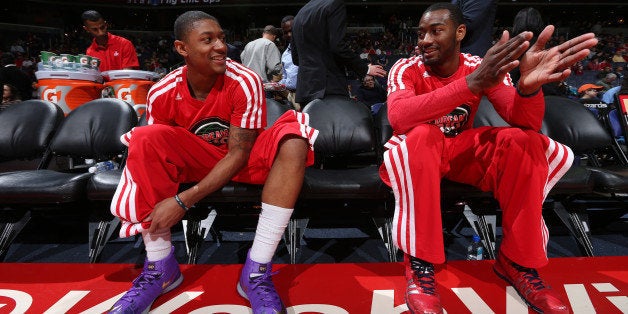 Before the Washington Wizards captured Game 5 in Chicago on Tuesday to close out their first-round playoff victory, the Wizards hadn't won a postseason series in nine years. And it was just their third playoff series win since their last appearance in the NBA Finals … in 1979. A lottery spot during the NBA Draft was something of an annual tradition for the Wizards.
But now, thanks to a wonderfully talented young backcourt, the team finds itself an upstart in the not-so-scary-after-all Eastern Conference. John Wall, the No. 1 pick in the 2010 draft, and Bradley Beal, drafted third overall in 2013, have both taken the next steps in their young careers.
For Wall, the question has never been about his natural gifts -- they are limitless -- but rather his winning demeanor and how much he cared. The role of a point guard is to be an extension of his head coach. For much of his career, Wall flashed greatness but overshadowed it too often with turnover-riddled play and errant shot selection. He also couldn't extend the defense, because he couldn't shoot. All of that started to change during the second half of last season, but his improvement this season has been even more impressive. The 23-year-old averaged career-bests in points (19.3), assists (8.8) and perhaps most impressively, three-point percentage, up from 27 to 35 percent. In the series against Chicago, he played excellent one-on-one defense against D.J. Augustin, who shot 11-50 with the exception of a breakout Game 2. Offensively, Wall proved even better. The first-time All-Star, while inconsistent shooting the basketball, led the team to four wins by cutting down his turnover rate and greatly increasing his assist-to-turnover ratio; the true mark of a growing floor general.
"I think me just playing with people that wanna win and know the game being with me helped my IQ," Wall recently told ESPN.com's Scoop Jackson. "It's changed a whole lot. How I'm reading and seeing the game now. … I've changed a whole lot, man. I've grown a lot, matured."
For all his growth however, Wall desperately needed to be flanked in the backcourt by another robust talent. And Beal, not surprisingly, has been just that. Throughout the draft process, the silky shooting 6-foot-5 guard was often compared to Ray Allen. Such lofty expectations are challenging to meet, but Beal has done his best to show why they were set so high. Only 20 years old, the guard out of Florida has displayed a sterling scoring ability (his 17 points per game rank second only to Wall), and dynamic playmaking in the open floor. Better yet, as a knockdown shooter who converts over 40 percent from distance (tied for 20th best in the league), Beal has become an ideal floor-spacer for the naturally attacking Wall. According to Synergy Sports Technology, he's also improved his efficiency in the half-court from his rookie year.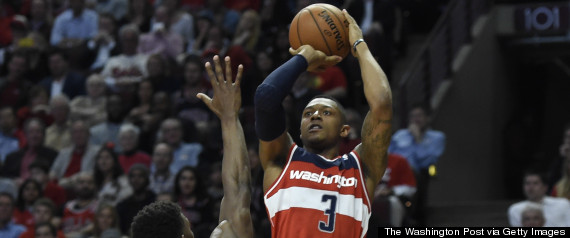 In Game 2 against Chicago, Beal became just the 10th player age 20 or younger to score at least 25 points in a playoff game, joining names like Magic Johnson (twice), Carmelo Anthony (twice) and Kobe Bryant.
"This year, he's more mature already," Wizards head coach Randy Wittman told The Washington Post. "I think he's added to his game and he can do more off the dribble, get to the free throw line. He's just not a spot up three-point shooter. … I think those are the strides that we've seen, as well as we've talked about John's first couple of years in the league and what he's done. If those guys stay committed in continuing to improve their games as they move forward, we've got a lot to be excited about."
Both Wall and Beal are improving defenders and excellent athletes who possess different skill sets that play off of one another very well. Look around the league and you will find a cadre of young guys in the backcourt with unbridled potential. And yet, none -- not even Golden State's duo of Stephen Curry and Klay Thompson -- appear to have the same cohesion and potential as the pair in Washington. Wall will continually need to fight the image that he's more pizazz than substance, and Beal must further his driving ability in the half-court, but for the first time in a long time (sorry Gilbert), the future of pro basketball seems awfully bright in D.C.
Email me at jordan.schultz@huffingtonpost.com or ask me questions about anything sports-related at @Schultz_Report and follow me on Instagram @Schultz_Report. Also, be sure and catch my NBC Sports Radio show, Kup and Schultz, which airs Sunday mornings from 9-12 ET, right here.
REAL LIFE. REAL NEWS. REAL VOICES.
Help us tell more of the stories that matter from voices that too often remain unheard.