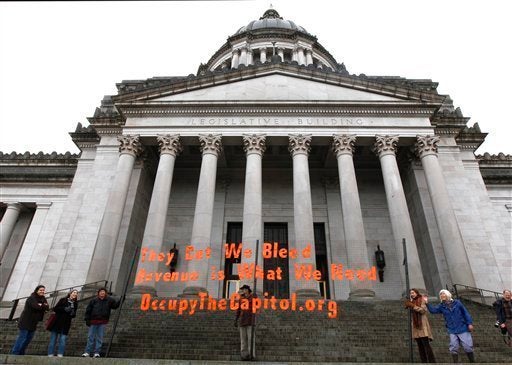 With their camp of more than 100 tents in jeopardy of being evicted from its current site, Occupy Seattle has endorsed a proposal to send folks to the state capitol where organizations from all over Washington will converge to fight state budget cuts on Nov. 28. Although Seattle Central Community College president Paul Kilpatrick has asked them to leave the campus, Occupy Seattle is not discouraged. In spite of this major challenge to their movement, they are still encouraging participants to go to Olympia for the demonstrations.

Planned are music in the park, parades in the streets and protests at the state capitol building in Olympia. Labor unions, Occupy Wall Street groups, community organizations, teachers, nurses and firemen will join forces to challenge the state legislature. Occupy Olympia has already set up their encampment on the state capitol campus and they will be joined by occupy groups from communities statewide.

A special session of the legislature has been called for by Governor Christine Gregoire in order to deal with a multi-billion dollar budget shortfall. Budgets for social services, education, healthcare, transportation, and public safety are all on the chopping block. Already, thousands of disabled and drug addicted residents of Washington State have lost their monthly income because the GAU(General Assistance for the Unemployable) program was cut at the beginning of November. The result has been an increase in homelessness and crime in some urban communities.

Starting November 28 more drastic cuts will be made in Olympia, affecting millions of people throughout the state. Some labor unions (including the SEIU), and many economic justice groups claim that most of the state's debt could be wiped out through tax reforms. They claim that large corporations and the wealthiest residents of Washington are not paying their fair share.

In April of this year thousands of union members and social welfare activists demonstrated at the state capitol building in solidarity with the protesters in Wisconsin. Fifteen labor union members were arrested when they tried to protest inside Governor Gregoire's office.

A group of about 100 citizens, calling themselves "Occupy Washington" decided to stage a sleep-in inside the state capitol dome. They brought sleeping bags and camping gear and refused to leave. Mothers with children, disabled and elderly folks and union organizers all slept inside the building for five nights until Governor Gregoire ordered them to be physically removed from the building by State Patrol officers and the Olympia police.
But despite this temporary setback, local organizations like POWER! and the Fair Budget Coalition have continued their political fight to secure public funding for state health and welfare programs.

During this current special legislative session beginning Nov. 28, a second series of demonstrations will begin. Disappointed that April's protests failed to stop the budget cuts, groups from all around the state will be gathering in Olympia to try it again. Folks from Spokane to Port Townsend will be traveling to the state capitol to tell their legislature to find new revenue and continue state funding for vital social service programs.

Legislators say they are still not interested in introducing tax reform measures during this session. They are under intense pressure from the governor to cut the budget and save the state's financial rating. State Senators and Representatives claim there is no time to consider demands from many of the folks from the occupy movement and from the unions. What these groups want is the elimination of corporate and high income tax loopholes. By some estimates, the state loses up to eight billion dollars in potential tax revenue each year due to tax breaks for large businesses like Boeing and Microsoft, and for the wealthiest residents of the state.

As a result of this intransigence by their elected representatives, unions and community groups are becoming increasingly frustrated and angry. More confrontations with law enforcement officials and another mass attempt to occupy the capitol building are both possible. The demonstrators' intent is to be peaceful. Whether police and security guards also remain non-violent remains to be seen.

Regardless of what happens Monday, the protests will continue. Another day of mass convergence on the state capitol is planned for December 3.
Mark Taylor-Canfield is a musician, activist and citizen journalist based in Seattle. If you would like to contribute as a citizen journalist to The Huffington Post's coverage of American political life, please sign up at www.offthebus.org.

Popular in the Community