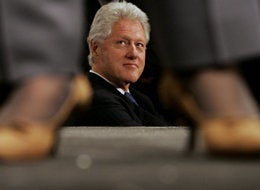 I was desperately trying to pack a bag, at 6AM, in my pajamas, while looking for a half drunk bottle of milk for my two-year-old lost somewhere in our bed. I froze. I was going to the premiere of a TV show I created in LA and I had nothing to wear. I needed an outfit, my roots done and a different body with spray tan pronto! But I live in D.C. and D.C.'s style is best personified in a peach Ann Taylor suit, unfitted Eileen Fischer jacket, an anemic hosiery shade and Merrill walking shoes.
You see, this is a city where Watergate was broken, wars have been declared, wire-tapping is rampant, and the biggest crime of all? No fashion sense. We're situated right between New York and Miami, yet somehow Christian Louboutin jeweled heels and Narciso Rodriguez fitted skirts aren't dropped from the sky like food rations. I shouldn't complain, we just got a Barney's CO-OP, not a Barney's, the CO-OP (granted, it's right across the street from Chico's which gets more traffic), but it's a step, a Birken-step in the right direction.
Washington hasn't always been a sea of Talbot's hand-me-downs and faux pearl studs. Jackie Kennedy injected much needed sparkle to the White House as well as the nation's sense of dress. She was probably the only First Lady whose fashion was mimicked in mini jackets and pill hats. Can't recall a single woman owning the Barbara Bush polyester powder blue mid-calf suit. We'll see if Michelle Obama or Cindy McCain will change a city devoid of vogue. Even that would have to filter through the halls of congress and the Hill and I'm not sure those gals are ready to turn in their Brooks Brothers shirts for one made by a gay Japanese designer they can't pronounce.
When I lived in L.A. a few years ago, the style was more of a Jennifer Aniston cargo pants (granted, $600 ones), fitted tank and Balenciaga bag. You're rich, but as an artist you choose to do yoga and surf over going to your production company or meeting with your financial advisors. Then there was a shift to the Britney look--here is my belly button (and all the goods)-- just before I left. I went to a few parties where Kleenex and scotch tape was the designer du jour. But somehow in L.A. you can put a net over a bikini with some gold stilettos and it's considered dinner party attire. Even if Larry Flynt became president, I don't see this trend winding its way up the Potomac. Even the hookers and mistresses in D.C. don't dress that provocatively. Remember Gennifer Flowers? Yes, they all dress like stewardesses.
Back to my dilemma (the wardrobe, I found the bottle of milk, thanks). I have two looks in D.C.: disheveled Mom trying desperately to hold onto her youth and well-informed wife-of at the Kuwait Embassy reception. So basically, it's Juicy sweatpants and black taffeta. Neither of which will do working the red carpet. Enter the precocious, Hannah Montana-loving, iPod-obsessed five-year-old who dresses like she resides in Malibu. "Is that what you're going to wear?" she asked as I held up a shredded Dolce & Gabanna dress from an outlet that I still hadn't figured out how to wear. She didn't miss a beat and took to my closet with an extreme sense of mission. I recoiled. Ten minutes later an outfit was placed on the floor. A fuschia dress, fishnet stockings, diamond heels (that make me walk like a newborn colt), and diamond hoop earrings. Granted, I had seen a similar look on her Barbie, but who's competing?
I wore that exact ensemble in L.A. and was repeatedly asked who my stylist was. With the tilt of an eyebrow I said, "She's amazing and she's in D.C.!" Yes, I'm trying to change my city's image with baby steps. Baby Manolo steps.