As we approach the fifth anniversary of the first two states to legalize marijuana – Washington and Colorado – it's instructive for other states to learn from their example.
From that presentation are charts that contradict the predictions of failure from opponents of Initiative 502, the ballot question in 2012 that legalized marijuana in Washington.
In Part I, I broke down the biggest fears offered about the effect of marijuana legalization on children's use. In this Part II, I'll give you the a look at how legalization has affected children who do use marijuana. In Part III, I'll show you what effect marijuana legalization had on traffic safety. Finally, in Part IV, I'll show you how much marijuana tax revenue the state of Washington has earned.
Legalization Did Increase the Honest Reporting of Marijuana Overdoses
One fear promulgated by opponents of legalization was that children would accidentally ingest confections infused with cannabis and be sickened. Frightening reports of cannabis-infused gummy bears and other candies being introduced into unsuspecting kids' Halloween treats have been circulating since medical marijuana began in the 1990s.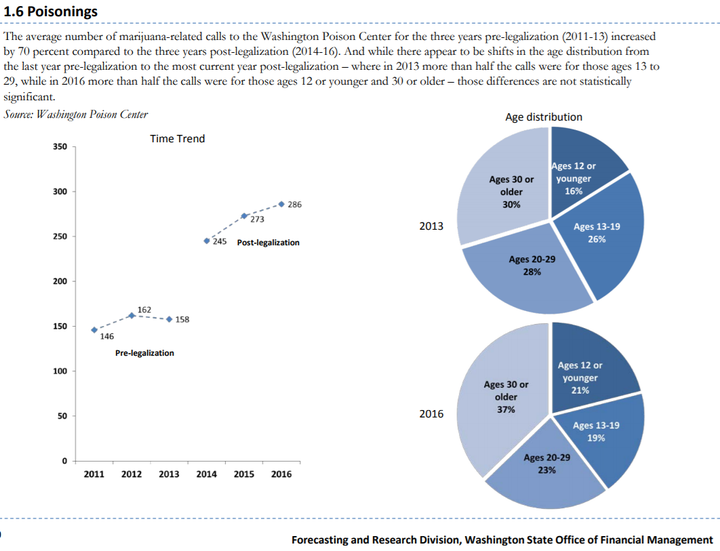 This one area where the predictions do seem to have come true. The data show an average 70 percent increase in poison control calls involving marijuana in the three years following legalization than the three years preceding it.
However, an important confounding circumstance should be considered when evaluating this data: prior to 2012, mentioning to the Washington Poison Center that you or your child had accidentally ingested marijuana was tantamount to self-incrimination for the crime of marijuana possession and, in the case of the kids, child endangerment.
We can't know how many poison calls before 2012 for accidental marijuana ingestion were logged as "food poisoning" or "unknown" as parents lied about the reason for calling.
Legalization Did Not Turn Teenagers Into Marijuana Addicts
Opponents of legalization will often cite the increased potency of marijuana as a reason Baby Boomers should ignore their own fond memories of smoking grass and vote against legalization. Not only is it Not-Your-Father's-Woodstock-Weed, they warn, but now it is hyper-potent concentrates that will shortly have teens in the grips of addiction.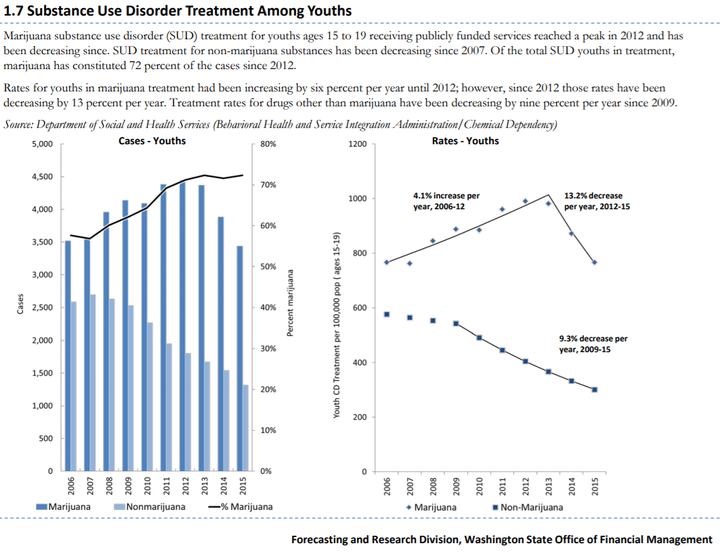 This ignores the fact that it isn't marijuana itself that compels people to seek drug rehab; it is getting caught with illegal marijuana that gets people into drug courts that compel them to seek rehab. Fully half of the people who end up in a rehab solely for marijuana are forced there by the criminal justice system.
Since 2012's legalization in Washington, there has been a 13 percent decrease in 15-to-19-year-olds in treatment for marijuana. That reversed a trend of an average 4 percent increase since 2006.
However, treatment admissions for other drugs have been on a steady decline of 9 percent since 2009, meaning that marijuana is actually becoming a greater share of all rehab admissions since legalization. Where marijuana used to account for 60 percent of the youth in rehab, it now accounts for 72 percent of all admissions since legalization.
Legalization Is Not Disrupting Teen Education
One fear of the opponents of legalization was that it would infiltrate our schools and lead to disciplinary problems for our youth.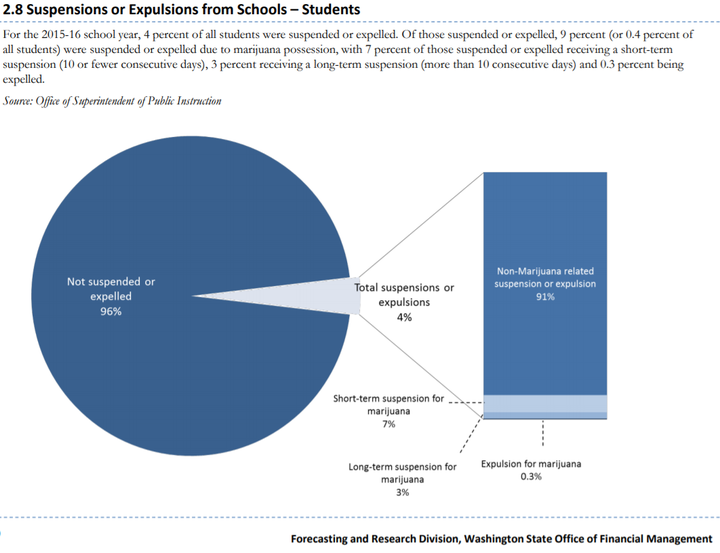 Yet, according to the data from the 2015-2016 school year, just 0.4 percent of all Washington students were suspended or expelled for marijuana. Of all the students who were suspended or expelled, marijuana was only involved in 9 percent of the cases.
That works out to only one-in-250 Washington students who were suspended or expelled for marijuana in the 2015-2016 school year. Even considering just the students who were suspended or expelled for any reason, marijuana was the cause for discipline in just one-in-eleven cases.
Data from the Washington Office of Superintendent of Public Instruction confirm that legal marijuana for adults is not impacting teen education. The high school graduation rate in 2012-2013 was 78.8 percent. In 2013-2014 the rate inched up to 79.9 percent. For 2014-2015, it had risen again to 81.1 percent of students graduating.
Popular in the Community