As we approach the fifth anniversary of the first two states to legalize marijuana – Washington and Colorado – it's instructive for other states to learn from their example.
From that presentation are charts that contradict the predictions of failure from opponents of Initiative 502, the ballot question in 2012 that legalized marijuana in Washington.
In this Part I, I'll break down the biggest fears offered about the effect of marijuana legalization on children's use. In Part II, I'll give you the a look at how legalization has affected children who do use marijuana. In Part III, I'll show you what effect marijuana legalization had on traffic safety. Finally, in Part IV, I'll show you how much marijuana tax revenue the state of Washington has earned.
Legalization Did Not Increase Marijuana Use by Youth
"What about the children?!?" is shorthand for the exaggerated concern by opponents of marijuana legalization that no longer fining, arresting, and imprisoning adults over marijuana will somehow lead to an increase in the use of marijuana by teenagers.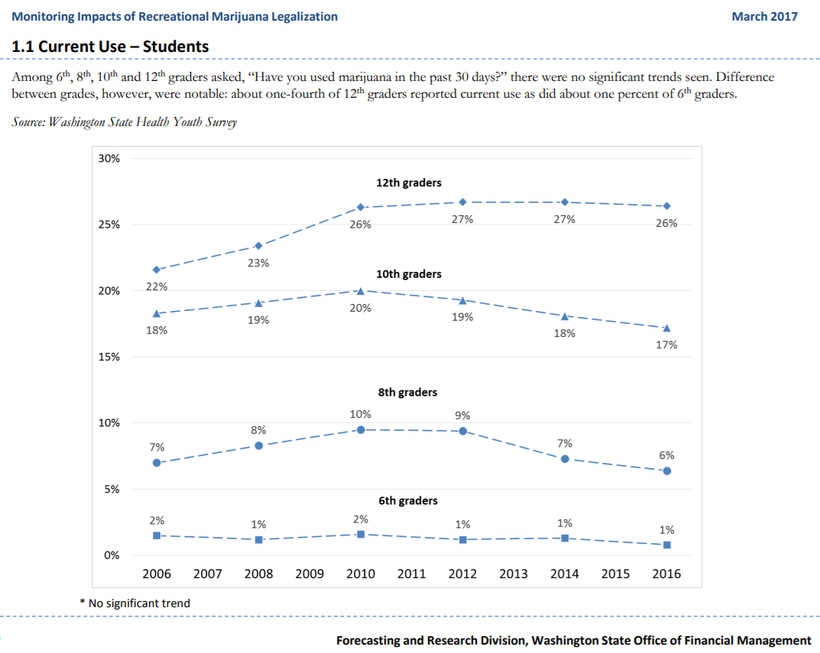 Yet the data from Washington State tell a different story in reality. When it comes to self-reported use of marijuana within the past 30 days, "there were no significant trends seen" from grades 6 through 12.
Yes, about a quarter of high school seniors are using marijuana monthly in Washington, but that figure was reached in 2010, two years before Washington legalized and well before the campaign to legalize had even begun.
High school sophomores saw a decline from 20 percent to 17 percent, while 8th graders saw a decline from 10 percent to 6 percent, reversing an upward trend in the state from 2006 through 2010. The rate for 6th graders dropped in half, though that's just from two percent to one percent.
For all those younger teens, their monthly use rates for marijuana are lower now, four years into legalization, than they were six years prior to it.
Legalization Did Not Convince Young Teens Marijuana Use Is OK
Some opponents of I-502 claimed that "marijuana legalization will send the wrong message to the children." The basis of this complaint is that by removing the criminal stigma from adult marijuana use, youngsters will seek to emulate adults, thinking that marijuana use is now "cool."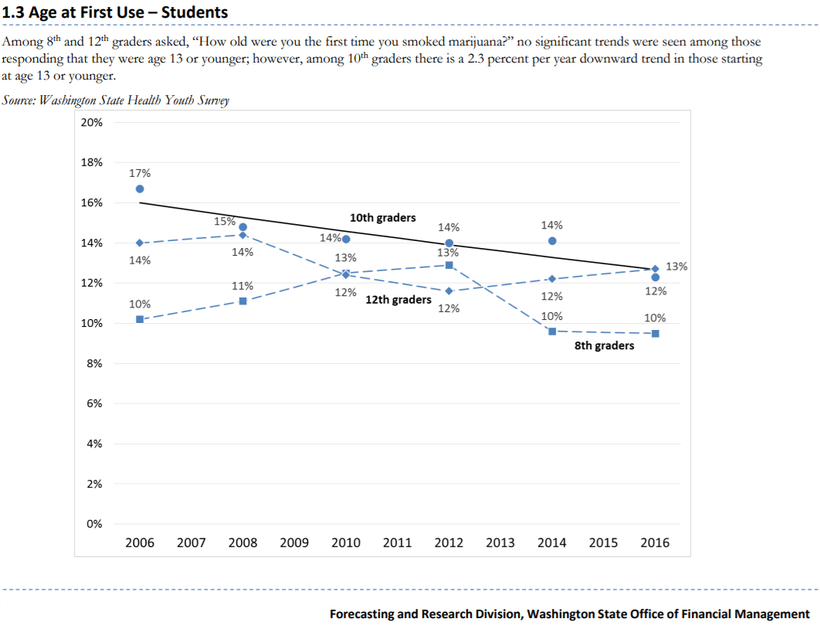 A way to measure this phenomenon is asking a teen how old they were when they first used marijuana? Presumably, by the opponent's reasoning, marijuana legalization would lead to more kids trying marijuana at age 13 or younger.
The data tell a different story. Again, "no significant trends were seen" for the teens in grades 8 and 12, while there was a slight decline in the rate of 10th graders who had tried marijuana at age 13 or younger.
Legalization Did Not Increase Teen Access to Marijuana
A concern for opponents of legalization is that it will make it easier for teenagers to get their hands on marijuana. Parents remember their teenage days, perhaps as kids who snuck some of their parents' alcohol or bribed an adult to buy them a six-pack, and figure those sort of shenanigans will translate to legalized marijuana.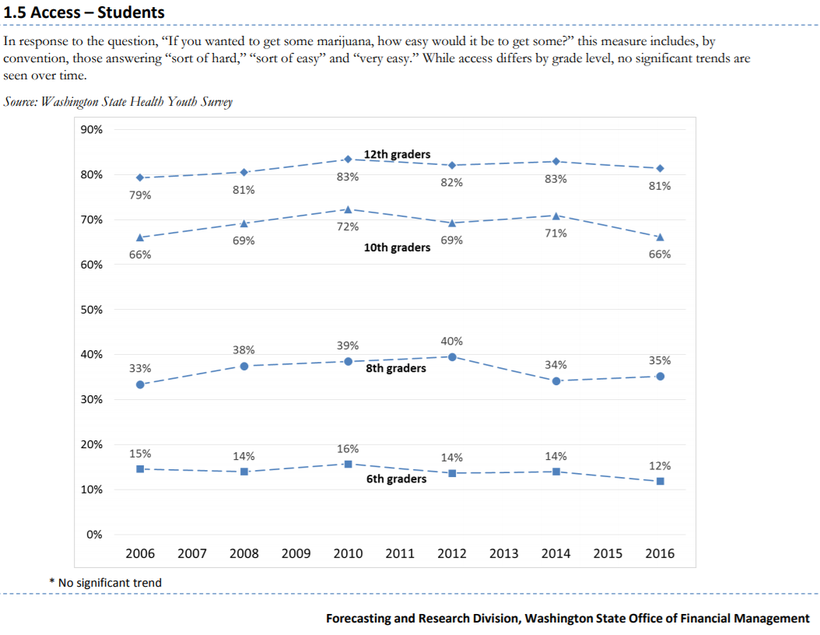 This thinking fails to account for the fact that access via stealing or bribing adults is the only access teens have to alcohol. There isn't a thriving underground market of teenage beer dealers hanging out in the parking lot behind shop class or adult beer dealers hanging out in parking lots willing to sell a six-pack to anyone without ID checks.
The data show that, again, "no significant trends are seen over time" in the measure of how many teenagers in Washington State say it would be "sort of easy" or "fairly easy" to score some marijuana. Legalization was never going to have much effect on teen access to marijuana because about one-sixth of 6th graders, one-third of 8th graders, two-thirds of 10th graders, and four-fifths of 12th graders already had easy access to marijuana six years before we legalized marijuana for adults.
Continue on to Part II where I show you what effect marijuana legalization has had on the teens that consume it...
Calling all HuffPost superfans!
Sign up for membership to become a founding member and help shape HuffPost's next chapter
This post was published on the now-closed HuffPost Contributor platform. Contributors control their own work and posted freely to our site. If you need to flag this entry as abusive,
send us an email
.