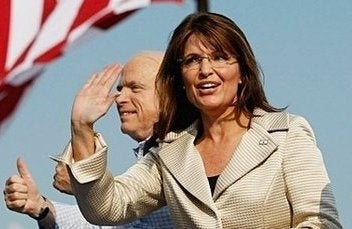 When you live in a small town, your business is everyone's business. That is clear from this interesting article by a Wasilla resident that mixes praise and criticism for the local girl made good, Sarah Palin. Sure, some of it is petty sounding stuff, but there's a lot of solid criticism too.

While Sarah was Mayor of Wasilla she tried to fire our highly respected
City Librarian because the Librarian refused to consider removing from
the library some books that Sarah wanted removed. City residents
rallied to the defense of the City Librarian and against Palin's
attempt at out-and-out censorship, so Palin backed down and withdrew
her termination letter. People who fought her attempt to oust the
Librarian are on her enemies list to this day.

She is "pro-life". She recently gave birth to a Down's syndrome baby.
There is no cover-up involved, here; Trig is her baby.
As Mayor, Sarah fired Wasilla's Police Chief because he "intimidated"
her, she told the press. As Governor, her recent firing of Alaska's top
cop has the ring of familiarity about it. He served at her pleasure
and she had every legal right to fire him, but it's pretty clear that
an important factor in her decision to fire him was because he wouldn't
fire her sister's ex-husband, a State Trooper. Under investigation
for abuse of power, she has had to admit that more than 2 dozen
contacts were made between her staff and family to the person that she
later fired, pressuring him to fire her ex-brother-in-law. She tried to
replace the man she fired with a man who she knew had been reprimanded
for sexual harassment; when this caused a public furor, she withdrew
her support.