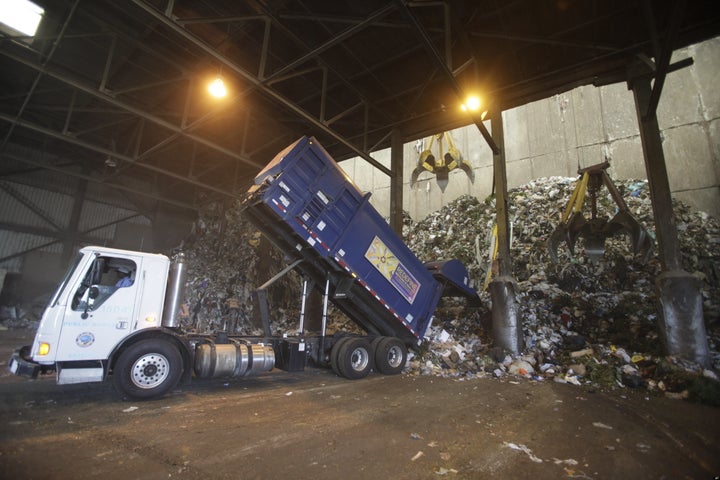 "Waste to energy" -- the ability to turn household waste into energy to power cars, homes and businesses -- isn't a new idea; it's been around for decades. But there's more interest than ever in this alternative energy source. And now, a growing number of new technologies may enable us to turn even more everyday household waste into energy. How much more?

A new study conducted by the Earth Engineering Center of Columbia University and sponsored by the American Chemistry Council found that if, somehow, all of the municipal waste currently landfilled in this country were diverted to new waste-to-energy power plants, they would produce enough electricity to power more than 16 million households annually.
In the northern states, where the winter months bring high heating bills additional energy could be recovered by means of district heating systems. For example, in Denmark the energy recovery plants are very efficient because they generate steam that drives the turbines to produce the electricity. This steam is subsequently leveraged to heat a whole neighborhood or series of buildings. District heating systems provide over 30 percent of the residential heating needs in Denmark.

A key part of this equation is plastics. Plastics have an energy value that's higher than coal. Of course, we should recycle plastics whenever we can -- that's the best way to conserve energy. But even when plastics aren't recycled, we can still recover them for their energy value. While many people don't know that plastics can be converted into energy with current technology, advanced conversion technologies are taking off in Europe, Japan and Canada. These alternative technologies transform non-recycled used plastics into crude oil and other fuels.

If the United States were to source-separate non-recycled used plastics and convert them into fuel oil, we would create enough energy to power six million cars per year. Or, if those same non-recycled plastics were routed to dedicated power plants, they would generate enough electricity to power 5.2 million homes each year.

Taken together, the study's findings show that the nation's garbage is an abundant source of energy that's available right now. And the longer we wait to embrace this energy solution, the more valuable energy we risk losing to landfills at taxpayers' expense.

Another benefit of increasing the energy recovered from household waste is the reduction of greenhouse gas emissions. For example, diverting 25 percent of the mixed biomass and non-recycled plastics from landfills to new waste-to-energy facilities would reduce greenhouse gas emissions by 35 to 70 million tons of carbon dioxide equivalent, depending on the degree of landfill capture in present landfills.

Some states already recover energy from household wastes, and others should consider what they have to gain by following suit. Connecticut, Massachusetts, Hawaii, Maine, Virginia, and Minnesota are already deploying an aggressive combination of recycling and energy recovery programs to convert wastes into raw materials and energy resources.

Connecticut is leading the country. Approximately 65 percent of the state's used plastics were either recycled to create new products or recovered to create energy in 2008. That translates into a lot of alternative energy going right into Connecticut's homes and businesses and it is good for everyone -- government, business, residents, and the environment.

This year, Maryland adopted legislation that makes waste-to-energy a "Tier 1 renewable energy resource" under the state's renewable portfolio standard. In addition to enabling reliable and sustainable options for waste management, the new legislation will help generate clean, renewable electricity for Maryland's citizens.

Overseas, countries like Austria, Denmark, Germany, Japan, Switzerland, the Netherlands, and others are already recycling and recovering energy from more than 90 percent of their municipal solid wastes. The United States needs to diversify its energy sources if we want to create a more sustainable and more competitive future. Energy recovery from waste should be part and parcel of the national energy strategy.

-- Professor Nickolas J. Themelis is the Director of the Earth Engineering Center at Columbia University

Calling all HuffPost superfans!
Sign up for membership to become a founding member and help shape HuffPost's next chapter