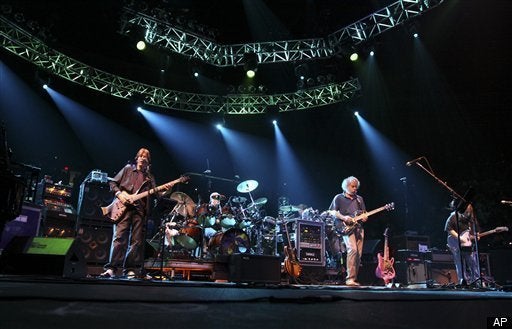 Sen. Tom Coburn (R-OK) is not grateful for the University of California-Santa Cruz's digital archive of Deadhead memorabilia.
The archive, which contains thousands of Grateful Dead-related pictures, documents and paraphernalia, was completed with the help of a $615,000 federal grant -- and comes in at No. 4 on Coburn's list of the most wasteful government spending projects of 2010.
Grateful Dead chose a public institution to archive the band's memorabilia ―because the whole idea of it being public and free was important to them, yet taxpayers are paying $615,000 to make the band's archives ― free and ― public. The Institute of Museum and Library Services (IMLS) awarded the University of California at Santa Cruz the federal funds to digitize Grateful Dead photographs, tickets, backstage passes, flyers, shirts, and other memorabilia. IMLS notes ― this is one of the first efforts to preserve and share cultural and historical artifacts of the baby boom generation, a group that includes 76 million Americans.
Rolling Stone magazine listed the Grateful Dead in the top ― 100 Greatest Artists of All Time,and estimates place the net worth of two prominent band members, Jerry Garcia and Phil Lesh, at roughly $40 and $35 million, respectively.
UCSC librarian Virginia Steel told the Calgary Herald that the archive "is of interest to a great deal of people."
"There is a lot of scholarly interest in the Grateful Dead, whether it's studying the significant role that they played in our culture and society, or their management and how they ran the business," she said.
Stanford University also made Coburn's list of spending offenders. The school received almost $250,000 from the National Science Foundation to examine how Americans find love on the web.
What do you think? Is Coburn out of line, or are these expenditures offensive in their wastefulness? Weigh in below.
Related
Popular in the Community