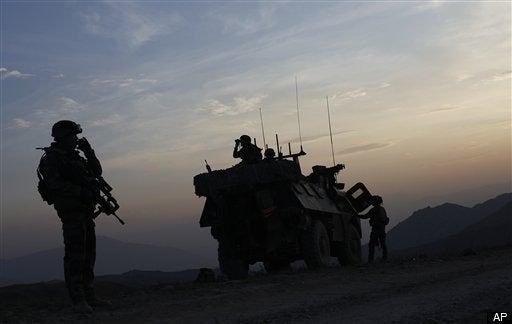 During his presidential campaign, Barack Obama emphasized the need to learn the lessons of Iraq, criticizing the use of private contractors in that conflict during a speech in October 2007: "We cannot win a fight for hearts and minds when we outsource critical missions to unaccountable contractors." He also repeatedly targeted "reckless contractors like Halliburton" for wasting billions of dollars on mismanaged projects.
Yet as president, Obama has increased the use of contractors in Afghanistan at an alarming rate -- from June to September 2009, the number of private security contractors doubled. And the total number of contractors may reach 160,000, far surpassing the 100,000 troops that will be in the country even after the surge is completed.
And wasteful spending on Pentagon contracts in Afghanistan has climbed to almost $1 billion, which represents about 16% of the total contract dollars examined by federal auditors.
In addition, the Army continues to rely heavily on KBR, Inc., a former subsidiary of Halliburton, which has come under fire for allegations of inflating prices, faulty installation of wiring that led to the electrocution of soldiers, human trafficking, using burn pits that exposed soldiers to dangerous chemicals and trying to duck legal responsibility for the gang rape of an employee.
The committee released a report, concluding:
Billions of dollars was lost through wasteful spending in Iraq. According to federal auditors, much of this waste stemmed from inadequate contract management, including contractors overseeing contractors; poor coordination of interagency efforts; continual personnel turnover; and the challenges of contracting in a war zone. Despite these findings, it appears that many of these lessons learned from Iraq may not be applied to the efforts in Afghanistan.
The report also cited a Government Accountability Office report in October 2009, which found that reconstruction work and services contracts in Afghanistan are hampered by inadequate management and oversight.
McCaskill expressed concern about the continued use of KBR, which will be paid more than $657 million by the Army in 2010 as part of its single-source support contract, quipping "It's like the movie that never ends."
Under a new policy, the work performed by KBR is due to be taken over by Fluor and DynCorp, two massive contractors in June 2010.
But problems have already started to crop up with both of those companies -- one of DynCorp's partners, Agility, was recently indicted on six counts involving violations of the False Claims Act related to overcharging the government. During the hearing, McCaskill expressed concern that the contractor continues to be paid as part of its current contract despite being barred from future contracts. Jeffrey Parsons, executive director of the Army Contracting Command, assured her that DynCorp would no longer be using Agility and that any indicted firm could be dropped by the government.
In addition, the Pentagon recently suspended $14.3 million in costs billed by Fluor. Parsons admitted that "questions have been raised about Fluor's compensation and purchasing system."
The subcommittee's report also noted problems with other contractors: Chemonics International failed to comply with some of the requirements of its $102 million contract and five of its buildings constructed for the Afghani government had "serious construction defects, some of the roads completed by the Army's Commander's Emergency Response Program could not even located, and a joint venture of Louis Berger Group and Black and Veatch Special Projects' $305.5 million contract to improve power generation was faulted by USAID's inspector general, who concluded that "no power had actually been delivered to the Afghan people."
McCaskill also addressed concerns that the majority of contractors are Afghan nationals who are paid more than the Afghan police and army: "If you can make more money cooking for American troops than you can picking up a gun and fighting the Taliban, I'm betting you're cooking."