 Polls repeatedly show that while Americans want to cut government spending in the abstract, they oppose nearly all the specific cuts needed to actually balance the budget. But there's one thing Americans agree that Washington can cut: waste.
According to a new HuffPost/YouGov poll, 69 percent of Americans think that most of the federal budget deficit could be eliminated by cutting "waste and fraud." Only 22 percent accept the alternative argument that "painful choices" about taxes or spending are needed to reduce the deficit. And the poll shows little partisan division on this issue: 64 percent of Democrats and 79 percent of Republicans agree that the answer is cutting waste and fraud.
Less clear is what exactly Americans have in mind when they point to government waste. As political scientist Jonathan Bernstein put it, waste could be "buying office supplies for ten times what they would cost at Staples because of bureaucratically-mandated procedures," but it could also mean "money spent on some government program I don't like."
So, spurred by Bernstein's musing, the HuffPost/YouGov poll asked Americans to explain in their own words what they mean by the phrase "wasteful government spending." The survey accepted up to two responses per person.
Respondents offered a broad mix of answers, from budget line-item programs they want to cut (like foreign aid or military spending), to infamous examples of government spending that appear foolish (like robotic squirrels and $100 hammers), to more general references to corruption, fraud and earmarks. According to 26 percent of respondents, "wasteful government spending" means salaries and perks for government employees, especially Congress members and the president.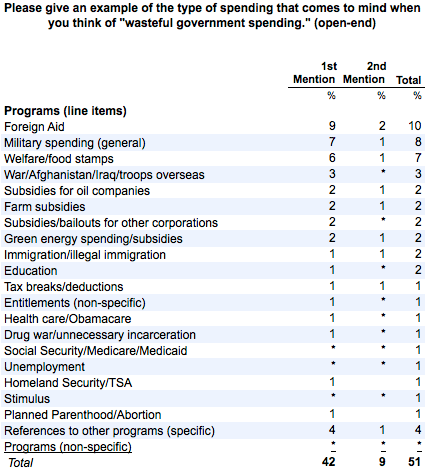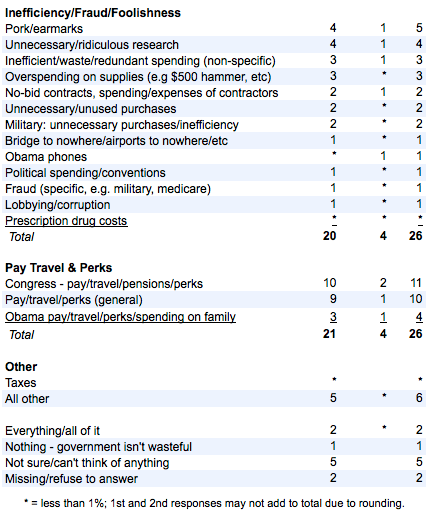 The single most mentioned program was foreign aid, which was listed by 10 percent of respondents but makes up only about 1 percent of the federal budget. Military spending generally was mentioned by 8 percent, with another 3 percent specifically noting the wars in Iraq or Afghanistan or troops overseas. (The 2 percent who referred to contractor expenses or inefficiency in military spending were broken out separately.) The third most mentioned program was welfare or food stamps.
Although about 41 percent of the federal budget comprises spending on Social Security, Medicare and Medicaid, only 1 percent of respondents named those particular programs as being wasteful, while another 1 percent referred to non-specific "entitlements" as an example of waste.
When it comes to fingering specific programs for government waste versus pointing more generally to inefficiency or foolish spending, the survey results find little variation by party. But a more detailed look at which programs were named by Democrats and by Republicans suggests that for many, waste is indeed defined as "money spent on some government program I don't like."
For example, while 16 percent of self-described "liberal" Democrats cited military or defense spending as an example of waste, those programs were not mentioned by a single "conservative" Republican respondent. Conversely, 13 percent of conservative Republicans mentioned welfare or food stamps, and 11 percent mentioned foreign aid, compared to just 1 percent and 4 percent, respectively, of liberal Democrats. Among those citing pay and perks for the federal government, Democrats were also far more likely to mention spending on Congress (associated, presumably, with House Speaker John Boehner and the GOP), while Republicans were more likely to mention spending on the president.
Independents and moderates from both parties were more likely than the more-partisan respondents to cite inefficiency, corruption, fraud and examples of foolish-sounding spending.
In short, there is no single type of spending that the majority of Americans think of when they think of wasteful spending. Moreover, relatively few seem to think that cutting this wasteful spending will require painful decisions.
On a separate follow-up question, 60 percent chose "money spent on programs that are unnecessary" as the bigger source of waste, while only 26 percent chose "money spent ineffectively on programs that are necessary." And those who see unnecessary programs as the bigger source of waste are only slightly more likely to name a specific program (44 percent) than those who say ineffective spending is the bigger issue (42 percent).
If the months of Washington gridlock were not evidence enough, the survey respondents' failure to agree on what should be cut indicates that balancing the federal budget will be difficult. But the poll shows that few Americans are prepared to make those choices.
The HuffPost/YouGov poll was conducted March 4-5 among 1,000 U.S. adults. The poll used a sample selected from YouGov's opt-in online panel to match the demographics and other characteristics of the adult U.S. population. Factors considered include age, race, gender, education, employment, income, marital status, number of children, voter registration, time and location of Internet access, interest in politics, religion and church attendance. Additional crosstabs for the poll are available here.
The Huffington Post has teamed up with YouGov to conduct daily opinion polls. You can learn more about this project and take part in YouGov's nationally representative opinion polling.
*****
HuffPost Readers: Have the federal budget cuts kicking in this month had an impact on you specifically or on your community? Have you lost work, has a program you rely on been cut back, has a project been halted? The Huffington Post wants to hear from you on how you're being affected by sequestration. Send your stories, links to news reports on the impact in your area, photos and anything else you want to share here. Include a number if you'd like to be interviewed. Let us know if you want to remain anonymous.
Before You Go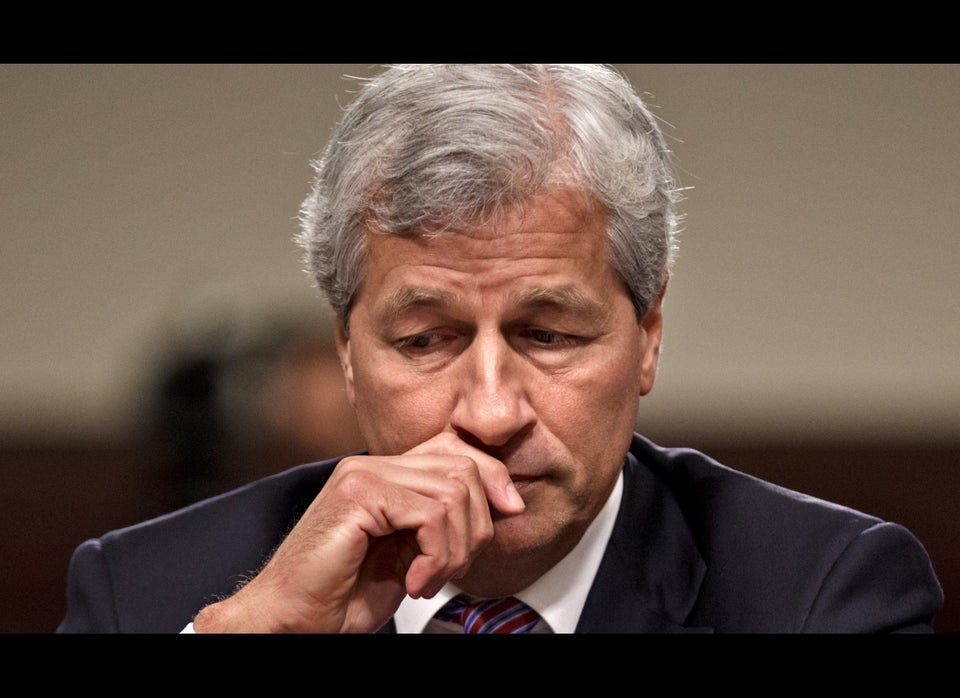 What The GOP Doesn't Want You To Know About The Deficit
Popular in the Community