The Electronic Entertainment Expo (E3) wrapped up yesterday in Los Angeles, and one thing's for sure: there's a lot more going on than just games! Nintendo's upcoming Wii U tablet-like controller and Sony's PlayStation Vita both promise streaming video and interactive, immersive content. And Microsoft's Smart Glass app for the Xbox 360, which links your console with a tablet or smartphone, represents what could be a defining moment in the future of the entertainment experience.
Check it out in this week's episode of Amos Content Group's "60 Seconds of Social Media" below.
In fact, game makers are exploring more areas of entertainment every day. For instance, while the relationship between music and video games was once limited to the familiar Super Mario Bros. jingle, Ubisoft set out to prove that, well, the game has changed. The French tech giant behind the over-28-million-copies-sold Just Dance franchise recently began leveraging the attention of its loyal song and dance-crazed fan base for a different cause.
Enter ANJA, the Scandanavian-born blonde whose tracks "Dance All Nite" and "Baby Don't Stop Now" are featured on Ubisoft's most recent Just Dance release, Just Dance 3. The once-homeless songstress was hardly a blip on the map when Ubisoft first stumbled across her music online. She grew up in the remote countryside of northern Norway, clawed her way into the Liverpool Academy of Performing Arts, waitressed on a European cruise ship in exchange for the opportunity to take the stage at night and eventually made a starry-eyed pilgrimage to Los Angeles that left her homeless within a matter of months. When Ubisoft decided to fly her to Montreal to record for their upcoming game release, she wasn't asking questions. They liked what they heard and incorporated her track into Just Dance 3's star-studded lineup of artists like Britney Spears, Katy Perry and Cee-Lo Green. Seemingly overnight, she went from being virtually unknown to listened and danced to by over 8 million Just Dance 3 consumers around the world.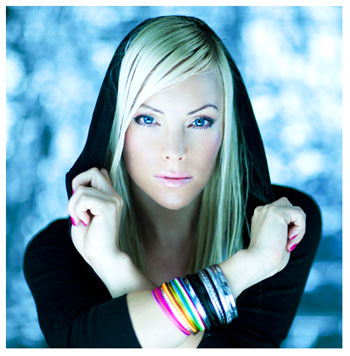 In an age where no route to the mainstream is too alternative, ANJA is launching her entire career in partnership with Ubisoft, without the support of a traditional label. Unsigned, she maintains a partnership with Ubisoft's music arm, Ubisoft Music, and is recording her first album with Circle Road Records to be released in the fall of 2012. You can watch her newly-released music video for "Dance All Nite" here.
But it wasn't just a fan move for Ubisoft. With the mass popularity of Just Dance in mind, the game maker is making a point about just how powerful a platform video games are for artists in today's choppy music industry. While gaming was once limited to a niche-following, the masses of consumers it pulls today are making the industry an ever-more attractive prospect for artists looking for a gateway to get heard.
What will the next year of video gaming bring to entertainment?
If you missed the last episode of 60 Seconds of Social Media, in which we delved into social TV, you can check it out here.

REAL LIFE. REAL NEWS. REAL VOICES.
Help us tell more of the stories that matter from voices that too often remain unheard.