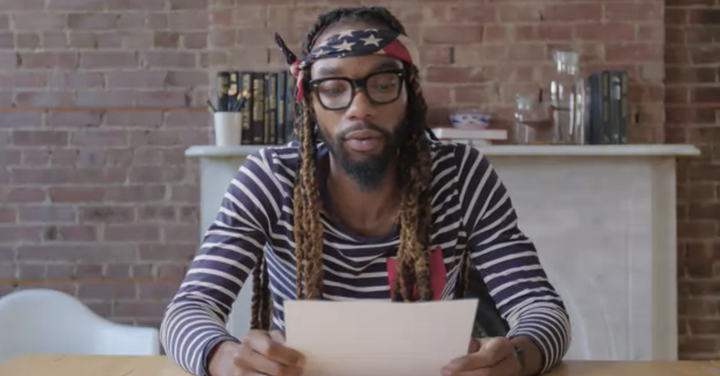 A new campaign is creating a safe space for people of all genders to share their stories of sexual assault.
Created by Teen Vogue, the "Not Your Fault" campaign is a video series that features women and men reading stories of sexual assault and rape -- with one part showing men reacting to some of the stories. 
"In the current conversation surrounding sexual assault, men are demonized, excluded, or they are responsible for perpetuating rape culture," wrote Teen Vogue's Vera Papisova. "It's time to flip the script, because nothing will change until everyone is part of the conversation." 
Each story was submitted to Teen Vogue by a survivor of sexual assault who either wanted to give people a chance to react to their story and/or allowed them to remain anonymous while sharing. The stories are beautifully written and bring up important topics, including shame, guilt and the stigma of coming forward. In every video, the men are stunned and heartbroken after reading what these survivors experienced. 
Listen to Yahdon and Jason read Danielle's rape story in the video below.
Warning: The story featured in the below video contains details of sexual assault, rape and violence. 
"The more I hear these stories, the more it's evident to me how often this happens," Yahdon told Jason after they read Danielle's story in the video above. "I think allowing myself to hear them, the challenge has been to not be desensitized... The challenge for me is to hear these stories and allow myself to feel every time I hear them and to never try to shut off that emotional valve that allows me to try to understand or to want to understand what happened." 
As Papisova explained in Teen Vogue, the men who read the stories identify themselves differently and come from all different backgrounds. "The men we invited to be part of this series are cisgender, transgender, black, white, Christian, Jewish, Agnostic, Buddhist, gay, straight, and pansexual," she wrote.
Watch the rest of the videos from the "Not Your Fault" campaign below. 
Warning: The stories featured in these videos contain details of sexual assault, rape and violence. 
Head over to Teen Vogue to read more about the "Not Your Fault" campaign. 
Calling all HuffPost superfans!
Sign up for membership to become a founding member and help shape HuffPost's next chapter
BEFORE YOU GO
PHOTO GALLERY
Images From 'Surviving In Numbers' -- A Project Highlighting Sexual Assault Survivors' Experiences