LeToya Luckett's surprise engagement has been filling our hearts with joy, but right when you thought this bright spot in the week couldn't shine any more brilliantly, the singer and actress goes ahead and talks about her engagement story with a giddiness and bliss that is almost too pure for this world.
Speaking with OWN Digital the day after revealing her big news, Luckett details the unforgettable evening, which we know was supposed to be a surprise birthday she'd been planning for her now-fiancé, Tommicus Walker. Instead, Walker gave Luckett a surprise of his own by popping the question in front of the couple's family and friends.
"The wall rolls back, and my mom and my brother jump out of nowhere ― and my friends!" Luckett says. "I go from, 'Surprise!' to, 'Mom? What are you...?' At that moment, I was like, it still hadn't really dawned on me yet."
The sweet video has been circulating (below), but Luckett says there's another funny moment from the engagement that didn't quite get captured on film.
"I went from bawling my eyes out ― because he had me bawling with the montage ― I yelled to him. I said, 'Wait a minute! Hold on! I was supposed to be surprising you, and you surprised me?'" Luckett says. "Everybody erupted into laughter. It was crazy."
As shocked as Luckett was, she says this is the type of act that isn't out of character for Walker.
"That's just the kind of guy that he is. He's so generous and so awesome," she says. "For a man I know who has an awesome relationship with God, a man who I know is going to lead our household, such a man with a great heart, to ask for my hand in marriage, I was like, 'God, I've done something right.' Like, thank you. I'm surprised the first thing I didn't yell was, 'Thank you, Jesus!'"
Luckett told Essence that she's considering walking down the aisle before the end of this year. Congrats to the happy couple!
Related
Before You Go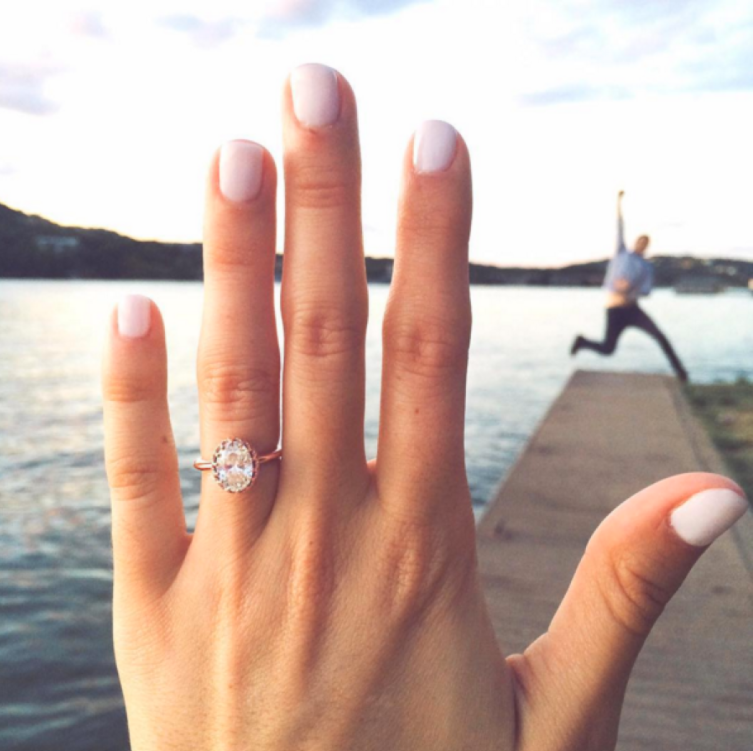 Engagement Ring Selfies
Popular in the Community