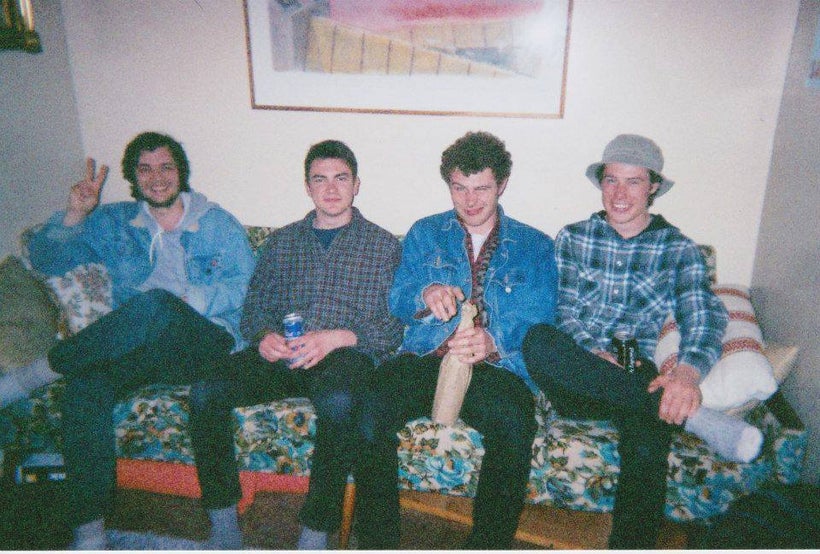 Today I am excited to share with my HuffPo readers the new animated video from Canadian band The Crowleys. The band's brand of jangly, psych-infused music is abundant in their new single 'Midnight Blue'— a song fueled by Old Milwaukee Ice, friendship and their shared passion of love songs. It comes on the heels of 'LA Sunset' which itself has set the tone for their forthcoming EP.
After a few listens to their latest 'Midnight Blue' you find a layered, thoughtful sound that's neatly tucked behind a quintessential upbeat surf guitar and robotic vocal tones.
In a nutshell, "Midnight Blue" is about where your mind seems to take you on sleepless nights. It's a juxtaposition to earlier songs; the songs they crafted alone in their basement. These new tracks are sculpted with the help of their friend and self-declared 'sensei', Michael Keire of Threshold Studios (The Dirty Nil, Arkells, Young Rival).
The new song is also paired with a video, animated by local artist Evan Bond.
In a statement to Huffpost, The Crowleys explained, "Our friend Evan Bond animated the video for us. We met him when he offered to help us move a new mixing console up three flights of stairs into our friend Michael Keire's studio. When we learned he was a talented artist and animator we knew we wanted to work with him and the time felt right when we started brainstorming ideas for the new video."
"We pitched Evan a very basic idea and gave him full creative freedom after that. He did a great job of portraying the emotion of "Midnight Blue" through the short, minimalistic animated story. The carefree yet melancholic tone of the song guides an antique robot through a day at the beach where his imagination and reality clash. It exemplifies the loneliness and anxiety hidden behind a happy facade which is what inspired the track in the first place."
Watch the new video for 'Midnight Blue' now and watch out for their upcoming EP. Purchase the track on Bandcamp.
Calling all HuffPost superfans!
Sign up for membership to become a founding member and help shape HuffPost's next chapter
This post was published on the now-closed HuffPost Contributor platform. Contributors control their own work and posted freely to our site. If you need to flag this entry as abusive,
send us an email
.