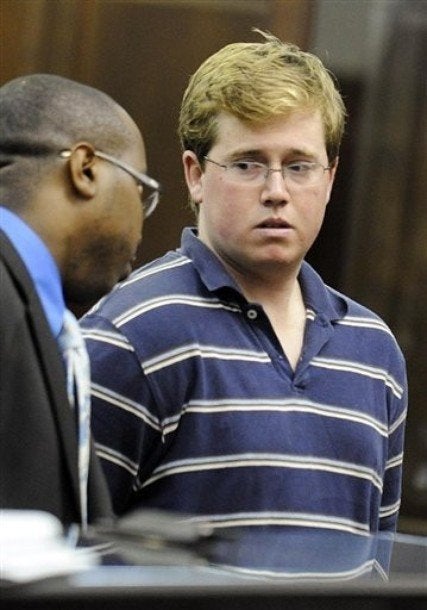 Well before he was accused of slashing a Muslim cab driver across the neck, Michael Enright, the 21-year-old college student now charged with the crime, preoccupied his time, almost obsessively, with exploring post-traumatic stress disorder.
While pursuing a cinematography major at the School Of Visual Arts in New York City, Enright collaborated on multiple short films concerning PTSD, including a public service announcement on the affliction. It wasn't all he dabbled in. One film that he wrote and directed that was uploaded on the website Funny or Die, set a spoof Sam Adams beer commercial in the dumps of South Bronx. But PTSD did dominate his work, as evidenced by dark, omonious adaptations he made from Larry Winters' novel The Making and Un-Making of a Marine: One Man's Struggle for Forgiveness.
WATCH:
WATCH:
WATCH:
Now implicated in a bizarre, seemingly racially motivated attack on an unsuspecting cab driver, those who either knew Enright or consulted with him are waking to the belief that he may have been suffering from PTSD himself.
Michael Anthony, an Iraq war veteran, told the Huffington Post on Thursday that Enright reached out to him last year to discuss an advanced copy of his own book: "Mass Casualties: A Young Medic's True Story of Death, Deception, and Dishonor in Iraq.'" In an email (which Anthony shared with the Huffington Post), Enright offered his compliments for a "true and un-relenting" work and suggested that he could help with future editing. A follow-up email from Enright revealed a bit about his interest in the topic, including a preview of the pSA he was then shooting.
"P.S.A. is geared toward helping push along the hope that one day Veterans will be able to obtain P.T.S.D. related care with more ease and less of the problems they are now faced with, I have also attached a related news article on Hall, and what he is doing. Anyway, it is still very important!"
Correspondence between Anthony and Enright were relatively irregular. But the two connected over phone after those initial emails discussing primarily Anthony's experiences in Iraq and Afghanistan in addition to his book. In March, Enright told Anthony (out of the blue) that he was heading to Afghanistan for the purposes of getting a much more intimate understanding of soldiers suffering from PTSD. Six weeks later, he called him again, relaying that he was back on U.S. soil.
"He and I wanted to create this video about helping vets with PTSD," Anthony recalled. "We were trying to get funding for this and then the next thing I know he is going to Afghanistan... then a month ago he leaves me a voicemail and wants to shoot a video and then the next thing I know he is stabbing a cab driver."
On Tuesday, Enright apparently hailed a cab, asked the driver whether he was Muslim, and then pulled a knife blade on the man before slashing his neck.
"There were zero hints of any prejudice or bigotry," Anthony said of those talks. "He was just a good guy trying to help vets."
"That's the crazy part," he added. "We had talked about these issues and he was clearly not racist at all and then next thing I know, he is back from Afghanistan and this happens. I don't know if he got PTSD, but that is the only thing I can think of that could change someone that drastically in a short period of time."

Popular in the Community