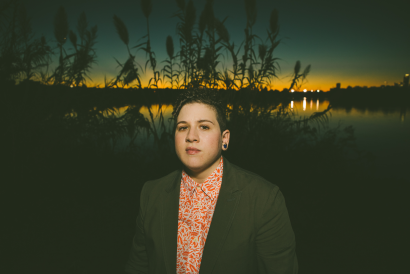 The new video from Carry Illinois, "Electric Charm," is a heart-wrenching beautiful take on finding ones place in the world, beginning with a tough journey of self-love, learning to not confine ones self to societal norms and expectations. "My senior year of high school I was bullied by a group of girls; some of whom I had gone to school with for several years. On the whole, I had felt safe until I experienced the deep pain of malicious secrecy and cruel teasing" vocalist Lizzy Lehman explains.
Lately it seems in-depth exploration of Lehman's painful past has become a major theme in her songwriting. Her upcoming 6-track album Garage Sale (produced/engineered by John Vanderslice) continues to delve deeper into recent life struggles and is a fitting follow-up to "Electric Charm/Sea Inside."  
"I was once told that songs should be a form of truth-telling. I am singing my truth in order to process my past and present and help others know that they are not alone in their own struggles."
The collaboration with Yukai Du of Bliink Studios (Brighton, England) came about very naturally. "It was incredible to work with an International artist and combine two different and strong creative perspectives. I like to give artistic folks as much freedom as possible when starting a project and then ask for certain elements to be modified, provide criticism, and express my thoughts as the process happens."
The two's constant flow of conversation throughout the making of the video allowed for them to work together in a stress-free manner, leaving room for ideas to be re-molded and refined. The imagery of one ever-changing person in space, the electric elements of the universe, and the colorful shifting shapes tie together the intimate themes of the song while creating a universal feel that people can relate to.
"The video for "Electric Charm" makes me hungry for future collaborations and inspired to continue creating beautiful art that goes far beyond the lines."
WATCH THE VIDEO FOR "ELECTRIC CHARM":
Calling all HuffPost superfans!
Sign up for membership to become a founding member and help shape HuffPost's next chapter
This post was published on the now-closed HuffPost Contributor platform. Contributors control their own work and posted freely to our site. If you need to flag this entry as abusive,
send us an email
.