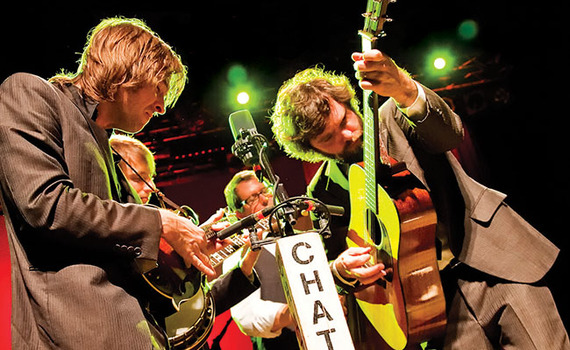 I first had the pleasure of hearing Chatham County Line play live at MerleFest a few years ago and then again in the summer of 2015 at The Steel Wheel's Red Wing Roots Music Festival. What initially drew me to this Raleigh, North Carolina-based quartet is that in addition to the unique mix of bluegrass, folk and Americana tunes they harmonize so beautifully on is the fact that they typically crowd around a single, large, silver radio microphone. And that's not the band's only nod to the past. Much like Jerry Douglas's Earls of Leicester, they perform in old-timey tailored suits, harkening back to the Golden Age of the Grand Ole Opry.
"Autumn," Chatham County Line's seventh album, produced by Dave Wilson released on Yep Roc Records in September, also takes me back to an earlier time when country music on the Opry was just that. And now you can also be transported back with me through this exclusive premiere of the band's newest video featuring the tune "All That's Left." The band's unique roots-based bluegrass is steeped in tradition but with a twist that can only be described as fun.
Since their self-titled debut in 2003, I have witnessed time and time again this group of multi-talented musicians -- Dave Wilson on vocals, guitar, harmonica; John Teer on vocals, mandolin, fiddle; Chandler Holt on vocals, banjo; and Greg Readling on vocals, bass, piano, pedal steel, organ -- take a song such as "All That's Left," which describes an old, forgotten headstone, that should be melancholy, and turn it into something much more upbeat and tinged with, dare I say, hopefulness. And they have a lot of fun with it without the band's ever-present oversized mic while pretending to to play piano, for example, on a wooden mic stand bearing the band's name.
"There's a grave by the roadside no one tends it anymoreCrumbling headstone, letters faded and wornWhere lies an inscription you can hardly readSaying 'All that's left of you, Is all that's left of me.'"
And while "All That's Left" definitely hits a high note with me, I have to admit I think my favorite song on the album -- recorded in two sessions at Fidelitorium Recordings in Kernersville, North Carolina, over the falls of 2014 and 2015 -- that epitomizes its name and all that surrounds its meaning is "Rock in the River." The haunting tune features Readling's piano stylings paired with Wilson's heartbreaking lyrics:
So one day I left her side
And the heart that I couldn't give her
Became another rock in the river."
I should mention that in addition to playing, singing and producing the album, Wilson also gets most of the writing credits.
As a sidenote, fans of the band that Paste magazine refers to as "bluegrass innovators" can connect with the band through its collaboration with Raleigh's Big Boss Brewing by partaking of Autumn, a custom craft beer named for the band's seventh studio album.
I'd love to hear what you think about "Autumn" and the video for "All That's Left." You can catch Chatham County Live not far from their roots on Saturday, Dec. 17, at the Haw River Ballroom in Saxapahaw, North Carolina.
Learn more about where Chatham County Line is playing at http://chathamcountyline.com/
Popular in the Community