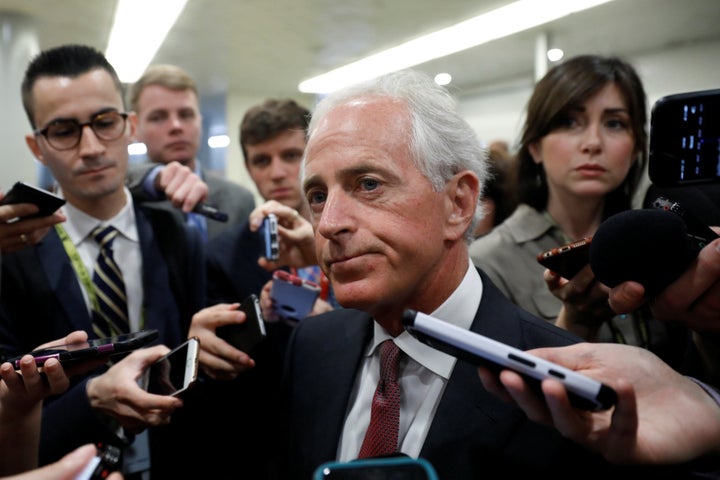 Sen. Bob Corker (R-Tenn.), the chairman of the Senate foreign relations committee, shook his head as he read Trump's comments for the first time on a reporter's iPhone in a Senate hallway. HuffPost caught the moment on film.
Earlier in the day, the president had suggested that Qatar, which is home to the largest U.S. base in the Middle East, was funding terror.
The comments themselves are not that striking. American officials have long criticized Qatar for being lax about preventing private citizens from fundraising for militant groups. But they come at a time of high tensions among American partner nations. Saudi Arabia, the United Arab Emirates, Egypt and other countries on Sunday cut off relations with Qatar, alleging that it supports militancy within their borders. (Qatar denies the charges.)
Trump's tweets suggested the U.S. was picking a side in the dispute ― something his top aides, including Defense Secretary Jim Mattis and Secretary of State Rex Tillerson, have tried not do.
After seeing the tweets himself, Corker attempted his own damage control.
"Each of these countries ... are important to us as we move ahead with trying to deal with issues in the Middle East. They have different sensibilities. They support different groups," the senator said. "Qatar is in a different place as it relates to some of the groups, especially in Syria. But our general policy as America has been to work with each of them. We do have a base there that we operate out of, that's very important."
He also distanced himself from Trump's suggestion that the U.S. is picking sides with any country.
"It's best to try to continue to work with each of them, with their differing sensibilities, and build on the strengths that they have to offer us as we're dealing with the region in general," Corker said, speaking carefully. "So I try not to divide a group off against another country. In everything I do, I attempt not to do that."
Before You Go

If Trump Tweeted About Actual Dangers The Way He Tweets About Refugees
Popular in the Community