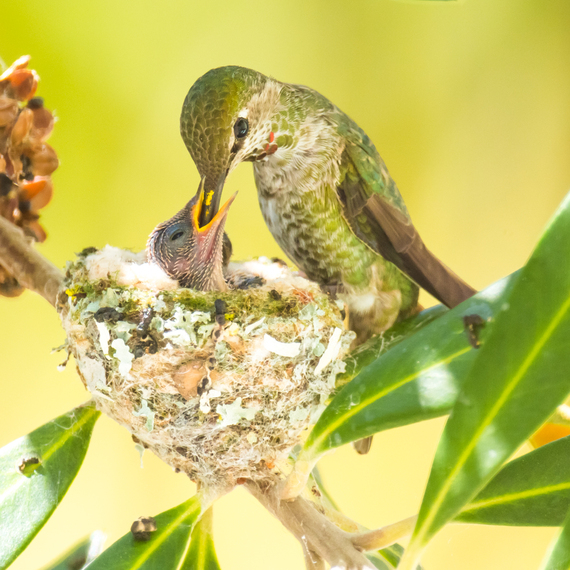 I have been obsessed with Hummingbirds for years and consider it a true privilege to have year-round resident Hummingbirds fluttering outside my home in California.
This past Spring I was pretty ecstatic to find that an Anna's Hummingbird had built a nest just a few feet from my balcony, giving me a wild and wonderful birds eye view into her private and beautiful world. I couldn't believe she picked THAT spot for her new spiderweb and foliage weaved crib, and I just knew I had to document some of the moments to come.
I had no idea it would turn into a 3-week daily video project that would go on to receive over 6 million views on Facebook and be shared in multiple science classrooms around the Country. I certainly couldn't have imagined just how attached I would become to these delicate beating hearts as they grew up before my very eyes. Sharing that experience with so many people on Facebook made it all the more special.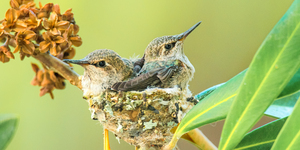 My first video for the project (below) shows the chicks, just 2 and 3 days old, being fed by their mother, fondly known as Annabel. What a beautifully intimate moment to witness.
The Hummingbird Project: Anna's Hummingbird feeding her chicks. Follow AlexisCoram for more Hummingbird goodness!! Just wanted to share this little bit of magic with you. Here is Annabel feeding her babies and then fiddling with some hair on her nest. (don't mind the squeaking in the background...that is just my dog reminding me that she's cute too :))It has been very hot here today (85 degrees), so much of the day Annabel has been shielding her chicks from the sun while still allowing air to reach them below her. She seems like a very attentive mother and she's spending more and more time at my feeder (where I have another camera set-up). Her chicks are only 3 and 2 days old and are probably no more than 1 inch long. Mama is only ~4 inches long herself. I'm using some pretty beefy equipment to get this close, including a super lens loaned to me from my friend Chris from SmugMug. See more at www.alexiscoram.com/HummingbirdProjectLatest Videos from the Hummingbird Project:https://www.facebook.com/video.php?v=872983066091344&set=vb.170999039623087&type=2&theaterhttps://www.facebook.com/video.php?v=874327385956912&l=1069422481880989661https://www.facebook.com/video.php?v=873906912665626&l=4189436068156678293

Posted by AlexisCoram on Saturday, March 28, 2015


There were many special moments over the course of the project. Wing flapping practice was definitely a fan favorite. The video below shows a few clips of the chicks being flap happy. It's precious!
The Hummingbird Project: Flapping PracticeI am falling a little more in love with these birds every day. Over the past 5 days the chicks have been getting used to their new wings, so I wanted to share some of the cuteness that happens when they start flapping away. You'll notice how quickly their wings are developing and that the flapping is getting faster. Today one of them started flapping while Mama Annabel was on the nest. It is quite funny to see her reaction. I love the final clip in this video because the two chicks really are like 2 peas in a pod and their cuddling is beyond adorable. I see love between them. How about you?Annabel has been around a lot more over the past couple of days - she has a spot on the top of a nearby tree where she perches for long periods at a time - actually she stands on the top edge of a big leaf (that's how light she is). She's also been at my feeder a lot more in the evenings. I think the rain scare a few days ago maybe made her a little anxious. She even sat on the nest for a long while today, which seemed odd given the size of the chicks. She's just the sweetest. See the whole story here: www.alexiscoram.com/HummingbirdProjectThanks to everyone who has followed along for the past 2 weeks. It's been great to connect with so many new people who love nature as I do. Of course this wouldn't be possible without BorrowLenses.com and SmugMug supporting this project. It's bringing me so much joy. I think I will be lost when it's all over.

Posted by AlexisCoram on Thursday, April 9, 2015


After fledging, Caly and Zazu (AKA the chicks) hung around for several weeks as Annabel taught them how to fly, how to eat, how to sleep. See clips from Zazu's first day of freedom below.
The Hummingbird Project: Clinging to a Wall.A yikes moment. Ok, so little Zazu left the nest yesterday. I watched him last night as he bravely attempted some very short flights between branches and trees. In line with the fast development we've seen consistently from day to day, he was much stronger today. He did a couple of solo fly-bys of my balcony and I even saw him heading out of the courtyard, over the 4 story building (Annabel was within just a few inches of him for those trips). I imagine she is showing him some good food sources...possibly in the father's territory. There was one hair-raising moment I saw this evening. Zazu flew towards the building and ended up stuck on the wall over 30ft in the air. Yikes. He started tweeting but Annabel couldn't figure out where he was. I've cut off the first section because it's long (it took Annabel 2-3 minutes of searching before she found him there) but you get the gist here. You'll see Annabel as she trys to pull him off the wall by grabbing his beak with her feet and then feeding him mid-air. It's intense stuff. I've slowed down a couple of pieces of the action for you :)I end the video with a clip of him on one of the top branches in the nesting tree, where he spent most of the evening chilling. Annabel comes over a couple of times to feed him and you'll see him putting his tongue on the branch. Oh, and by the way...I think Caly has decided to stay in the nest forever. She is so cute chilling :) If you've missed any of the action over the past three weeks, head on over to www.alexiscoram.com/HummingbirdProject or cruise back through my page.Thanks to BorrowLenses.com for providing the gear to capture this footage. You guys rock!!

Posted by AlexisCoram on Friday, April 17, 2015


When Annabel's second brood of chicks hatched about 6 weeks later, it was finally time for her to chase Caly and Zazu away. However, they didn't leave entirely and continue visiting my balcony 4 months later. I am thrilled about this!


Here is a small sample of still photographs from The Hummingbird Project. See more here.


To watch more videos of life inside a Hummingbird nest , head over to the video section of my Facebook Page or go to my website


All video and photography included here is the original work of Alexis Coram.
The Hummingbird Project was filmed from over 20ft away from the nest. Super Telephoto lenses were provided by my project partners, Smugmug and Borrowlenses.com, to help me gather this footage in a non-intrusive manner that didn't draw attention to the nest. I used a variety of Nikon, Canon, and Sony equipment to capture video and still media.
Popular in the Community