Wednesday provided a unique snapshot of what's going wrong with Illinois state government finances.
First up was Comptroller Leslie Geissler Munger, who warned that Illinois rapidly is piling up unpaid bills because it's operating without a state budget. Illinois' bill backlog will reach $8.5 billion if New Year's Day arrives without a budget in place, Munger said. The last time the bill backlog got that bad, lawmakers deemed the situation an emergency and enacted a 67-percent income tax increase.
Next the action moved to the Illinois Senate, where Democrats introduced and passed a bill to authorize the comptroller to pay some $2 billion to providers of services for the developmentally disabled and other disadvantaged Illinoisans.
Sen. Daniel Biss, D-Evanston, D-Evanston, said the measure doesn't fix the big-picture crisis, but it can bring relief to a lot of people in the meantime. Sen. Matt Murphy, R-Palatine, said the bill only changes the Democrats' budget (vetoed by Gov. Bruce Rauner) from $4 billion out of balance to $6 billion out of balance.
It was worth noting that Munger on Wednesday urged Rauner and the leaders of the General Assembly to get together and find common ground on a budget. In another press conference earlier this summer, she had been more supportive of Rauner's position that the General Assembly must pass reforms first and then work with Rauner on a budget. Biss is seeking the Democratic nomination to challenge Munger, who was appointed to her office by Rauner for a two-year term, in next year's special election for state comptroller.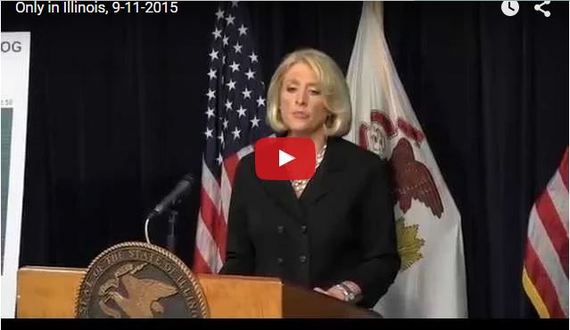 Getting Illinois' unpaid bill situation under control would first have to start with getting a budget passed. Rauner last week caused some confusion among Democrats when he invited them "back to the negotiating table." But it's Rauner who has boycotted that table since the end of legislative session May 31.. Read Miller's analysis of the situation at Reboot Illinois.

REAL LIFE. REAL NEWS. REAL VOICES.
Help us tell more of the stories that matter from voices that too often remain unheard.