As we all have heard, President Obama has nominated federal appeals court judge Sonia Sotomayor for the Supreme Court. And, as expected, the right wing were ready to pounce.
Alright, that's not a real ad, but it might as well should be. And the line of attack, which began in Jeffery Rosen's mostly anonymously sourced column, is ludicrous.
She was valedictorian of her high school. She graduated summa cum laude and Phi Beta Kappa from Princeton. She then studied law at Yale, where she was the editor of the Yale Law Journal.
Maybe the problem is that most right wingers don't know what summa cum laude means. Probably not, though. Most likely, they're just desperately making stuff up to try to stop an extremely qualified nominee.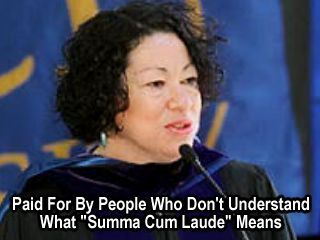 Feel free to follow me on Twitter if you're someone who does that sort of thing.
Related
Popular in the Community