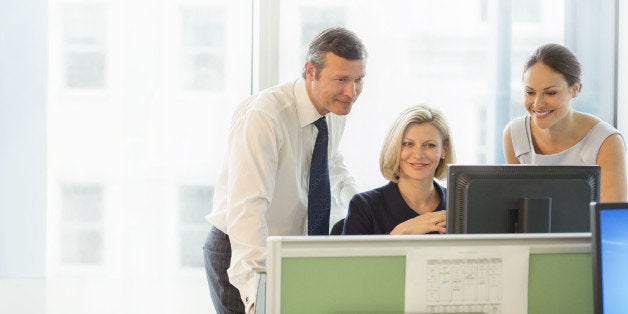 For college basketball fans, the most maddening experience of March is to be stuck at work as the first full day of the NCAA Tournament tips off. The fear of missing out on the buzzer beaters and the confusion that management doesn't seem to understand the importance of your bracket can turn the most thrilling days of the sporting calendar into some of the most frustrating. Of course, office managers and teachers around the country must also get suspicious of the way seemingly everyone under their supervision becomes intensely interested in college basketball as soon as the brackets are printed.
Do people slack off at work because they love the NCAA Tournament? Or do we love the NCAA Tournament because it provides an excuse to avoid doing work?
Whether you're a die-hard, face-painting college basketball fan stuck in a cubicle or classroom while you're favorite team tips off or just a casual observer who would love to keep track of your bracket while putting the new cover sheets on those TPS reports, there are ample options for watching the NCAA Tournament almost anywhere.
With 49 million live video streams of NCAA Tournament games in 2013, use of NCAA March Madness Live rose 168% from 2012, reported USA TODAY. The schedule of the second round and Sweet 16 annually includes games on Thursdays and Fridays, leading to high usage of streaming services by those who can't get to a television because they should be working, studying or otherwise occupied. During first two weeks of the 2013 NCAA Tournament, streamed video views more than tripled from 2012 to 14 million hours, according to The Associated Press. With the March Madness Live app available on more platforms than ever before and another star-studded field of 68 teams competing to cut down the nets in 2014, those view totals figure to rise again.
Do you want to tune in? Does your boss approve? Either way, we've got you covered.

From the television basics and the latest apps available for download to more imaginative ways of keeping up, here are several tips that will enable just about every motivated -- or unmotivated -- fan to watch the NCAA Tournament wherever they may be.
Calling all HuffPost superfans!
Sign up for membership to become a founding member and help shape HuffPost's next chapter