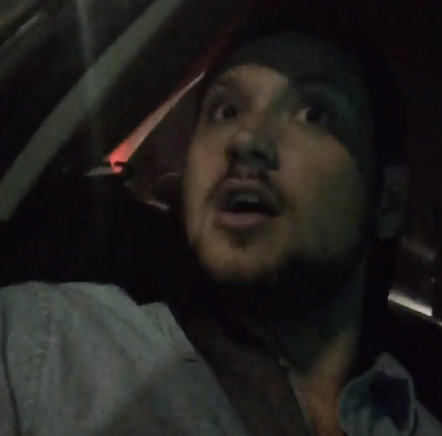 Matt McGorry is not here to let sexist bullshit slide. 
Late Friday night, the "How To Get Away With Murder" actor was in a cab when the driver turned on a Los Angeles radio show called The Woody Show on 98.7 FM. To his horror, McGorry found himself listening in on The Woody Show's insanely sexist segment called "Fat Chick/Skinny Chick," in which the host tries to guess if the woman is fat or skinny depending on her answers to certain questions.
Later that night, McGorry tweeted his thoughts on the sexist segment. Scroll below to see his initial reaction tweets. 
"I remember it from @allisonficht getting attacked in 2015. Where they mocked her for complaining to the producer by telling her to go make 'bacon and eggs,'" McGorry tweeted.
According to McGorry, The Woody Show's social media team was defensive in their response to the actor on Twitter. Although The Woody Show later deleted their tweets, McGorry tweeted screenshots of the responses before they were taken down. 
The Woody Show accused McGorry of lying, claiming that he couldn't have heard their segment so late at night since the show only airs in the morning. 
"@MattMcGorry do you always blindly attack people online? Because you claim to have 'heard' all this on our show," the show's social media team tweeted. "It [sic] sic weird you [can't] come up with dates and times." 
The show also tweeted screenshots from the radio station's Instagram showing their support for Orlando after the June 2016 attack, apparently to suggest that expressing sorrow for a national tragedy excuses promoting blatant misogyny on a regular basis. "This is the kinda people we are," the show tweeted. 
McGorry quickly fired back assuring the radio show he did indeed hear their segment, posting a video of him listening ― and reacting ― to the segment in the cab.
In the clip, McGorry asks the cab driver what radio station is playing. "Man, that's some sexist shit," he says, to which the driver responds: "Nah, it's just a game."
McGorry tells the driver that he thinks it's "fucked up" to guess "if a chick is fat or skinny based on if she likes butt sex." Right before McGorry stops filming he asks the driver to change the channel. 
The next day, McGorry followed up with The Woody Show, tweeting: "I know you deleted about 10 of your tweets and the description off the site. Can we count this as an admission that you understand how bad this game is? (It's ok to apologize btw)." 
The Huffington Post reached out to The Woody Show for comment, but did not hear back by the time of publication. 
Calling all HuffPost superfans!
Sign up for membership to become a founding member and help shape HuffPost's next chapter
BEFORE YOU GO
PHOTO GALLERY
28 Famous Men Who Prove You Don't Need To Be A Woman To Be A Feminist