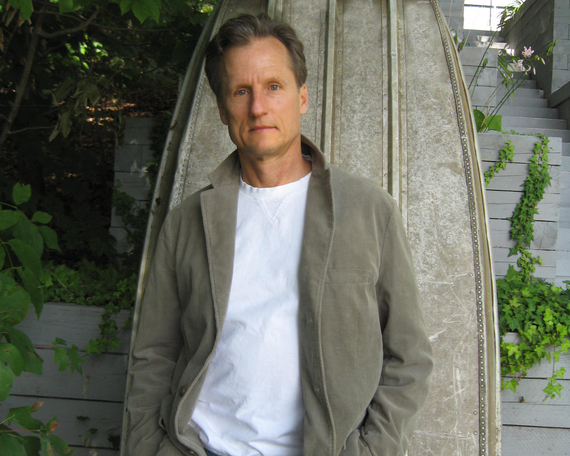 Photo: Elizabeth Rendfleisch
Pushcart Prize and Tobias Wolff Award winner Mark Wisniewski has been part of the literary world for decades. His third novel, Watch Me Go, received early praise from Salman Rushdie. More than 100 of Mark's short stories have been published in numerous print venues including Southern Review and Best American Short Stories. As Fiction Editor of New York Stories and California Quarterly, he acquired work from John Updike and Frank McCourt, among many others. He has been a freelance editor; has taught creative writing courses at prestigious universities; and has written hundreds of poems which have appeared in The Iowa Review, Prairie Schooner and other prestigious publications.
Watch Me Go concerns Douglas "Deesh" Sharp, who has managed to stay on the right side of the law by hauling junk for cash. But after he and two friends dispose of a sealed oil drum, Deesh finds himself betrayed, and running from the police. He's the prime suspect in three murders. The novel alternates points of view between Deesh and Jan Price, a young female jockey at a small racetrack in upstate New York. As Jan recounts the events that sent her life spiraling out of control, the nexus between her story and Deesh's fate becomes clear.
Watch Me Go is written from the alternating first person perspectives of Deesh and Jan. Tell us what made you chose this technique.
I chose the voice of Deesh because Salmon Rushdie selected the short story where Deesh's voice was first heard for inclusion in Best American Short Stories. There was great reader response, and people wanted to know what happened to Deesh after the short story ended. I was nagged by the question, 'What would happen if I allowed Deesh to continue telling his story?' So, I pursued his narrative line in the novel.
And what about Jan's voice?
After I'd written Deesh's voice, I realized every crime has various angles: the accused; the perpetrator; and the victim. We often focus on the perpetrator, or on the accused, who may or may not be the actual perpetrator. Maybe we don't focus enough on the victims or on their families. While Deesh stood accused, another element was waiting to be explored--other people with all sorts of emotions, represented in the novel by Jan. The notion of using both voices was one of those "Ah ha" moments. I'd been writing what I thought were two separate novels, but they were really two sides of the same crime, so why not present them together? I wanted to show the differences between Deesh and Jan, but also point out the similarities.
The voice of Deesh, a black man from the Bronx, is very authentic. How did you capture it so accurately?
I taught writing for twenty years. After getting my MFA, I taught full time as an adjunct at various universities. At most campuses, the students were ethnically diverse. I had black, Hispanic and white students. I required the students to do free-writing--they had to write one-hundred pages in a journal. It could be anything that came to mind. I read all these journals at the end of the semester. One, in particular, caught my attention. It was written by an African-American student, who'd been through some troubles and had played basketball in high school. I just clicked with that voice.
You captured it beautifully.
He was younger than Deesh, but his voice stuck with me.
You once said, "I was a good Polish boy who, if born to be a writer, didn't suspect it until he was older. And didn't declare himself a writer until he was older still." Why was that?
I was brought up on the south side of Milwaukee, Wisconsin. The Polish-American people I knew were economically disadvantaged. It was important to get a job, of any sort. You were grateful for having a job, and did it with a smile on your face. That was the expectation; and you didn't aspire to anything greater in a career. To say, 'I want to be a writer who writes novels that might take years'...as was the case with Watch Me Go, which took decades to complete, would have been absurd. It would have been rebellious.
I understand you actually went to law school.
I went to college at Creighton University, and was largely funded by an academic scholarship. I did very well, graduating summa cum laude. A faculty member had contacts at Georgetown University Law School. Each year, he would single out one graduating senior and expedite that student's entry into Georgetown Law--sort of a ticket to a bright future. I was conflicted about going to law school versus doing what I wanted to do, which was to write a novel. So, I orchestrated a compromise by asking the law school for a one year deferment. I thought I'd write a novel and get it out of my system. If the novel became a success, I could tell Georgetown to forget it.
I'd never written fiction. It's not easy to do: to write, revise, revise again, get an agent, and have it sold in one year. Of course, it didn't happen. So, I failed in everyone's eyes: my parents, Creighton University, and Georgetown Law. Looking back, it was absurd to have expected to pull that off. So, after that one year, I went to law school and graduated.
And then?
I went to San Antonio, Texas where my younger brother was living. The weather was warm; rent and food were cheap. I became a writer--on the cheap--while I substitute-taught high school English. That was the beginning of my career.
You've written short stories. You've also written novels. How do you decide whether an idea will become a novel as opposed to a short story?
I can feel the "legs" in the voice. I certainly felt the legs in Deesh's voice. Maybe it's because I so identify with the journal my student wrote. It stuck in my mind--not just the story or the words--but the sound of his voice. It was as if reading the journal had planted a seed, and there was suddenly a garden of life belonging to Deesh. I could write about it at length and I knew I had a novel.
As opposed to an idea that becomes a short story?
Yes. If you first try it out as a short story, which happened with Deesh's voice, you either feel it's tapped out, and the character leaves the stage and it remains a short story; or, if the voice has "legs" as was the case with Deesh, you know you're on the way to a novel.
Over the years, what has surprised you about the writing life?
What's surprised me is the antagonism of other writers. The writing life has come to feel as if I'm just one of ten thousand sparrows, and there's a handful of crumbs on the sidewalk. It's so competitive.
What do you love most about the writing life?
I love that moment when a work of fiction clicks. It's that instant when I realized Jan's narrative would describe the other side of the crime Deesh was accused of committing. It's that "Ah ha" moment when the story gels in some strange, inexplicable way.
If you weren't a writer, what would you be doing?
Training thoroughbred horses. I have no background in it, but a friend owns some horses and lets me work with him. It's a dream. My fantasy used to be to play in the NBA, but I have to be realistic.
If you could have dinner with any five people, from any walk of life, living or dead, who would they be?
Number one would be Barak Obama. Then, I'd invite Flannery O'Connor, F. Scott Fitzgerald, Gandhi, and Kevin Durant. No disrespect to LeBron, but I just love Kevin Durant.
Congratulations on penning Watch Me Go, a complex novel of suspense exploring family life, redemption, and fate.
Mark Rubinstein
Author of Mad Dog House and Mad Dog Justice
Calling all HuffPost superfans!
Sign up for membership to become a founding member and help shape HuffPost's next chapter