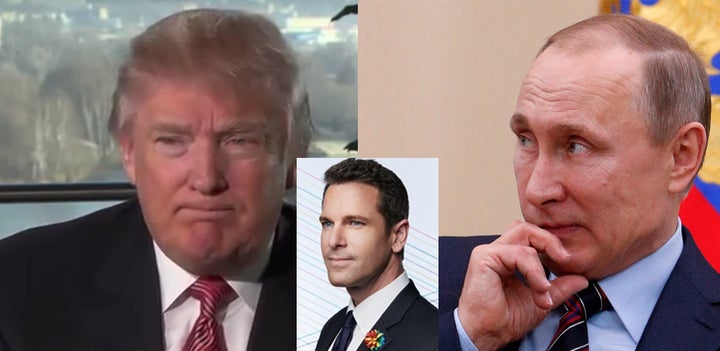 MSNBC television host Thomas Roberts just confirmed the authenticity of Republican nominee Donald Trump's recorded comments saying twice that he does in fact have a relationship with Russian President Vladimir Putin.
But his false equivalence of the Trump's direct prior statement with denials today reeks of media timidity.
"Do Trump/Putin have "personal relationship," said Roberts to his 57,000 followers on Twitter, "Once YES. Now NO!"
The bombshell video has been circulating online for the last week, and became a central issue in the third and final presidential debate when Democratic nominee Hillary Clinton openly accused Trump of being Putin's puppet.
Trump's response amounted to little more than the children's trope 'I know you are, but what am I.'
MSNBC's Roberts claims that he's not ducking the issue of Trump's relationship with Putin, but won't call the Republican's current disavowals lies, merely preferring the false equivalence of saying he's made two completely diametrically opposing claims and treating both as equally valid.
In 2013, Trump would have no reason to disavow Putin, but today he's got to hide his relationship to the dictator for political reasons.
That's why we give more credence to the earlier statement and call Trump's current statements "pants on fire" level lies.
Roberts also claims that he addressed the video he recorded - and conveniently never broadcast until the Democratic Coalition unearthed it - in the link below, even though it doesn't play the video and it doesn't show the MSNBC host saying on air that Trump lied in 2013 or he lied today.
Because both Trump statements about his relationship to Putin cannot possibly be true.
Just watch the video below, and you'll see that free of the spotlight of a national election, Donald Trump unequivocally says - TWICE - that he's got a relationship with Putin, before heaping praise on the Russian strongman and bashing President Obama.
MSNBC's Thomas Roberts should air this video on the network - in full - and come clean to his audience by calling out one of Donald Trump's statements as shameless lies to the American public.
He's not practicing valid, objective journalism by presenting both statements as fact.
If Trump does have a relationship with Putin, it's a disqualifying issue for the Republican candidate.
If Trump doesn't have that relationship, the pathological level of his lying ways in 2013 is also disqualifying, because as you can see from the video he wasn't shy and had a LOT to say about Putin.
Anyone who can lie so convincingly doesn't belong as America's top elected official.
Popular in the Community