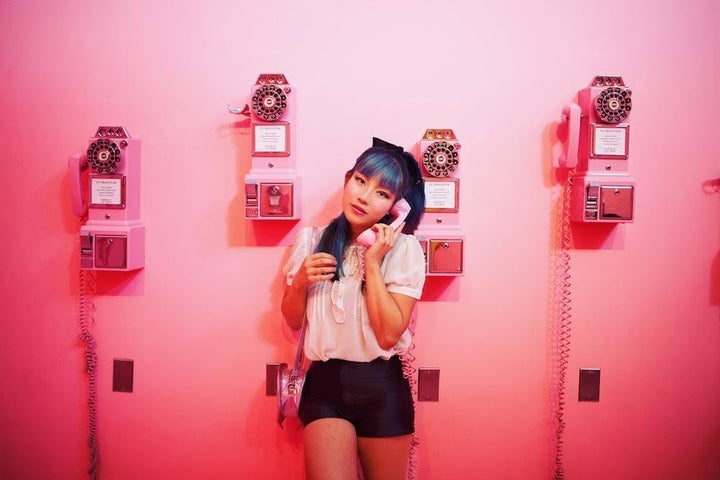 Polartropica just dropped her new single, 'Olympia' and it's going to take your imagination to places you never knew existed. Polartropica is the unconventionally alluring musical endeavor of Los Angeles based, whimsical space-pop artist, Ihui (eeway) Cherise Wu. Taiwan born and California raised, Wu has created a genre of bubblegum psychedelia that you've never heard before, by combining quirky pop melodies, futuristic synths and classical string arrangements.
The name Polartropica came about after Wu heard a song which couldn't be defined by a genre - 'Polartropic' by Mark Foster. Admiring the contrast between both 'polar' and 'tropical', Wu decided to formulate a place where things can exist where they don't belong. Fusing opposing elements, Wu has created a plethora of sounds which defy all sonic worlds. Mixing organic and synthetic instruments, Wu conceived a visionary dream world for listeners to escape to, blooming with creativity. Wu professes, "I wanted to create a healing, inspiring and empowering space with just the right amount of disco-party!"
Wu's new music is an even more glittery and fantastical work of art than ever before. The theme of the new music is a magical make-believe world, with an abundance of dreamlike outer-space sounds seeping into the songs. "I'm hoping to always make ethereal and beautiful music, the songs are generally lyrically sad and a little dark, but the music always has a sparkly sheen", admits Wu.
Polartropica's new releases were inspired and affected by events that transpired in 2016. Lead single 'Olympia' utilizes J-Pop characteristics, with shimmering dreamlike vocals, creating an electro-pop anthem. Thematically influenced by the movements for rights and equality during the presidential elections, as well as the 2020 Tokyo Olympics trailer, it's a rallying cry with an energizing and upbeat message.
Polartropica is focused on bringing everyone together on an audio-visual outer space adventure. Their successes to date include their debut EP Astrodreams being released via Lolipop Records, which was then selected for Les Femmes International Underground Film Festival. They have received numerous film and TV placements. Most recently Wu had the privilege of scoring Yoko Okumura's award-winning short, 'Strawberries Will Save the World'. Polartropica also pride themselves on giving back to the community, by pairing up with organizations such as Planned Parenthood and Youth Justice Coalition for live shows. Integrating 90's pop, classical arrangements and intergalactic space-pop, Polartropica is guaranteed to feed your imagination, with her eccentrically distinguished and imperishable sound. Be sure to check out her socials for new releases and future tour dates, because her live performances aren't something you'll want to miss!
Popular in the Community