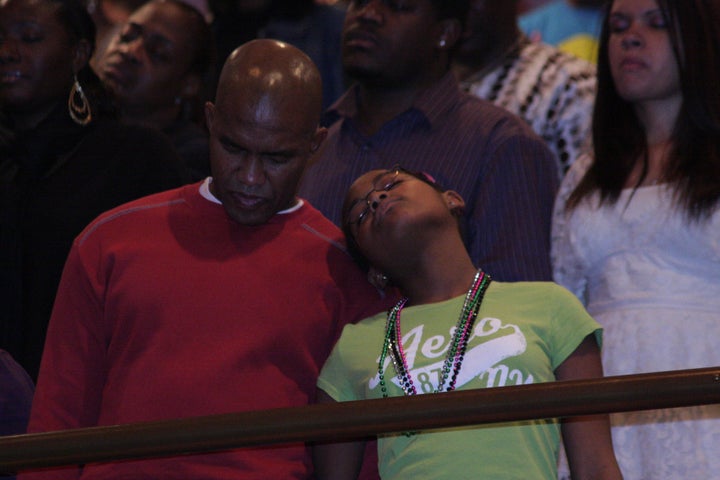 "Watch Night Service" in the Black Church in America symbolizes the historical fact, that on the night of Dec. 31, 1862 during the Civil War, free and freed blacks living in the Union States gathered at churches and/or other safe spaces, while thousands of their enslaved black sisters and brothers stood, knelt and prayed on plantations and other slave holding sites in America -- waiting for President Abraham Lincoln to sign the Emancipation Proclamation into law. The Emancipation Proclamation legally recognized that the Civil War was fought for slavery.
One hundred and fifty years later, African American Christians continue the faith tradition of their enslaved ancestors and gather at a designated meeting space, the church, tonight, Dec. 31, 2012, to celebrate; they are the survivors of a people who were defined in the U.S. Constitution as three-fifths human, shackled in chains and denied the right to vote.
One hundred and fifty years after President Abraham Lincoln signed the Emancipation Proclamation, across denominational lines, African American Christians will join with family members and church members to pray and thank God for allowing them to survive the oppressive Voter Suppression ID laws that were created by states after President Barack Obama was elected the first African American President of the United States. These Voter ID laws mirrored the unethical, racially discriminating poll taxes and voting tests which were enacted after the Civil War.
Like other black churches in America, Trinity United Church of Christ in Chicago offers two "Watch Night" worship services -- at 7 p.m. and 10 p.m. CDT. Thousands of children, women and men will unite in the Spirit of the Lord in the Sanctuary, while other members and guests from as far away as New York, Oregon, Vietnam and Australia will participate in Trinity's "Watch Night" service at www.trinitychicago.org. The Men's Chorus and Sanctuary Choir will lead the intergenerational virtual congregation in "Look Where God Has Brought Us."
It is a tradition in the Black Church in America that five minutes before midnight, men, women and children will kneel, hold hands and pray to God from the present year into the New Year.
One hundred and fifty years after President Abraham Lincoln signed the Emancipation Proclamation into law, on Dec. 31, 2012, African American Christians engage in their prayer posture, and will reflect upon the fact that approximately 11 million Africans were enslaved during the Transatlantic Slave Trade, where 10-20 percent of them died on the slave ships, and the exact number of enslaved Black children, women and men killed or died during slavery will never be known.
Look where God has brought us,
look how far we've come,
we're not what we ought to be,
we're not what we used to be
Thank You, Lord, thank You, Lord,
for what You've done!"
PHOTO GALLERY
Night Watch at Trinity United Church Of Christ Church
REAL LIFE. REAL NEWS. REAL VOICES.
Help us tell more of the stories that matter from voices that too often remain unheard.