This map shows how fast obesity took hold in the U.S., state by state.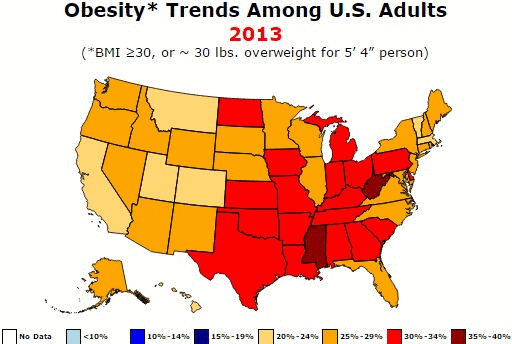 The word pandemic brings to mind an infectious disease that spreads through the world's population causing a global health crisis. So I found it interesting to see that many scientists are now using the term to describe obesity.
As I went through the research, what struck me was that obesity may be more disease-like than we realize.
According one recent study, 81 percent of Americans think that "obese people lack motivation and self-control."
On this point, the latest science seems to disagree. According to Sir David King, the UK government's former Chief Scientific Advisor:
One of the key findings of the report was that individuals had much less choice in the matter of their weight than they would assume, and that the present epidemic of obesity is not really down to laziness or overeating but that our biology has stepped out of kilter with society.
For the last 38 years, the USDA has promoted a "calories in calories out" perspective on obesity, implying that people become obese because they lack the self-control to eat right and/or exercise. But let's not forget, the USDA also spent decades promoting a food pyramid that encouraged a diet rich in unhealthy, processed starches.
Maybe we would do well to break with USDA, and start viewing obesity more like a disease. Science is telling us that the root of the problem is external, so that is where we should be focused.
If the last 38 years has taught us anything, it is that lectures about self control do not make us any skinnier.
Data sources* for the map:
* Because of a methodology change in 2011, the comparison between pre-2011 and post-2011 figures is not exact.