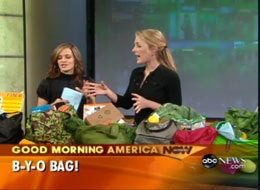 Starting this April 22nd, Earth Day, Whole Foods will up the ante. The leading natural and organic food supplier will ban the complimentary distribution of plastic bags in all 270 of its locations worldwide. Applause, applause, applause!
Though reusable bags will remain available for purchase, Whole Foods will encourage shoppers to BYOB (Bring Your Own Bag) with a five to ten (depending on the store) cent "reusable-bag refund" at checkout--environmentalist's approving smile likely, but not guaranteed.
No doubt Whole Foods' Plastic Bag Ban is great news, especially as large retailers everywhere are sure to follow suit. But as we move closer to impending plastic bag extermination, one can not help but feel a bit nervous . . . "How will I--as lazy, forgetful, busy and overwhelmed as I am--think to bring my reusable?" Others grapple, "I can't even remember to take out the trash, or pick up the kids from school, how will I remember to bring a reusable tote bag?" Many of us awake in the night. Heavy breathing and a cold sweat . . . nightmares of panic at the checkout: 36 items deep, with nothing more than bare hands and a shallow pocket.
It's moments like these we fantasize of a marsupial pouch.
But fear not. From hanging bags on the door, to keeping reusable bags in the glove compartment, there are plenty of simple tricks, tips and contraptions that make "remembering your reusable" routine. Watch here as I present a few of my favorite options on ABC's Good Morning America Now.

For a full clip or to see more of Olivia Zaleski on Good Morning America Now click here (http://abcnews.go.com/Video/playerIndex?id=4390768&affil=wftv).