One summer morning, yet another flimsy boat overflowing with people glides precariously across the Aegean Sea between Greece and Turkey. Men, women and children are clinging to one another when water suddenly seeps into the raft. People sitting on the edges tumble into the sea, while those still in the dinghy use water bottles to try and pour out the seawater. A man named Hassan Akkad, once an English teacher from the Syrian capital Damascus, filmed the entire event.
It's one of many harrowing scenes that refugees and migrants themselves have filmed and it features in "Exodus," a two-hour documentary film produced by Keo Films that airs on PBS' "Frontline" Tuesday.
"Anyone can be a refugee," said Akkad in the film. "It's not something which you choose, it's something that happens to you."
Akkad's ordeal was far from over once he finally reached the shoreline. He told The WorldPost after arriving on the Greek island of Lesbos from Turkey on July 12, 2015, how masked men aggressively tried to push the refugees back to Turkish waters. He survived the terrifying event, and after many months of traipsing across Europe made it safely to the United Kingdom.
Many others have not survived the oddessy across hundreds of miles of land and sea, a voyage that hundreds of thousands of refugees and migrants have attempted in the past few years.
It's become the largest mass displacement catastrophe since World War Two ― 65 million people around the world have been forced to flee from their homes. About 21 million of them are refugees, according to the U.N. Refugee Agency.
The horrific scenes in "Exodus" may have been shot in 2015, but the crisis has showed no signs of abating.
Some of the routes we see in the film have become mass graveyards in 2016, in particular the area between Libya and Italy. More migrants and refugees died this year in transit than ever before, particularly in the central Mediterranean, even though the total number of people making crossings decreased compared to 2015.
And while people once could travel relatively freely across the Europe Union's open-border territory, known as the Schengen Area, several countries took extreme measures to build border walls this year. This has made it nearly impossible for migrants and refugees to travel further west toward their end intended destination.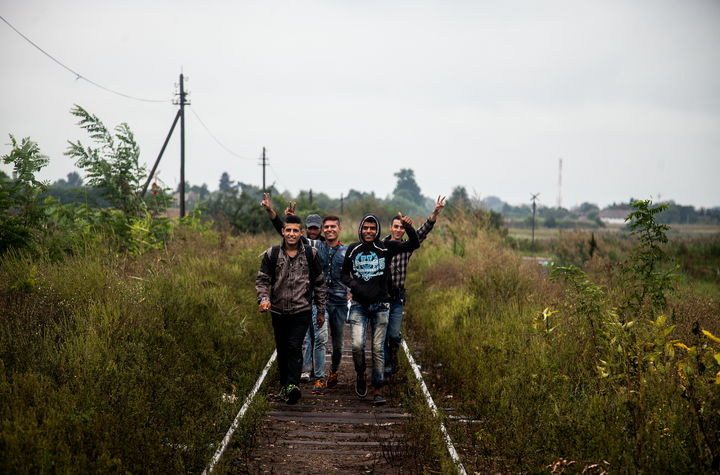 "Exodus" director James Bluemel and his team visited refugee and migrant "hotspots" in 26 countries around the world. They needed to find people who were not only willing to open themselves up to a camera crew but also agree to shoot their own footage on a camera or smartphone "when our presence would impede this footage," Bluemel told The WorldPost.
The show focuses on five main characters, including Akkad, as it launches into the stories at various points along the journey. The others are Syrians Isra'a and Ahmad, Alaigie from Gambia and Sadiq from Afghanistan. (PBS did not disclose their surnames.)
The viewer meets Isra'a while she's selling cigarettes on the street with her father, Tarek, in the Turkish coastal city of Izmir, which has a high concentration of smuggling activity. She and her family spent four months there before they earned enough money to pay smugglers for spots on a rubber dinghy that would take them to Greece.
Alaigie's story begins in his home country of Gambia, as he prepares to leave for Italy. It's an eight-month trip that will take him through several Sub-Saharan African countries before he's imprisoned in Tripoli, Libya.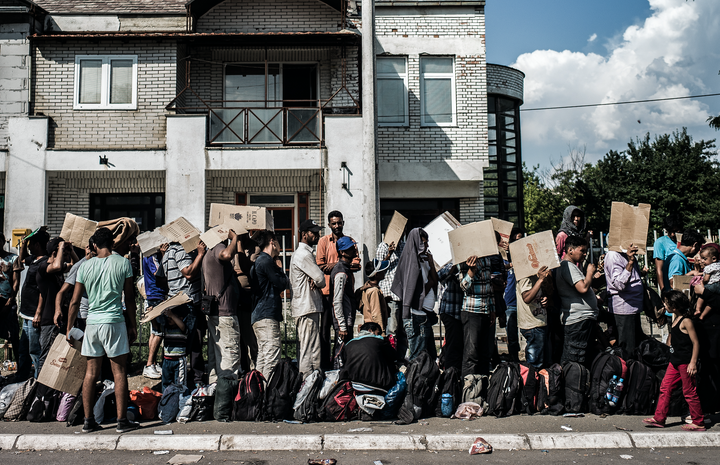 "The idea came from seeing images in the news daily of mainly Africans dying in huge numbers in the Mediterranean Sea off the coast of Libya," Bluemel said.
He chose to anchor the film around footage coming from the people actually making the trip. It's "incredible, unique access that was shot only if you're a migrant shooting that thing yourself," the filmmaker said.
Bluemel conducted a "sort of casting process" to find subjects who would work best with an audience and accept that what is being asked of them is potentially dangerous, he said. Each one took a different approach to filming.
Akkad, for example, "found filming incredibly useful, almost like a crutch or a way to distance himself from reality," Bluemel said. "He filmed absolutely everything and still carries on filming, he found it very useful."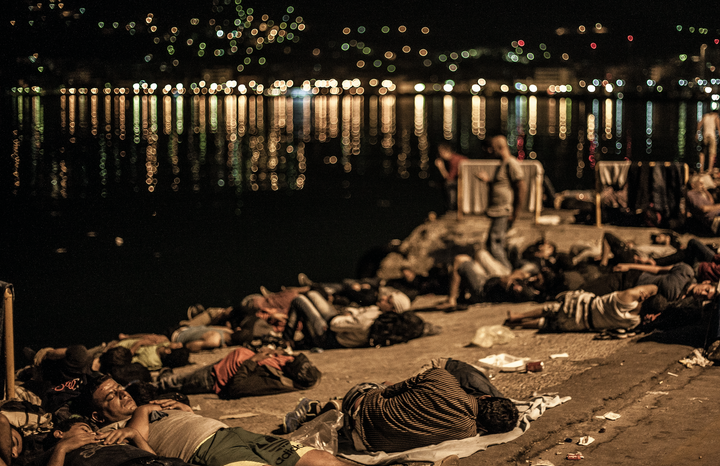 The film ends at the beginning of a new journey for all of the characters ― we don't learn what happens to them once they've reached their final destination.
So the BBC commissioned another three-hour update to "Exodus" because "the situation in Europe is radically different now than when we made that film," Bluemel said.
Greece, for example, became a holding pen for around 50,000 refugees and migrants this year after neighboring countries like Macedonia closed off their borders.
"The sympathy we've had for refugees is quickly disappearing," Bluemel said.
The next episode is more focused on the various places ― like the French border town of Calais or the shores of Libya ― that have been completely transformed as a result of this crisis, one of the film's producers Daisy Squires said.
"It's really more about places and characters within a place," she said.
Going into 2017, the causes that compel people to flee continue to worsen in many countries like Syria or Yemen, making the work of informing and raising awareness all the more important, she added.
Related
Before You Go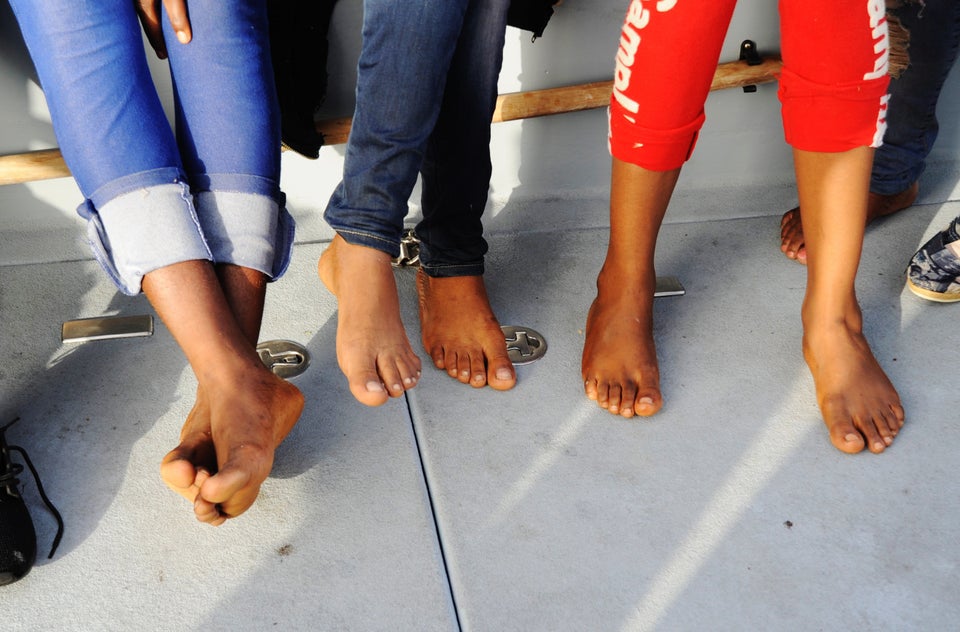 Snapshots From A Refugee Rescue Mission In The Mediterranean
Popular in the Community