He sees you when you're sleeping,
He knows when you're awake,
He knows if you've been bad or good,
So be good for goodness sake.
This particular verse from Santa Claus is Coming to Town has always kind of creeped me out. Mostly because -- according to European folklore -- St. Nick actually has this sinister sidekick called Krampus. And this horned holiday devil will not hesitate when it comes to dropping the hammer on naughty little girls and boys.
So how big a badass is Krampus really supposed to be? Well, if you tune in this Saturday's The Aquabats! Super Show! Holiday Special (which airs on the Hub Network December 21 at 1 p.m. ET / 10 a.m. PT), you can actually watch as this seasonal demon handily defeats five middle-aged superheroes with just a handful of switches.
Now it might an odd choice to build the Aquabats' first-ever holiday special around a beast-like creature straight out of Alpine folklore. But as Jacobs revealed during a phone interview earlier this week, creating a Krampus-centric Super Show! episode has always been a Christmas dream of his.
"When we first got signed by the Hub to do an Aquabats television series and were then compiling possible story ideas for this show, we actually talked about how -- if we ever got the chance to do a Aquabats holiday special -- how we should really make that show 'The Aquabats versus the Krampus,'" Christian explained. "I mean, having our characters do battle with this figure out of holiday folklore who -- thanks to the Internet and YouTube is now very much on America's Christmas radar -- just seemed like a perfect premise to build a Aquabats episode around."
And speaking of building, the Krampus costume which was exclusively created for The Aquabats! Super Show! Holiday Special honestly has to been seen to be believed. It's this feature film-quality full-body suit with hooves and horns that -- when married with the Arnold Schwarzenegger-inspired voice that writer, actor, comedian Robert Smigel does for this seasonal demon -- may wind up temporarily sending some of the sensitive kids out in the audience scurrying out of the room.
Not to worry, though. As he does in all good holiday specials (SPOILERS AHEAD), Santa Claus eventually comes to the rescue. Screaming out of the sky aboard his jet-powered sleigh, St. Nick saves the Aquabats by first attempting to reason with Krampus. And when that effort fails... Well, let's just say that Santa must have watched a lot of WWF back in the day. Because he then begins to deliver a sackful of holiday hurt to this seasonal devil.
Mind you, just like with every other episode of The Aquabats! Super Show!, all of the on-screen fighting is very family-friendly. More to the point, during the Aquabats' dealings with Krampus & Santa Claus, these characters' tongues are always firmly planted in their cheeks.
"That always has been our goal with the Aquabats television series. Creating something that kids & parents can enjoy together whenever they sit down to watch the show. Which is why we've taken a page out of the playbook of the greatest camp TV show of all time, which was the Batman television series from the 1960s," Christian explained. "That show -- with its amazing ability to entertain both the adults and the kids in the audience, plus its villain-of-the-week conceit -- has always been the template for what we've trying to do with the Aquabats television series."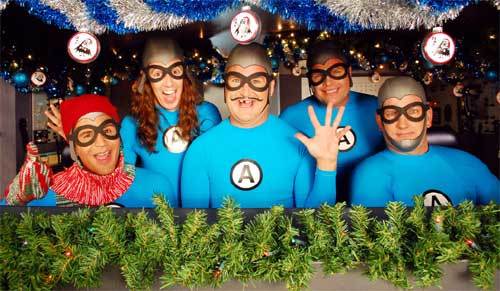 And clearly this effort is paying off, given the recent change in demographics that Jacobs has noticed at Aquabats concerts.
"We'll go out on the road to perform these days. And as I look out over the audience, I notice that there are suddenly all of these 8-year-olds who are out there dancing and singing along, clearly having a ball," Christian enthused. "Which means that Mom and Dad must have thought highly enough of what we've been doing with the Aquabats television show to then pile the family in the mini-van and then drive out on the concert so that their kids can then catch the Aquabats in person."
Which -- as the father of four himself -- pleases Jacobs no end. That after nearly two decades of performing together (The Aquabats! will officially celebrate its 20th anniversary as a group in 2014), the 'Bats suddenly find themselves with this brand-new audience full of kids & adults who are clearly just discovering and now enjoying their campy mix of music and comedy.
And speaking of music... Christian and the boys are looking to head back into the recording studio next month to mix their new album (which may be preceded by a few singles that will be released via iTunes). They're also awaiting word from the higher-ups at the Hub Network about whether they'll soon be able to shoot any additional episodes of The Aquabats! Super Show!
But all of that is off in the future. For now, Jacobs & Co. are just concentrating on getting the word out about The Aquabats! Super Show! Holiday Special as well as talking up the two "special episodes" which immediately follow. These include Shark Fighter! (which airs on the Hub Network December 28 at 1 p.m. ET / 10 a.m. PT) and Kitty Litter! (which airs on the Hub Network January 18 at 1 p.m. ET / 10 a.m. PT).
So if you're now tired of watching all of the wholesome, heartfelt holiday specials that the other networks have been airing and/or have ever dreamed of seeing Santa show off his WWF moves, then be sure to tune in to the Hub Network this Saturday to catch The Aquabats! Super Show! Holiday Special.
Popular in the Community