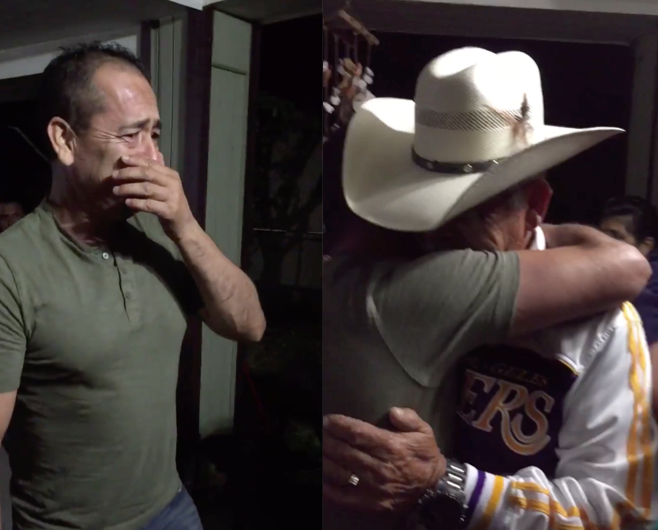 It was the family reunion many people only dream of.
Two Mexican immigrants who had been separated from their parents for two decades had a once-in-a-lifetime moment Saturday when their parents surprised them, reducing the brothers to tears.
Brothers Guillermo Llamas, 49, and Manuel Llamas, 39, were celebrating the upcoming wedding of Guillermo's son, Edgar Llamas, at his home outside Portland, Oregon when the 25-year-old captured the tear-jerking reunion on video.
In the video, the brothers, who moved to the U.S. from Guanajuato as young men, are seen talking and laughing when sudden clapping alert them to approaching guests.
As seen in the 40-second video, the men's reaction was priceless.
"My dad looked and he saw his parents for the first time in 22 years and so that was his reaction. That's when he lost it and just started crying," Edgar told The Huffington Post of his father, Guillermo, who is seen wearing a green shirt in the video.
"It was just amazing," he summed up their tears. "I had it recorded because I knew it was going to be something that a lot of people can relate to."
Also, he added: "It would be something nice to have for us."
The parents' visit from Mexico was something that had been in the works for years, Edgar said.
"My mom, she sent money over there to Mexico so they could get a lawyer. They tried one time to get a visa and they got denied," Edgar said.
The second time they applied they were approved, but the family kept the news a secret from the brothers because of the upcoming wedding.
Edgar said they nearly did spoil the surprise out of excitement, as well as over concerns that his dad and uncle may "freak out and get sick or something," he said with a laugh.
Ultimately, everything turned out amazingly well, he said.
"Everybody's super happy. The wedding was awesome. Everyone just went back to my house and they've just been hanging out and getting pretty much to know each other again because it was so long. The only contact they had was through phone and that was it," Edgar said of the family's years apart.
The brothers' parents plan to stay in the U.S. for as long as their visa will allow. Guillermo is then planning a trip to Mexico for next year. It would be the first time he returns to his home country, his son said.
REAL LIFE. REAL NEWS. REAL VOICES.
Help us tell more of the stories that matter from voices that too often remain unheard.
BEFORE YOU GO