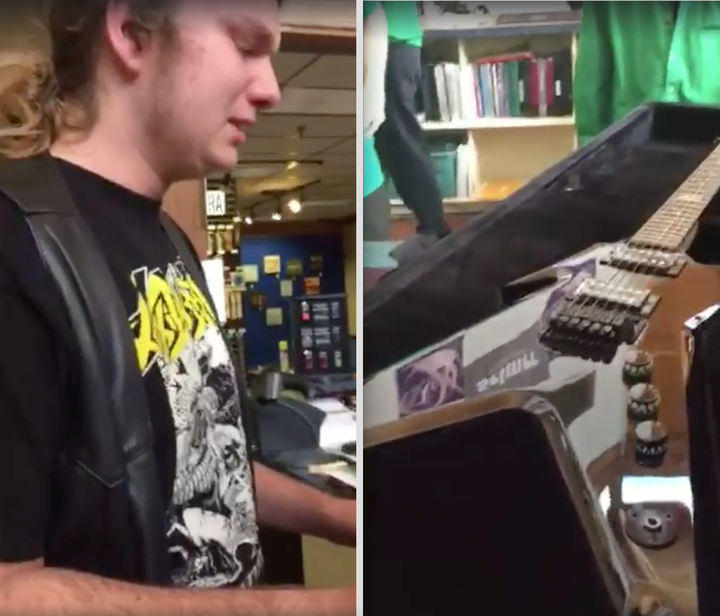 A late father's love for his young son is resonating around the world thanks to a viral video that captures a remarkable birthday surprise.
On Wednesday, just two months after his father's unexpected death, Johnny Crow's older sister drove him to a Port Huron, Michigan music store for his 16th birthday where he was filmed being handed a sealed card signed by "dad."
"Johnny getting a 16th birthday surprise," his sister, Chandler Mae Crow, begins to narrate her video that shows him opening the card and then reading it out loud.
"Ready to see your present?" she then asks, prompting staff to carry a rectangular box up to Johnny, which they open to expose a glistening electric guitar.
"It's for you, man," a store employee tells him as Johnny stares down it, frozen in place.
"Dad bought it for you before he passed away, for your birthday," his sister tells him, prompting a rush of emotion from the teen.
As his sister told HuffPost on Thursday, this gift had been one in the making for some time by their father.
"Johnny has been wanting this guitar for a while. He would joke with my dad about getting it in the future," she said by email. "He was a HUGE supporter of Johnny's music dream and lived for his family. My dad would tell everyone that he knew Johnny was going to be famous one day and worked hard to get him there."
""He was a HUGE supporter of Johnny's music dream and lived for his family.""
Their father, John B. Crow, passed away unexpectedly on April 1st, but not before taking measures to help encourage Johnny's dream, his daughter shared.
Though the family celebrates several birthdays in June, Crow said her father set money aside to afford the guitar for his son.
"Paid every penny off and everything," she boasted.
Responding to the messages, his sister told HuffPost: "Johnny is overwhelmed with happiness with all the birthday messages and inspirational words from amazing strangers!"
Related