In the latest installment of the series, legendary music producer Jimmy Iovine opens up on breaking down barriers with Dr. Dre and Snoop Dogg's 1993 single "Nuthin But A 'G' Thang" [Watch the clip above in part two of the interview]. The Interscope Records chairman revealed the trick that influenced radio programmers to play the classic hit on Pop radio stations.
"There's no reason in the world why this is not being played everywhere in the world, all times, everyday. It was so powerful," he said. "I had my radio people say, 'They're not going to play this, they don't like the way they look forget about the way they sound. They represent too much violence...' I went to my promotion people and they said, 'Let's try something. Can we buy radio ads...' So we brought radio ads, but I said, 'On this radio ad don't say anything. Just buy a minute of music and play a minute of the song...' So what happened was when they started playing it they started getting requests on the commercials."
"I brought it during drive time [rush hour] because I wanted the [radio] programmers to hear it while they were driving home. So then they would hear it in their context. And it really worked, it exploded."
Iovine opened up on how the song's structure reminded him of the Rolling Stones 'Satisfaction' which in fact landed the duo the September 30, 1993 cover of Rolling Stone magazine. Iovine also discussed how he discovered chart-topping hip-hop star Eminem, and the creation of Beats by Dr. Dre high-performance headphones. Check out parts one, two and three of the interview above.
Also, check out an excerpt from Stoute's book below.
Excerpt from Chapter 10: "Tan Is The New Cool"
At one point, not long after Jimmy Iovine had to make the argument to iTunes that most kids didn't even know to associate guitars with music, I heard that the international chain Guitar Center was actually selling more electronic turntables than guitars. DJs have all kinds of new tools and technology for mixing -- including a very cool HP console that Translation helped develop and market in its early stages. There are also programs like Serato that will let anyone with a turntable that hooks up to their computer mix any song on their hard drive as if it was literally on vinyl -- basically allowing you to scratch a computerized "blank" of the record and mix it for repeated usages.

Fab Five Freddy went so far as to say, "There's no excuse not to be creative with the resources available." The climate now, he feels, has close parallels to the early days when the scene and the music achieved liftoff on extremely limited resources. With all this resilience and resourcefulness in the music scene today there is one dramatic difference that had bothered Jimmy Iovine for years. Whenever he and I used to talk -- catching up on this and that, as well as projects we had in the works together -- he would happen to mention how frustrated he was becoming with the dismal quality of the sound that kids today were getting from listening to music on their laptops and with cheap earbuds. Remember those beloved speakers of his that he always used to discern whether a record had transformative powers? After all these years, the importance of the sound experience was still an obsession.
Reprinted from "The Tanning of America" by Steve Stoute by arrangement with Gotham Books, a member of Penguin Group (USA) Inc., Copyright 2011 by Steve Stoute.
For more information on Steve Stoute's "The Tanning Of America" click here.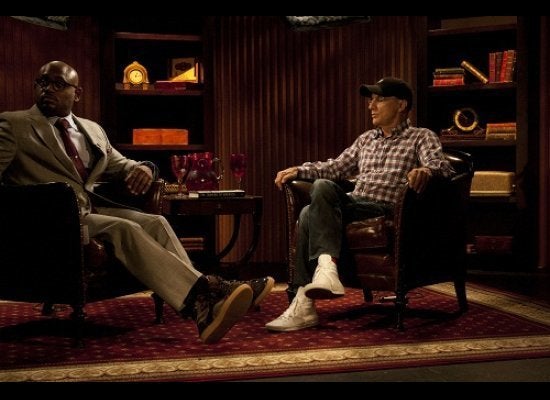 The Tanning Effect: Behind The Scenes, Jimmy Iovine
Popular in the Community