Responsible for crafting top ten hits for many of today's artists, Pharrell Williams has redefined pop music over the course of the last decade. In 2009, alongside production partner, Chad Hugo, Williams (who together are the duo known as The Neptunes) was ranked number one among Billboard's producers of the decade.
Williams' consistent track record of smash hits was just one of the topics discussed in HuffPost Black Voices latest episode of "The Tanning Effect." The "Rump Shaker" producer opened up on trying to convince Michael Jackson's manager to use a selection of beats tailored specifically for the "King of Pop." According to Williams, the late singer preferred a sound similar to the producer's 1998 hit Noreaga song, "Superthug."
"I have been telling him, 'Yo, I got these Michael records [that I did for Michael].' And I'll never forget Michael's manager saying, 'Yo, Michael wants some "Superthug!"' And I was like, 'What?'" the producer-singer recalled. "I remember being so baffled and so crushed, 'cause he still is my idol."
When the initial tracks produced for Jackson were scrapped, Williams sought out Justin Timberlake, who was working with the Neptunes on his debut album, Justified. The songs went on to commercial success, not to mention eliciting a phone call from Jackson.
"Funny story is, when we were working on it, Michael called ... he just called me and he was eating popcorn in my ear [over the phone] and he was like, 'Oh, so you're working with Justin, how's it going?' And you know, it was Michael's voice...it wasn't the high pitched [voice] that everyone else knew. And he's just eating the popcorn or whatever. And I remember just thinking to myself, 'Man, I wish Michael could hear these songs,'" he said (see video 2, 3:00).
"And later on, after those songs came out and they were really huge thanks to Justin's talent and what he had to offer, I'll never forget the day that me and Michael met up. And he sang me those songs, sounding like Justin. And he said, 'You should've gave those songs to me.'"
Helming most of Timberlake's 2002 solo debut was only part of the Neptunes' early commercial success, as they also landed their first global number one hit with Britney Spears' "I'm a Slave 4 U." A 2003 survey that showed that 20 percent of the songs played on British radio -- and a staggering 43 percent of songs in the U.S. -- were written or produced by Williams and Hugo.
For Williams, the accomplishment was a bit weird and inspired him to do different things. "I didn't realize it until I was looking at culture and saying to myself, 'This is weird,' because you start to see it," he admitted. "It freaked me out ... and Kanye asked me, 'Yo, you don't want this?' And I was kind of like, 'Nah, man.' And I remember thinking to myself that I need to go do some other things, because I don't feel like people want to move on from this."
He added, "I'm a southern boy, so you know at the end of the day, humility is everything. And I think credit is to be given, not to be taken. But at the same time, sometimes I need to be told and reminded." Check out parts one, two and three of the interview above.
Also, check out an excerpt from Stoute's tome below.
Excerpt from Chapter 6 "Mirrors and the Velvet Rope"
As an opportunity to grow and change, Jay-Z loved the idea of calling the sneaker line the S. Carter Collection--in tribute to his given name, Shawn Carter. Unlike with the Iverson line, RBK didn't have a sneaker in the pipe ready to be launched. We went through a period when I drove everyone crazy at the company turning down their ideas. Jay-Z was very Zen about the process until one day he announced, "I have an idea for the design." It was inspired by a vintage Gucci sneaker. Even finding an original had not been easy. Sneaker aficionados hunt for them all over Europe and on eBay, and those who owned them back in the day, the illustrious and notorious ballers and dealers, usually had their Guccis stashed away, kept under lock and key. And when we all saw the prototype of the S. Carter, with just enough changed to make it new and authentic for RBK, it took our breath away.

We pulled out the stops, taking radical disruption marketing to places it had never been before. Nobody could even fathom that a sneaker could be marketed like a Hollywood blockbuster movie. On the global launch, we wrapped a private jet in S. Carter logos, took off from New York, and in the middle of the night landed at London's private airport near Heathrow, where hundreds of screaming fans and press stayed behind the velvet rope upon our arrival on the tarmac while throngs of reporters and photographers formed a press line to greet Jay-Z as he descended the steps of the plane, walked briskly to the podium in his S. Carters, spoke into the mic to greet the fans, and took questions from reporters about the new sneakers and whatever else was on his mind. Then he waved good-bye to the crowd, turned around, headed back up the steps and into the private jet, and we flew right on into the night to Italy--where even larger crowds awaited.

Reprinted from "The Tanning of America" by Steve Stoute by arrangement with Gotham Books, a member of Penguin Group (USA) Inc., Copyright 2011 by Steve Stoute.
For more information on Steve Stoute's "The Tanning Of America" click here.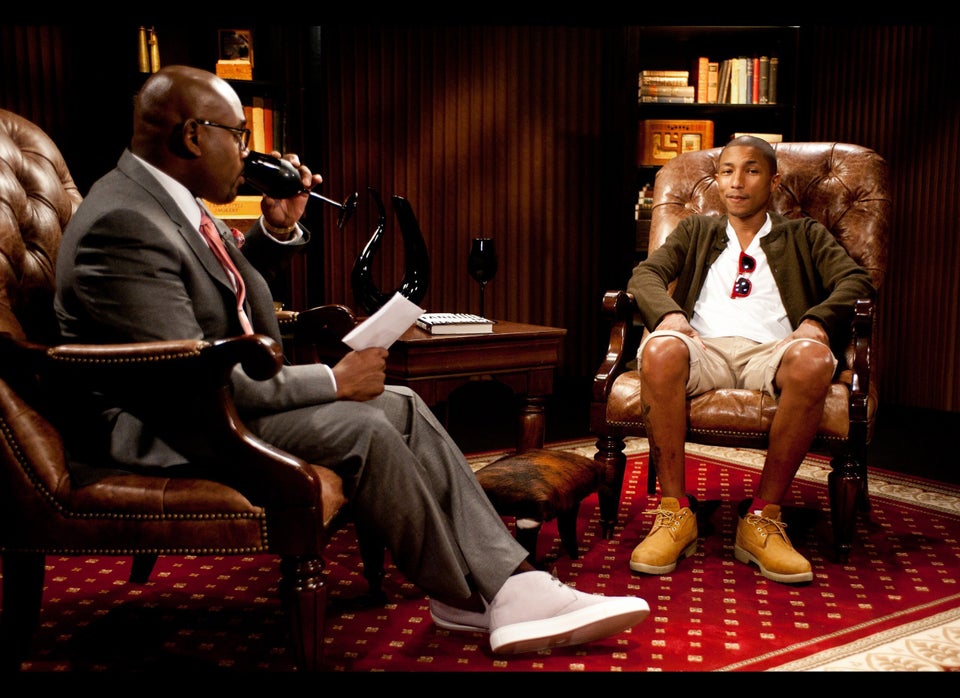 The Tanning Effect: Behind The Scenes, Pharrell
Popular in the Community