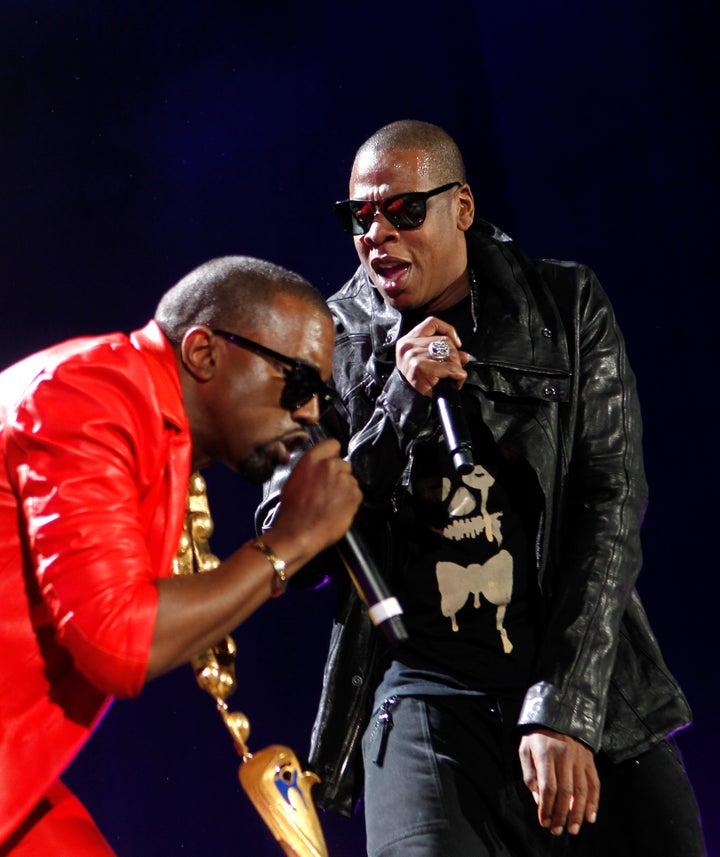 Music fans finally got to hear the much-anticipated collaboration when Jay-Z and Kanye West collaborative album, "Watch the Throne," was released via iTunes at midnight on Monday. As Jay-Z promised, the superstar duo managed to avoid piracy --- there were no leaks --- and the project debuted in the number one iTunes slot in 23 countries, according to Universal Music Group.
"You're dealing with a 'major event' record," Vibe editor-in-chief Jermaine Hall told HuffPost. "Major event projects like these always end up being over-analyzed. There is no way to live up to expectations. Because of the level of talent involved, Jay and Ye could have delivered 'Thriller,' and people would find flaw in the Vincent Price monologue." Now that the opus has been made available to the masses, the question is: "Are Jay-Z and Kanye West fit enough for the "Throne"?
Here's what some prominent music critics thought.
"In general, Watch the Throne works better than it maybe should. It's a pairing of the two biggest rap stars alive (sorry, Wayne!), so bombast is a must. And, indeed, it's all extremes: extreme shit-talking on one side; extreme emotional weariness on the other (things get real megafame-martyr-y on "Welcome to the Jungle." Also, the album ends on a version of the "Forgive them, Father, for they know not what they do" prayer. Swag). Really, that kind of thing should get exhausting after a while. It doesn't."
"You know what's lost in hip-hop is the group dynamic. The reason I love 'Otis' a lot is it's so traditional, but yet innovative in a lot of ways. I think the tradition is MC back and forth, pass the mic."
"Perhaps the most impressive aspect of the album is its unpredictability. Instead of going the traditional route of verse-chorus-verse-chorus-shared verse, each song features a different mix of responsibilities from the artists. Listeners had no idea who would get the lion's share of each song or how each MC would make his presence felt."

"Within an hour, lyrics of "Watch the Throne" flooded timelines and song titles ("Murder of Excellence," "New Day," "Lift Off," and "Made in America") began to trend worldwide. Not only did Kanye and Jay-Z fight and win against the big leak, but they brought a nostalgic vibe by keeping fans waiting to press download."
"Watch the Throne" is neither West's nor Jay-Z's best, but count it as a success, especially getting two performers as dynamic and egomaniacal as this duo to mesh into a cohesive team. "
"Watch The Throne, the first full collaborative effort from Jay-Z and Kanye West, has been deemed by many as an instant classic and others as an overly hyped product by two vets. But, the fact is, most opinions are rooted in baseless or biased opinions, having little to do with the actual music. Most people tend to love or loathe Mr. West and Mr. Carter with very few gradients of gray. Watch The Throne is the most ambitious effort the pair have joined forces on and the world awaits to hear it. The dynamic duo do not disappoint."
"When it comes to listening to hip hop, West and Jay-Z are those friends -- bringing you the bravado, but knowing when to turn it off and let you in on the fact that they too just want to be appreciated and respected. They live in that space between 'yes this is as fun as it looks' and 'but nothing in life is free.' Neither rapper beats their all-time best performances here, but as messy as putting these two careers on the same disc could have been, it's hard to be anything but impressed. They're hard guys to dislike, and the album gets our stamp of approval. Today, the sons of Brooklyn and Chicago did us all proud."