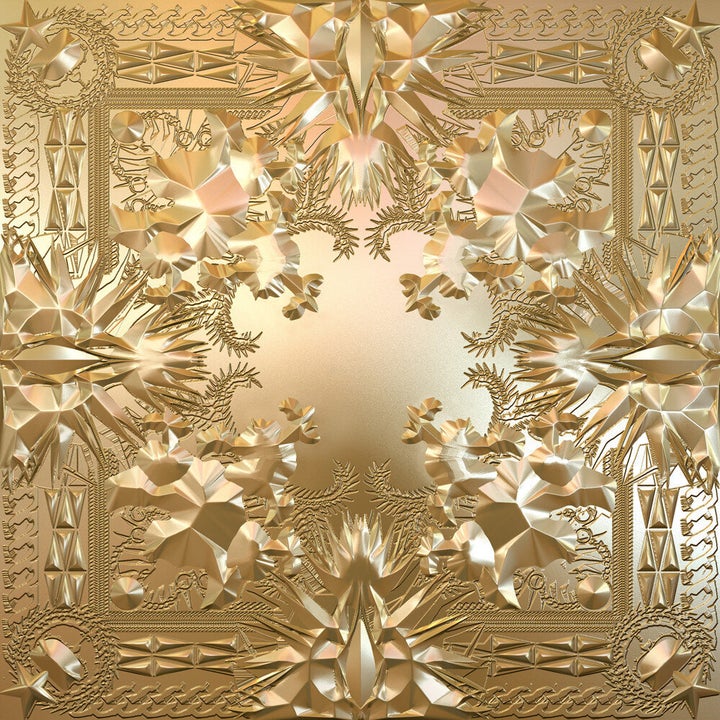 When I was in college, I used to be disgusted by the nightclub "system" -- bouncers who sniffed at nice people who didn't know how to dress or act arrogant enough, promoters who felt great because women talked to them without realizing they were just another number in a bejeweled iPhone. And though I'd go, from L.A. to Vegas to New York, it became my own personal, completely unimportant battle.
Listening to Watch The Throne, the more-than-hotly-anticipated collab album between Kanye West and Jay-Z, reminded me of this sort of indignant, somewhat adolescent struggle, the sense that some things that everyone believes in just aren't right. This is, in a way, the Kanye Method. My Beautiful Dark Twisted Fantasy spent all of the songs that aren't dancey club hits (and some of that are) lamenting how good guys can be wrong, and how no one wants to forgive them (see "Power," "Blame Game," "Hell of a Life," "Lost in the World," "Runaway," "All of the Lights").
By the time you get to the RZA-produced "New Day," you've already heard Frank Ocean soothe, Beyonce croon and re-listened to "Otis." It's a solid album until this point, but "New Day" feels honest in a way only West and Jay-Z can be in mainstream hip hop. The song, an ode to the rappers' unborn children, isn't loud, it's not flashy or technically revolutionary. When West's voice hits the mic, he laments his own mistakes:
And I'll never let my son have an ego

He'll be nice to everyone, wherever we go

I mean, I might even make him be Republican

So everybody know he love white people

And I'll never let him leave his college girlfriend

And get caught up with the groupies in the whirlwind

And I'll never let him ever hit the telethon

I mean even if people dyin' and the world ends

See, I just want him to have an easy life, not like Yeezy's life

Just want him to be someone people like

Don't want him to be hated, all the time judged

Dont be like your daddy that would never budge

And I'll never let him ever hit a strip club

I learned the hard way, that ain't the place to get love

And I'll never let his mom move to L.A.

Knowin' she couldn't take the pressure, now we all pray
By turning the bravado inside out, West invites the listener to wonder if life really is always that great when you're a millionaire rapper. West's creative director Virgil Abloh likes to refer to the album as "luxury rap," but for every mention of a Maybach there is at least one caveat, one price-tag that isn't hanging from a Margiela hoodie. I'm not saying we should all spend today feeling sorry for West and the difficulties of fame, but no one in popular music humanizes the dark side of fame as adeptly as he does.
West refuses to let the rest of us get away with the easy way of looking at things, namely the question of whether or not West himself is a "good person." The problem, of course, is that he can't be both the professor and (uh) college dropout. His fans already like him for his honesty and bravado, but those on the Taylor Swift side of the spectrum refuse to take lessons in empathy from a man they see as too brash, too gold in the teeth. But that doesn't mean he doesn't try.
Jay continues the ethos, apologizing to his future son ("Sorry junior, I already ruined ya / 'Cause you ain't even alive, paparazzi pursuin' ya") and looking ahead towards a life that he admits may include complications ("And if the day comes I only see him on the weekend / I just pray we was in love on the night that we conceived him / Promise to never leave him even if his mama tweaking' / 'Cause my dad left me and I promise never repeat him").
These verses aren't aspirational, they're autobiographical. West's mother passed away in Los Angeles from complications from cosmetic surgery. Jay-Z can't give an interview without being asked when him and Beyonce are planning on fathering a child (in a recent surprise Hot 97 interview, he said he was "looking for the exits" as soon as Angie Martinez asked him when he wants to be dad). In an age of "I love you, love me" synth pop of Ladies Gaga, Spears and Perry, listening to Watch The Throne feels like coming off of happy pills and realizing that it's OK that sometimes, life doesn't just love you the way you were born.
This addiction to challenges carries over into the album's production, with the rappers flipping through genres and tempos and verse structures like a veritable Wikipedia of pop music. They each rap entire verses, they battle line-to-line, Jay dips back into double-time, Kanye drawls out words that should never rhyme. They casually mention the Holocaust, name check everyone from Malcolm X and Mark Rothko to Jesus, Joseph and Mary and drop in Ferris Bueller references for good measure. If not made up entirely of club bangers, no one can question that the album does sound like the two invested a great deal of time (and phone calls, calling in production from RZA, Swizz Beatz and more) on it.
Watch The Throne hits all the necessary bases. "Why I Love You" has that big, stadium-filling sound we've come to expect of Jay-Z's latest work with a drive-with-the-windows-down-ready Mr. Hudson hook. Frank Ocean's two turns, on album-opening "No Church in the Wild" and "Made In America" are as smooth and emotional as we've come to expect from the young Odd Future standout. Understated guest hooks from Elly Jackson of La Roux, Justin Vernon of Bon Iver and Sneaky Sound System's Connie Mitchell provide texture without distracting from the point (this is a Kanye and Jay-Z album!). "Who's Gon Stop Me" is album's most shocking track, with the rap gods descending down to dip into the ever-expanding world of dubstep and spitting over a fat, messy electronic beat that (unsurprisingly) was called in for by the label's A&R.
Avid Jay-Z and Kanye fans will enjoy the semi-hidden delights inherent in the fact that these two heavyweights joined forces (on "Murder to Excellence," Kanye raps "I'm from the murder capital, where we murder for capital," a nugget from Jay's classic "Lucifer").
Eventually, one makes friends who work in nightlife that aren't parasitic status feeders, and going out becomes palatable. When it comes to listening to hip hop, West and Jay-Z are those friends -- bringing you the bravado, but knowing when to turn it off and let you in on the fact that they too just want to be appreciated and respected. They live in that space between "yes this is as fun as it looks" and "but nothing in life is free." Neither rapper beats their all-time best performances here, but as messy as putting these two careers on the same disc could have been, it's hard to be anything but impressed. They're hard guys to dislike, and the album gets our stamp of approval. Today, the sons of Brooklyn and Chicago did us all proud.
Calling all HuffPost superfans!
Sign up for membership to become a founding member and help shape HuffPost's next chapter