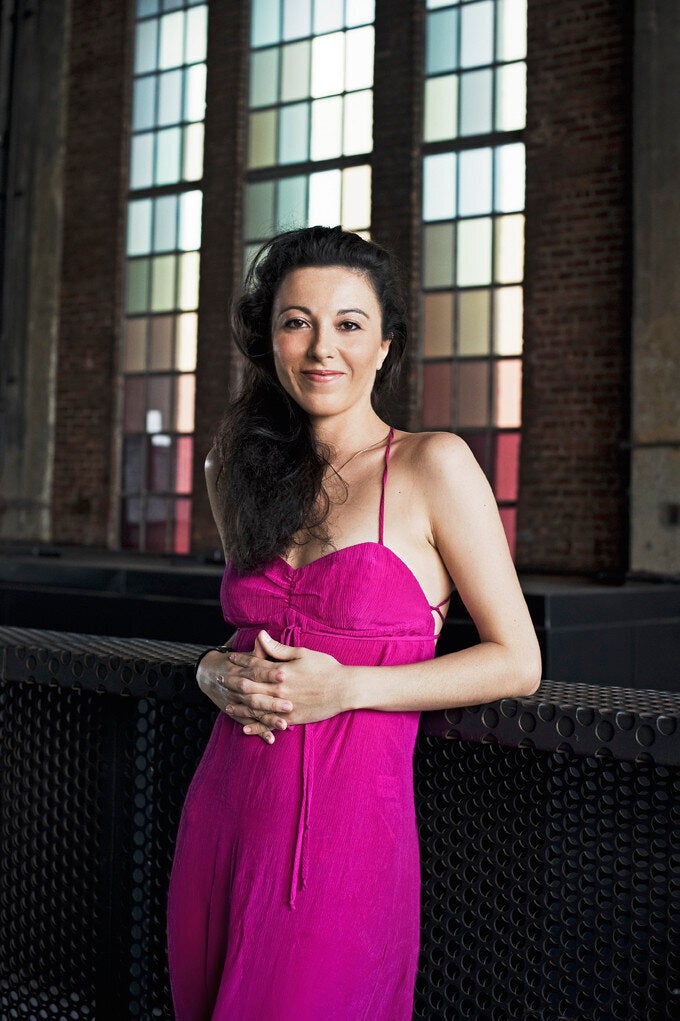 While opera and hip-hop may not seem like the likeliest of musical partners (unless you count "Carmen: A Hip-Hopera"), "Watch the Throne" -- already a best-selling album -- makes good use of the penetrating lyrical tones of the operatic voice to heighten the drama on the tracks "H•A•M" and "Illest Motherfucker Alive."
Aude Cardona, who graduated from the Manhattan School of Music and also works as a Iyengar yoga instructor, is the female voice you hear beneath the beats, alongside Jacob Lewis Smith, a bass-baritone singer. We talked to Cardona to ask her about what it was like to record with Kanye, and what it means for pop music to get an injection of the operatic sound.
How did you get involved? I had a message on my phone one morning and it just said, "Are you an opera singer, blah blah blah." I had just woke up and wasn't very clear minded. It happened to be Kanye West's manager and he said, "You know, we need an opera singer, Kanye wants to do an album with Jay-Z and I was like, whoa that's really weird. I thought it was kind of a joke. [It turned out] a friend of mine who works at Jive had recommended me to the owner of Electric Ladyland and so that's how I got the gig.
What was it like recording? I really loved it. I had no idea what to expect and what was funny is that we recorded at the Mercer Hotel and when you arrive, you're like, "Who records in a hotel?" I thought it was a joke again.
The team was super, super nice. I never met Jay-Z but I worked with Kanye West. I find him a super pleasant guy -- he's the nicest, he's super warm, giving you hugs, being very cute, making jokes like, "Oh, I'm not a trained opera singer."
What was it like working with Kanye? What I really love about Kanye, and what I think is a sign of mastery, true artistry is that he has a very, very clear idea of what he wants but at the same time if you bring other ideas hes totally open to it. Many times what you hear on "H.A.M." is my own improvisation -- when I'm with Jacob [Lewis Smith, the male singer on the track] it's not improv, but on my own it is.
What was it like hearing the track? I had no idea they were going to use what we recorded for seven hours and I was very happy. It's pretty awesome to be a part of mixing hip hop and opera, and I was really moved.
How was singing on this album different from the way you usually sing? When you're a classical singer, you work and work and work. Sometimes it takes you six months to get a very difficult aria down. Here you arrive, you have no idea what you're going to do and all of a sudden you're asked to do this.
Their understanding of how an operatic voice is different. I'm a mezzo soprano and I came in and they asked for a high C -- luckily I have good high notes. And they make tons of takes because they want to have this bombastic sound. Of course, for the part where you hear me a little more at the end of the song, he wanted an operatic sound, but I also know that he wanted to modernize it, he wanted a little bit of gospel-y R&B, but at the same time a pretty sound. It's very interesting because he wanted a lot of different things in a small thing.
Calling all HuffPost superfans!
Sign up for membership to become a founding member and help shape HuffPost's next chapter