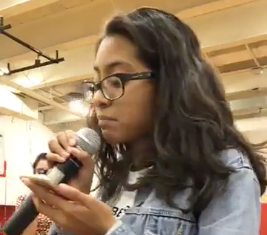 Giselle Mendez came to get answers. 
"Myself and many students here have knocked on your constituents' doors and talked to registered voters all over Staten Island and many from the South Shore to tell our stories and talk to them about the importance of having a clean Dream Act," Mendez said in front of a crowd of about 200 people.
She referred to the push for a bill that would create a path to citizenship for so-called Dreamers ― undocumented immigrants who came to the U.S. as children ― without including provisions for a wall on the border with Mexico or other immigration matters.
Mendez, in her comments to Donovan, referred to her parents as immigrants (without clarifying their immigration status) and said she has a sister protected by DACA. (According to a representative of Make The Road New York, Mendez's eldest sister, Angeles, is covered by the program while she and her younger sister ― seen in the video holding a box of signed petitions ― are both U.S. citizens.) 
Referring to the petitions, Mendez told Donovan: "I want to personally hand this to you so that you would know that Staten Island … does not support having to see families like mine ripped apart."
She bluntly asked Donovan whether he supported "the clean Dream Act that would not put money in the wall or put more money [for] agents that will separate and terrorize families like mine? Will you vote yes and support us to get this Dream Act passed?"
Donovan said there "will be a fix to DACA," but not without the other provisions sought by Trump.
"I support DACA, but I also support protecting the border," he said. "And there's not enough votes in Congress right now to get a clean DACA, clean Dream Act bill passed without attaching some monies for some type of border security." 
Mendez pressed the lawmaker: "And if we do get enough voters, will you vote yes" on a clean bill?
Donovan replied: "I support the president in securing our borders." The young high school girl did not let up, asking Donovan to be "a little bit more specific." 
"I'm in favor of fixing DACA, and I'm also in favor of securing our borders." Donovan said.
"So that's a no," she quickly responded, arriving at the bottom line.
REAL LIFE. REAL NEWS. REAL VOICES.
Help us tell more of the stories that matter from voices that too often remain unheard.