"C'mon, let's go see Palmyra!"

"It's three hours away and I'm tired... I'll go next time," I replied, not realizing it would later become my biggest regret in life.
As a Syrian child born in the United States, my parents made sure I never forgot where I came from by bringing me to Damascus nearly every summer. At first I dreaded the trip, missing long bike rides and delinquent nights with my friends in Buffalo, but year after year I grew accustomed to the journey as Syria unraveled its beauties to me. Syria was catching a bus and going anywhere in town for only ten cents. It was picking up fresh fruit from street vendors, roaming ancient marketplaces, sneaking into internet cafes and taking a dip in the Mediterranean Sea with my cousins. It was a land of discovery as every brick on every corner was filled with history from pre-Roman times until now.
Then came the war - the destruction was rampant, most of my family fled and the ancient ruins of Palmyra gone - a sight that my eyes will never behold.
As the news unfolded I just wanted to reach through my television screen and do something. I was powerless until my father organized a medical mission to aid refugees in Jordan. Having just launched my filmmaking career, I accompanied him alongside my sister to capture the refugee's stories.
My sister Thawab and I filming in Jordan
Boarding the plane felt like a family trip to visit our home away from home again, except instead of entering Syria to admire its beauty we were preparing to document the pain flowing from its borders. At the time documentary production was the furthest thing on my radar, but taking this journey was not a choice for me. It was something I had to do.
The first location we visited was a shelter that a group, led by a Syrian schoolteacher (also a refugee), dedicated to families that lost their fathers in the war. They offer a decent living situation, education and vocational training for refugees in the absence of their breadwinner so they're not forced to live off aid for the rest of their lives. In addition, this shelter is meant to prepare them for their ultimate goal: returning to Syria where they may find rubble in place of their houses. In that case, they are being trained to live and work together while their homes are rebuilt.
There I met Summer. Afraid for her family, she turned her back to the camera to be anonymous and spoke from the heart. Without framing her face, her speech and gestures alone embodied the pain and trauma of the Syrian people, as well as the immense love for home that is universally embedded in our DNA.
It was here that I also met the three young boys whose narrative serves as the backbone of Waiting at the Door. At first glance you wouldn't think that these children witnessed war but their sadness eventually became apparent. All three of them lost their fathers yet cling to hope. Their houses gone but their dreams still stand, dreams deeply intertwined with the desire to return to Syria and rebuild.
Unfortunately my father's medical mission had to continue so we left The Shelter and headed for Za'tari, the most populated refugee camp in the world.
I didn't have clearance to film, so I kept my camera low and followed the doctors to the crowded medical center where I met Dr. Khadija. She had fifty patients to see that day so our conversation was brief but eye opening - before me was a licensed surgeon with the ability to leave the camp and practice privately yet she chooses to stay, living on a meager income in squalor just so she can serve her fellow Syrians until the day they can return.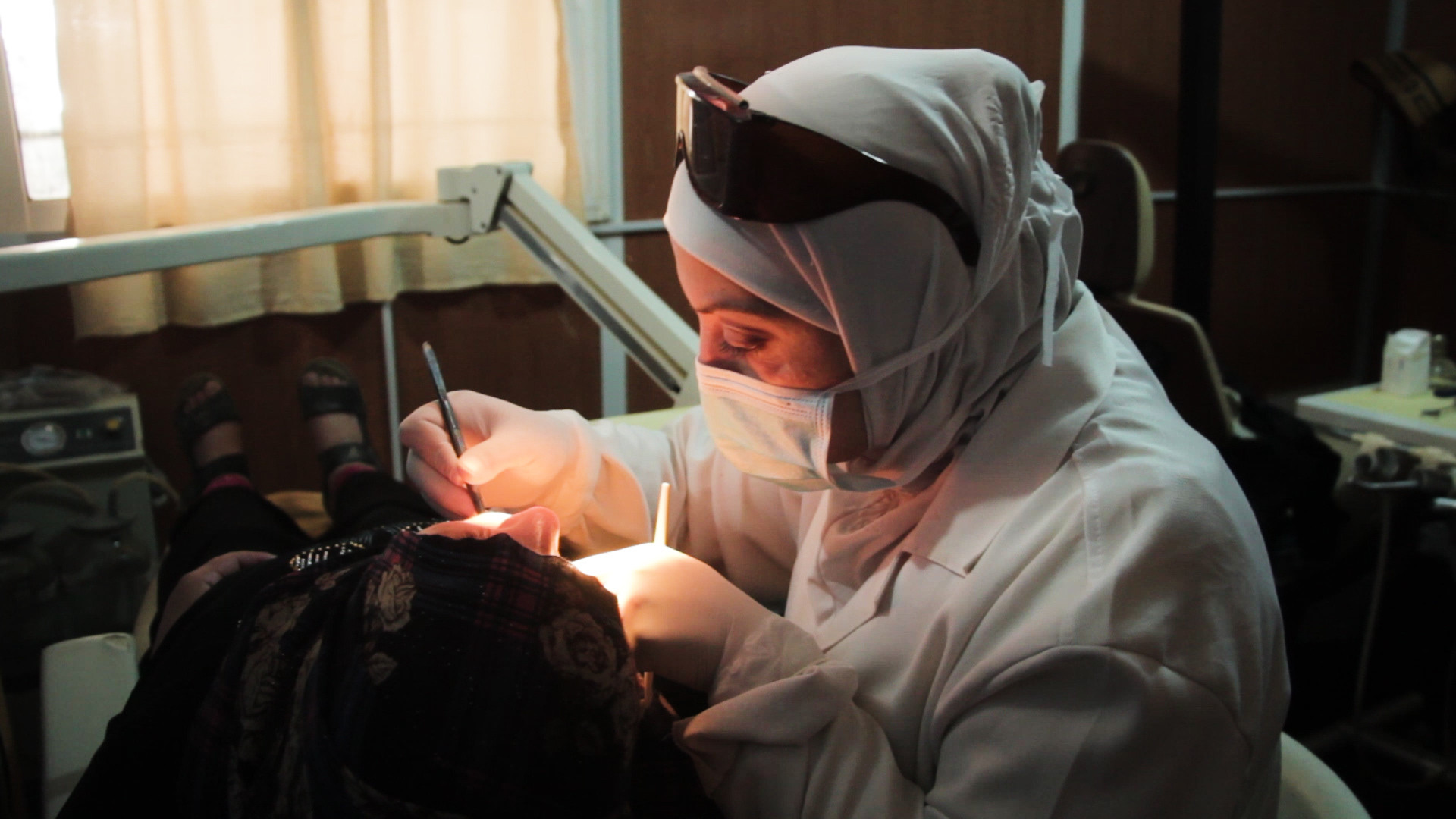 Dr. Khadija at work

After the interview I explored the camp. It was like walking through a set from District 9 with children running around instead of aliens. I followed the kids as they tried to get my attention for some screen time. My favorite moment was when they showed me how to climb onto a trailer to capture a wide view of the camp. I was delighted at the discovery but the joy quickly dissipated as I realized that the trailers and tents that stretched infinitely into the horizon were the disheveled settlements of a once prosperous people.
The trip went on and we captured countless stories throughout Amman. Not everyone made the cut, including the heartbreaking tale of Nada, a nurse that had her hands dipped in gasoline then set ablaze for treating injured Syrian civilians only to put gloves over her scars the next day and continue her work.
As our journey was ending we visited a psychotherapy center run by Syrians to treat the mental health of their fellow refugees. We wondered how the psychotherapists were able to heal others when they themselves suffered from the same trauma afflicting their patients. Alaa's response was short but profound: "Life goes on and we have to have a purpose, at least to help one another."
That statement served as a mirror reflecting the deeper significance of my journey to Amman. When I first dreamed of becoming a filmmaker I always imagined that I'd be crafting epic tales of fiction for the silver screen. I envisioned myself accelerating to the heights of Hitchcock or Nolan, and one day cementing my Muslim-Syrian-American name on the walk of fame.
Yet there I was in Jordan, filming in refugee camps rather than a studio with my own people, broken yet resilient, as subjects instead of actors. It dawned on me that due to my background and talents I'm uniquely positioned to provide a genuine voice for the Syrian people, and in fact every filmmaker has a similar responsibility to serve their community whenever they can. We should strive to become a voice for the voiceless in a world where our conversations are guided by visual media and its often narrow perspective.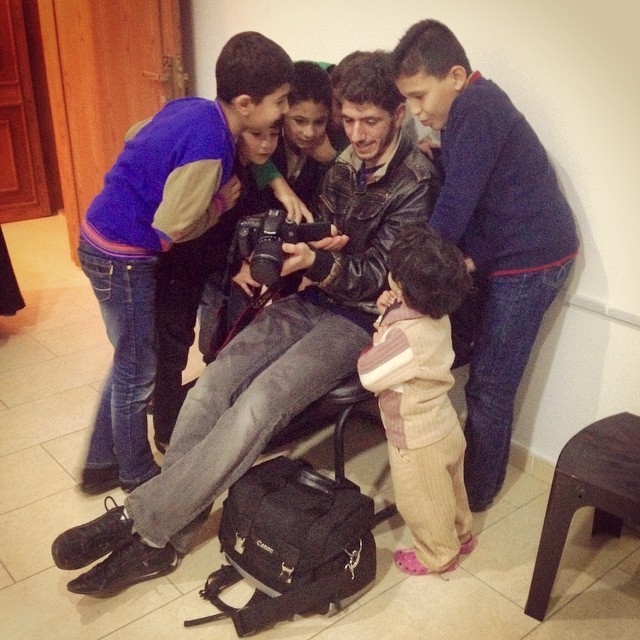 The kids helping me review the dailies
I'm sure many of you are thinking "Well, duh! You shallow dimwit." but as an aspiring filmmaker it's easy to get caught up pursuing the glitz and glam of Hollywood until a Syrian refugee on the other side of the camera says to you with a heavy heart, "Thank you for sharing our message."
Their message is simple. They are not begging for aid despite their immense need for support. They are not aspiring to settle in the West, despite being in need of a new home. More than anything they want to return to their own homes. This sentiment was echoed by every single refugee I encountered, and it's important to point out because some people claim that refugees are simply opportunists hopping borders to crash in some European country. The truth is there is nowhere Syrians would rather be other than Syria, but when you have to watch for stray bullets every time you go out for a carton of milk you are forced to take the only and least favorable course of action - say goodbye to your home and the familiar streets you used to walk and hope that you can pick up the pieces in some foreign country until you can return. It's not a choice they make willingly, and if Summer's tears aren't proof enough then I don't know what is. Hence why I named this documentary Waiting at the Door as it unveils the challenges Syrians face while they await the hands of peace to re-open the doors to their country.
Syria was more than just a summer destination for my family - it was, after all, the land of our ancestors, and to return to the region under such circumstances was unimaginable. I'll admit my memory may be romanticized. Syria was certainly a struggling, developing nation in need of a political revolution but it was also a beautiful, historic country filled with benevolent people. I often wonder what it would be like if my family never left. Chances are if I wasn't killed I would be like the three young boys who lost their father, clinging to faith and hoping to return home so life could be normal again. As tragic as their stories are, unfortunately they represent the best case scenario for most refugees. There are still millions of displaced children without access to education and their future gets bleaker with each passing day.
Until I can return to Syria to see my family and the ancient sites I missed from before, I'd like to visit Jordan again to document where the kids are now and share their stories with the world. Even though they spoke of their aspirations with smiles on their faces, their hearts are breaking. The true tragedy of the Syrian revolution isn't the ancient cities that have fallen, but the will of the Syrian people which still stands today but becomes more fragile as time passes. The world needs to come up with a solution fast - not simply for the refugee crisis, but for Syria so its people may return home once and for all.
For more of my work, find me on YouTube.
REAL LIFE. REAL NEWS. REAL VOICES.
Help us tell more of the stories that matter from voices that too often remain unheard.