The expected trends were presented by Google Vice President of Product Management, Neal Mohan, and Google's Barry Salzman, Managing Director of Media and Platforms for the Americas.
What are Google's seven predictions for display advertising in 2015?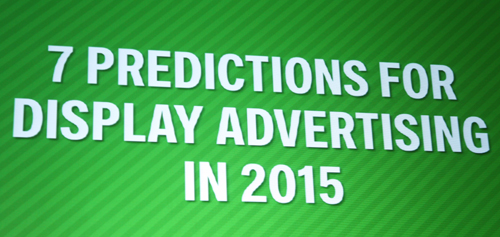 1. Video: 50% of display ads will include cost-per-view video. The prediction comes with the launch of two new video ad formats on Google's YouTube: an "in-slate format" that allows users to choose video ads to view, and an "in-stream format" that auto-selects video ads and allows users to click out of the ad after a few seconds.
Google captures opt-out data from the latter, in-stream format, to better predict what video ads to display for individual users in the future. Rather than bombarding users with more advertising, this style will allow Google to show fewer ads that have more impact and better value for both users and advertisers, says Mohan.
2. Real-time: 50% of ad buying will happen in real time. Instead of a passive price ceiling or automated bid price, Google sees a trend towards ad buyers bidding on display advertising on the fly.
3. Mobile: The most popular screen will be on-the-go. Google is banking on "media bridging" off-line and online advertising with tools like Google Goggles, says Mohan. To demonstrate, the team showed how a user might go directly to a product web page after snapping a photo of a magazine ad with Goggles.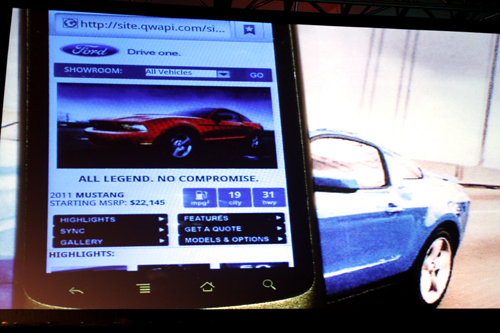 4. Click: Five metrics will be more important than the click. Video views, engagement, and interaction rates are among the metrics Google thinks may kill the click -- or at least move it down on the list of metrics that are most important to marketers.
5. Social: 75% of ads will be socially enabled. "Social is just going to become an integral part of all display ads," says Salzman. The team showed an example of a display ad for the Watch This Space campaign that pulled live tweets about the presentation from MIXX Expo in real time. "It's kind of this meta-media phenomenon," Salzman says.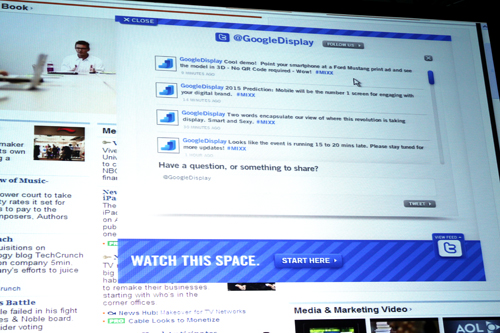 6. Rich Media: 50% of brand campaigns will feature rich media. For example, the team previewed a series of ads that change dynamically based on variables like a viewer's zip code -- and the local weather.
7. $50 Billion: Display advertising will be a $50 billion industry. "The golden age of online display advertising is right before us," says Salzman.