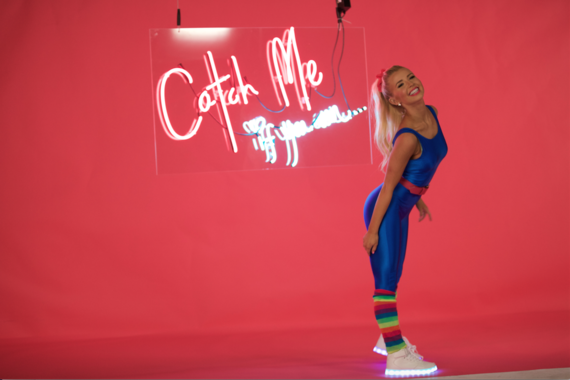 The moment we've all been waiting for is finally here! Tiffany Houghton has released new music for the first time in almost two years.
The singer/songwriter's "welcome back" track is called "Catch Me If You Can" and is quickly climbing the charts since its premiere. The song made its debut on Radio Disney on July 20, was the no. 1 most requested song of the day, and stayed there for over 24 hours! It became available on iTunes and all digital outlets Friday, July 22.
The music video for "Catch Me If You Can" is super girly, just like Tiffany, and is totally giving us those Barbie vibes with those super-cute outfits. However, there's so much more to Houghton behind the hair, makeup, and super cute clothes.
The 22-year-old singer opened up about the song, saying, "People stereotype you because it requires less work than actually getting to know you. I've heard so many times that I'm a fluffy, bubblegum Barbie princess...and sure, I'm a blonde-haired, blue-eyed American girl that wears a lot of pink - but there is so much more."
Tiffany added, "Since I was 15 I've been developing my own brand, independent label and team. Consistent little efforts over a long period of time are what have brought me here. You gotta pound the pavement. You gotta be so good they can't ignore you. The right ones get it."
Check out the music video for "Catch Me If You Can" below.
This post was originally published on Celeb Secrets and can be viewed here.
REAL LIFE. REAL NEWS. REAL VOICES.
Help us tell more of the stories that matter from voices that too often remain unheard.