Bravo and the "Real Housewives" franchise continues to draw millions of viewers, so it was probably inevitable that two whip-smart, comedic voices like Ben Mandelker and Ronnie Karam would get together creating "Watch What Crappens", one of the fastest growing podcasts out there. Ronnie and Ben sat down for a chat with us to talk about the origins of "Watch What Crappens", what shows they love talking about the most, and what they're doing when they're not podcasting.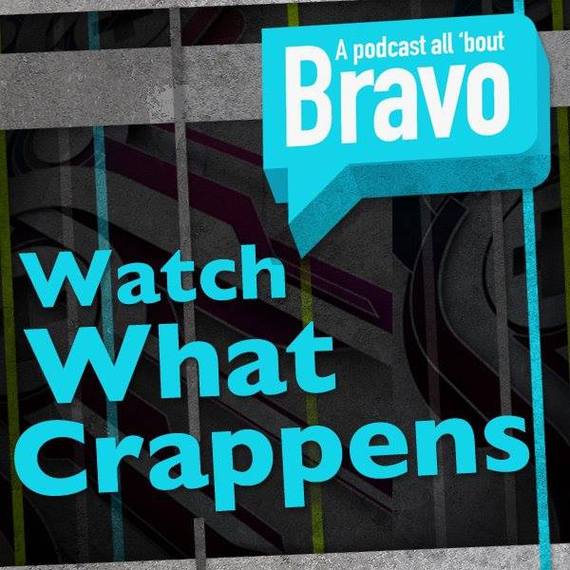 First off, how did the "Watch What Crappens: podcast come to be? Do you remember the shows that you were covering at that time?
Ben Mandelker: Back in 2011, I was the host of a web series called "Housewife Hoedown." I always needed guests, and since I knew Ronnie from TVgasm and Matt Whitfield through friends, I had them on the show frequently -- sometimes together. We all hit it off, and when the video network that hosted "Housewife Hoedown" shut down, we decided to resurrect the series as "Watch What Crappens." The idea was that we would talk about Bravo in general, not just the Housewives; so for that first episode I think we talked about Real Housewives of Beverly Hills, OC, and Atlanta as well as Top Chef: Texas. All in 55 minutes (unheard of these days). Actually, the very first episode we recorded was hilarious, but the file got corrupted, and we had to scrap it. When we convened the next week to record again, Matt wasn't available; so it was just Ronnie and I on that first episode (which is secretly really the second episode).
Ronnie Karam: Ben asked me! I had never met Matt, and I instantly loved how we were these three Bravo nerds laughing our asses off and letting out all this rage at the dumbest fucking shows of all time. I wasn't watching a ton of Housewives-type shows at the beginning, so watching so many hours in such a short period of time really horrified me. I was legitimately mad about what I was watching, and it felt AMAZING!
For those that have never heard the podcast before-describe it for them.
B.M.: "Watch What Crappens" is a totally ridiculous, deep-dive into everything you're thinking while you're watching Bravo. We harp on random details, we create running jokes, and more often than not, we go on totally bizarre tangents -- usually in an effort to make each other laugh.
R.K.: We read way too much into silly shows on Bravo. We recap the shows and we like to kind of re-tell them in our own ways. We do terrible impersonations and live to crack each other up. As time goes on, we've gotten to know the characters and have related to them in many different ways. We are actually friends and we have a great time together. We are in separate places, so we're just two friends skyping and giggling about stupid shit for seven-ish hours a week.
What are your favorite Bravo shows to cover right now and why?
B.M.: Vanderpump Rules is a never-ending font of amazingness. The way people act on that show is hilarious, horrifying, and the perfect grist for our mill. "Watch What Crappens" is never better than when it's Vanderpump Rules> season.
R.K.: I can't stop talking like Lisa Vanderpump, because she's the queen and she just don't give a fuck. So when I have a chance to have long Lisa scenes to riff on with Ben, it's my heaven. The overseas imports are also pretty amazing. RHOCheshire is this super low-budget oddity. We're used to cartoonish personalities on these shows, but the accents are thick and have turned it into a Saturday morning cereal binge for me. Love it, in love with it, want to watch it forever.
You've had some true to life "Bravo-ebrities" on the podcast, including former Real Housewife of New York Jill Zarin and Kate Chastain from Below Deck. Who are three wish-list guests that you would love to have on the podcast? Anyone coming up that you can possibly tease or tell us about?
B.M.: It's hard to think about wish list guests because on the one hand, we love it -- guests allow us to ask all the questions we're dying to ask, and I think it's generally something fun for the listeners. Plus, every time we have a guest on, it legitimizes our podcast, which is really helpful as we grow and try to expand our audience. To that end, I think it's no surprise that I would love Lisa Vanderpump or Lisa Rinna or Bethenny Frankel to come on the show (or anyone from Gallery Girls). As much as we make fun of so many of these people, we ABSOLUTELY LOVE THEM, too. It doesn't make sense. But on the other hand, it's tricky having guests on because so much of the show is Ronnie and I making all these ridiculous jokes and playing off each other, and when you have talent on the air, it can be trickier doing that. But whatever, we'll take whoever! Call us, Kenya Moore!
R.K.: We literally stumble into guest spots and make zero effort to get them. We wait for people to message or tweet us, because we figure if they listen, they can take our humor and joke about themselves. I'd love to talk to the producers and editors, because they are the unsung heroes that turn this poo into art. Getting too close with the stars makes me uncomfortable, because I want to be able to talk as much crap as I want, and I can't publicly do that about people I like in real life.
Much like Amy Phillips, who now as her own show on "Radio Andy", you guys have made your impressions a huge part of the "Watch What Crappens" experience. From Ronnie's "Shannon Beador" to Ben's "Kandi Burruss" you guys really are able to tap into the craziest part of so many of the Bravo-lebrities. Who are your favorite personalities to impersonate? Anyone you have not gotten to really master yet?
B.M.: Kandi Burruss is the Holy Grail of impersonations. I don't know if we'll ever be able to get her voice down. It undulates and modulates and squeaks and growls, all within a matter of seconds. My impersonation of her is so bad that it has actually become one of my signature voices (which sounds so incredibly cocky, I hate myself). Hands down though, I think my favorite impersonation has to be Shannon Beador. First of all, it's incredibly easy. We just say "David? David?" over and over again. It's incredibly soul-replenishing. Also, any time we have an opportunity to butcher a foreign accent (particularly from Melbourne, Cheshire, or London), we are extremely happy.
R.K.: I tend to imitate the people I really understand on a personal level, and Shannon's insecurity really speaks to me. I could (and do) mock her every day. Gina from Real Housewives of Melbourne is another fave, because she's basically a snarky drag queen whose hobby is telling people what morons they are. My impersonation of Vicki of RHOC is absolutely awful and not even close to real life, but I LOVE doing it. She's a ball of mess. Gretchen (RHOC) is also fun, and I use that voice for at least six other characters.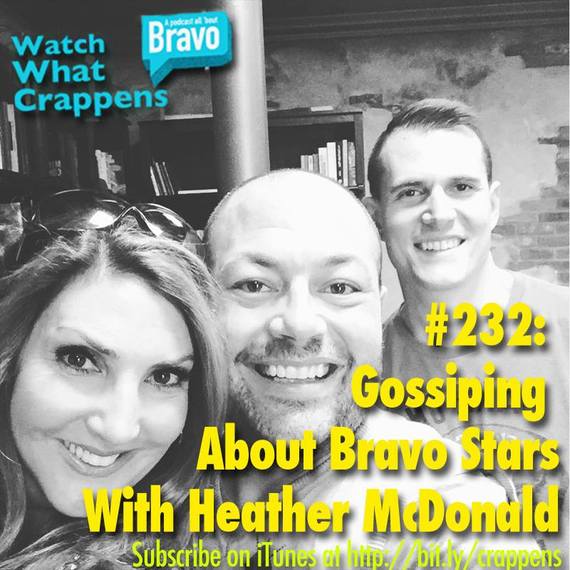 You recently partnered with Patreon to make the show even bigger and much more interactive for your loyal listeners. What's that partnership and experience been like?
B.M.: Patreon has been a game changer for us. Prior to Patreon, we'd get a few dollars here and there from our advertisers, but thanks to Patreon, we are able to pretty much live off the podcast now, which means we can devote more time to it. In the span of a year, we've increased our production schedule massively, churning out two episodes a week (often more than two hours per show) and a bonus episode for our Patreon supporters. The bonus episode has been a great biproduct of all this. It gives Ronnie and me 30-60 minutes to just babble about whatever. We try to cover Bravo gossip, but sometimes we spend the time talking about Food Network or Star Wars or something political. It's so fun doing those episodes, and we get excited when people listen and like them. We've also added this new feature called Crappens Mailbag where some of our supporters can send in questions that we'll read on the air, and that has led to some really funny segments on the show. Plus, we do a monthly Google hangout with some of the listeners, and it's really cool because now we've gotten to know a nice handful of them. Basically, Patreon has given new life to "Watch What Crappens".
R.K.: AMAZING. I have no connection to the physical world. I live only in my head, and am fine with that. I never thought in a million years we would have a listenership that would actually pay my bills! Doing this full time has been a dream come true. I would sit in front of the TV as a kid and joke and make my friends laugh, and I remember saying multiple times that I wished I could do it for a living. And I do. The future is now, people. Plus, it gives us a chance to do bonus episodes, which are generally not at all about Bravo. We talk politics, gossip, news, etc. Or we just talk about our new blenders or complain about traffic. We have so much fun together on every topic, even when we don't agree, and it's really a gift to be able to spread our wings a bit.
With TrashTalktv and The B Side Blog respectively, you both have your own sites and projects that you work on. Tell me about them both. Is it a hard juggling act?
B.M.: The juggling act has gotten really difficult for me. "Watch What Crappens" takes up so much time that I really can't devote too much energy to B-Side Blog. That site was where I used to do all my recaps, but after spending five hours a week babbling about these shows, I really don't have the mental space to then do recaps anymore. I want to, but it's really hard. Instead, I tend to just post things about food and board games on the site these days.
R.K.: TrashTalkTV was an independent spinoff of the now dead TVgasm. So many recap sites have popped up since TVgasm was started, but there is really no limit at our site. We curse, we're totally rude and biased, and we have no f's to give. It's a place where snark addicts come to be themselves and not be attacked by PC or BS rules, etc. I wrote over 7,000 words ripping into the RHOBH recently. I made jokes about suicide, Lyme Disease, hookers, divorce, race, religion... The thrill of putting whatever you actually think down on paper is one of the most freeing things ever. I've learned to love my anger, and when I feel it coursing through my veins, it's absolutely invigorating. There are over fifty writers at the site, and they all kick serious ass. It's a community I'm proud to be a part of.
When Ronnie and Ben aren't podcasting, what can we find each of you doing or working on?
B.M.: I am actually a writer, and I'm currently in the process of adapting a book into a TV pilot. It's a really fun project, and it has nothing to do with reality TV, which is shocking! Other than that, I'm usually playing board games or eating food (my two biggest hobbies).
R.K.: I'm a singer and improviser in my spare time. I do an improvised rock opera at IO West in Hollywood and it's insane. An hour of made-up craziness that seems to work magically almost every time. I also have a fake a capella band and record songs in my closet that only I hear. I love vocal looping and percussion. I sing all day, every day, and make people nuts. Bless their hearts.
What's next for "Watch What Crappens"?
B.M.: I'm hoping for world domination, but aside from that, we're hoping to do more live shows (we did one in Austin this summer, which we labeled "Crap By Crapwest"). We just want to do whatever we can to help get the word our about our show! This may or may not involve me standing on a corner spinning a sign for hours.
R.K.: Who knows? I don't think we planned on the show getting so big. It's been a huge blessing that I never anticipated, and it's taught me that life puts you where you should be, no matter how hard you might be focusing on some other dream. So I'm just gonna chill, yammer, and rage. I figure the God of Rude will place me where I need to be. Or kill me fairly young. I love a nap, so either option works for me.
What's one word that describes your life with "Watch What Crappens" right now?
Popular in the Community