Gov. Bruce Rauner didn't just deliver his Budget Address on Wednesday. He detonated a bomb over state budgeting practices and philosophy that have guided Illinois government finances for at least 12 years.
It was only a year ago, after all, that Gov. Pat Quinn delivered a budget speech in which he urged lawmakers to make permanent his 2011 income tax increase as "the responsible thing to do."
Rauner on Wednesday said precisely the opposite: "This huge deficit is the result of years of bad decisions, sleight-of-hand budgeting and giveaways we couldn't afford. It is not the result of decreasing tax rates. Some in the General Assembly are eager to discuss new revenue. But before revenue can be discussed, reform is essential."
Watch Reboot Illinois' Chief Operating Officer Madeleine Doubek, Diana Rickert of the Illinois Policy Institute and Ralph Martire of the Center for Tax and Budget Accountability discuss the speech and what it means for the state on WTTW's "Chicago Tonight."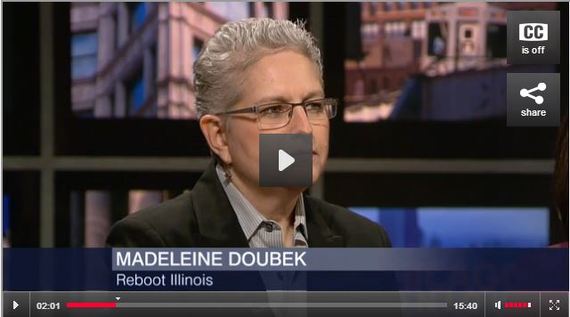 Following the governor's speech, reactions from politicians, business organizations and nonprofits varied. Some loved the ideas espoused in the address: Ty Fahner, president of the Civic Committee of The Commercial Club of Chicago, called it "courageous." Others were not so pleased: the Illinois Education Association released a statement calling the proposal "unacceptable." See other reactions, including from Chicago Mayor Rahm Emanuel and mayoral candidate and Cook County Board Commissioner Jesus "Chuy" Garcia, at Reboot Illinois.

REAL LIFE. REAL NEWS. REAL VOICES.
Help us tell more of the stories that matter from voices that too often remain unheard.