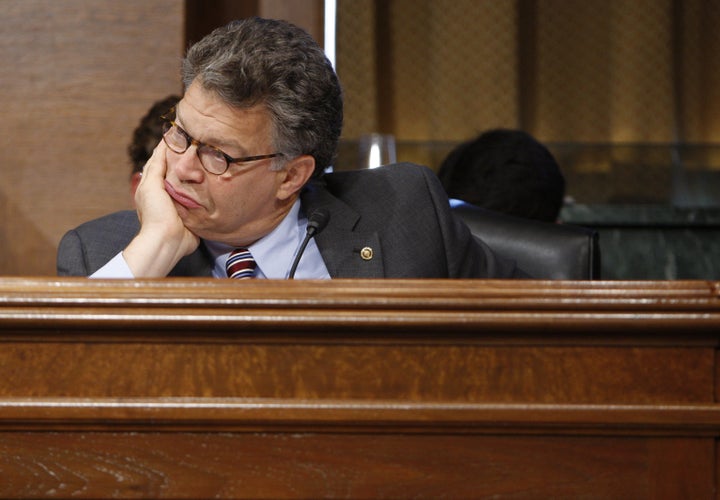 Joe Lieberman must be wondering if his colleagues' respect for him went out the same window that he tossed the public option and the Medicare buy-in compromise that was to replace it.
He got an answer of sorts Thursday afternoon as he came to the end of a floor speech, and ran out of time.
"I'm sorry. The senator has spoken for ten minutes," Sen. Al Franken (D-Minn.), as the chamber's presiding officer, told Lieberman. Customarily, when senators ask unanimous consent for a bit more time, consent is always given.
"I wonder if I could ask unanimous consent for just an additional moment," Lieberman said.
"In my capacity as the senator from Minnesota, I object," said Franken, in what appeared to be a dramatic departure from the long and stifling tradition of Senate collegiality.
"Really?" responded a stunned Lieberman. "Okay. Don't take it personally. I will ask unanimous consent that the remainder of my remarks be included in the record as if read."
Franken was okay with that. "Without objection," he said.
Sen. John McCain (R-Ariz.) rose to his friend Lieberman's defense.
"I must say that I don't know what's happening here in this body, but I think it's wrong. And so I -- it's fine with me that it be 10 minutes, but I'll tell you, I have never seen a member denied an extra minute or so, as the chair just did," said McCain, whose presidential campaign Lieberman backed in 2008.
Franken spokeswoman Jess McIntosh told HuffPost that nothing personal was meant and that Democratic leadership is asking every presiding officer to enforce the 10-minute rule for both sides.
UPDATE: Lieberman and Franken don't seem to be feuding. HuffPost's Jeff Muskus spotted the two senators laughing together on the floor less than an hour after the exchange, as they huddled looking at the phone of Franken's fellow Minnesota Democratic Sen. Amy Klobuchar -- presumably sharing a laugh about media reports of the exchange.
yet McCain can't seem to stop talking about what damage Franken has done to Senate decorum, however. At a press conference Friday, McCain interjected the following after a question about defense appropriations:
"Can I mention one other aspect of this debate that's really unfortunate? I've been around here for more than 20 years. Yesterday, on the floor of the Senate, the senator from Connecticut was finishing up his remarks, and as we always do -- ever since I've been here -- as we always do, he said I'd like an extra minute to finish up my remarks, and was objected to by the newest member of the United States Senate. And in a most brusque way. That's how the comity of this body has deteriorated. We've got to stop, we've got to stop this kind of behavior. I've never seen anything like that, and I hope that I don't see it again," said McCain, even though he's done the same thing himself.
Any further delay would suit the GOP just fine, Senate Minority Leader Mitch McConnell (R-Ky.) said at Friday's press conference. "We don't think this bill ought to pass," McConnell said. "We're not in a hurry to finish."
Popular in the Community