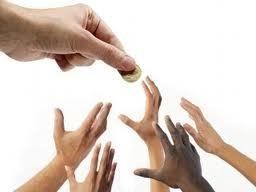 WASHINGTON -- A new charity rating guide by the watchdog American Institute of Philanthropy (AIP), has handed out 'F' grades to dozens of poorly run or shady organizations whom it says donors should steer clear of if they want more bang for their charitable buck.
"A lot of donors assume that if a charity files with the IRS then that means the charity is legitimate," said AIP analyst Laurie Styron. "But that doesn't mean someone has rigorously checked out the charity and determined your donation will be spent the way you intend."
Most charities are regulated at the state level. There are no minimums on what they must spend on programs nor legal limits on how much they may spend to raise money.
A 2003 Supreme Court ruling said the First Amendment prevents states from putting limits on the amount of fees fundraisers can charge charities. Vietnow, the veterans group cited in the case for using a telemarketing firm that kept 85 percent of what it raised, was given a failing grade in AIP's latest report for eating up $89 of every $100 it took in on fundraising costs.
With no "federal watchdog, no investors who will sue if given false information, and loose reporting rules, the nonprofit sector has little oversight and much room for financial manipulation," AIP said in its report.
The group uses a simple rating formula based on the percent a charity spends on program services and the cost to raise $100.
AIP's target for a "satisfactory" amount of money going to programs is 60 percent, though the most efficient and best charities spend 75 percent or more on carrying out their mission. It considers spending $35 or less for every $100 raised as a reasonable fundraising cost. Groups that spend a small percentage on programs and devote the majority of dollars to raising more dollars get low marks.
But some groups that claim to spend a hefty chunk on "programs" may use a different definition than donors. Those pre-printed address labels and note cards that regularly come in the mail to play on your guilt to send back a check? If the fundraising pitch contains a reminder to get a breast exam or gives a statistic about homeless veterans, the group could call that part of its "educational program," Styron noted.
"Most donors would be shocked if they knew that the same charity telling you we spend 90 percent on programs was really using most of your money just to send more direct mail to you," she said.
While some charities get low marks because they are inefficiently managed, others are merely vehicles for "non-profit entrepreneurs" to rake in hefty salaries and perks. Federal and state officials cracked down two years ago, targeting sham nonprofits and fraudulent telemarketers claiming to help police, firefighters and veterans. Yet many poorly run charities continue to live on.
The Christian relief group Feed the Children has been called by AIP "the most outrageous charity in America." It has earned F grades for more than a decade for everything from forged audits to inflating the value of medicines it distributes in developing countries.
Charities that "tug at the heartstrings" with appeals to help children with cancer, missing children, veterans and first responders tend to perform worse in the AIP rankings. Nearly half -- 19 of 42 -- of cancer charities rated got Ds and Fs. Among them: Children's Cancer Fund of America, National Cancer Coalition and the National Children's Leukemia Foundation.
Of 20 charities in the crime and fire protection category, 14 failed to meet AIP standards. The American Association of State Troopers Scholarship Foundation is among the organizations AIP said uses "semantics or creative accounting" to claim it spends nearly 100 percent of its donations on programs.
Then there are the charities that sound like highly rated organizations. "Donors need to be really careful because names can be very similar," Styron said.
The F-rated Breast Cancer Relief Foundation spends as little as 5 percent of its money on programs while allotting up to $86 out of every $100 to raise funds. How many donors who give to it really thought they were donating to the Breast Cancer Research Foundation, which gets an A+ for spending 92 percent on programs and a mere $5 for every $100 raised?
The website of the Parkinson Research Foundation advertises an "educational cruise" featuring "deluxe ocean view staterooms." It chews up $73 out of every $100 it brings in and spends just 25 percent on programs. Compare that to the Parkinson's Disease Foundation, which earns an A for spending 81 percent on programs while its cost to raise $100 is just $11.
Then there is SPCA International, a dog of a charity that is in no way affiliated with the better-known ASPCA, which earned a middling C+ from AIP.
The AIP report isn't all bad news. Charities that focus on the environment, human rights, homelessness and mental health generally earn As and Bs. Also getting high marks: charitable organizations dealing with controversial issues like abortion, guns and gay rights who have a reliable base of donors they can cheaply tap.