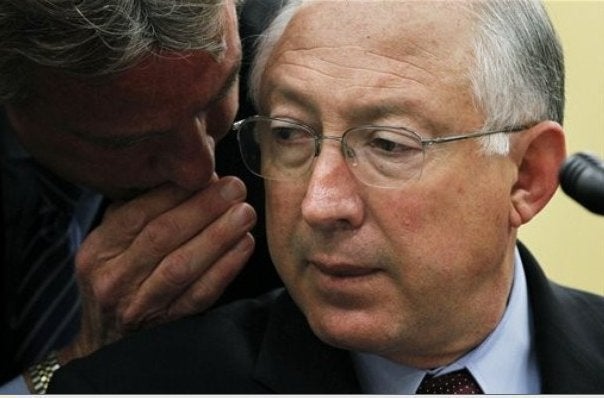 By allowing existing offshore drilling operations to continue despite his six-month ban of the practice, President Obama is ignoring numerous red flags at BP's Atlantis, the second largest deepwater rig in the Gulf of Mexico, claims a watchdog group.
In court filings, Food & Water Watch allege that Atlantis is unsafe, moving for a preliminary injunction that would order the government to shut down the rig, which produces 200,000 barrels of oil and 180 million cubic feet of gas a day. Secretary of the Interior Kenneth Salazar's response was underwhelming, stating that production at the Atlantis will continue while regulators investigate the allegations.
"Their inability to close a rig that is operating without any evidence of safety, especially in light of the Deepwater Horizon catastrophe, has led us to conclude that Secretary Salazar is serving oil interests, not the public interest," said Wenonah Hauter, executive director of Food & Water Watch.
After completing its probe in September, the U.S. Minerals Management Service, which oversees offshore drilling, will determine whether to shut down Atlantis, which operates 190 miles south of New Orleans at a depth of 7,050 feet.
"The Department of Interior is currently undertaking an exhaustive investigation, at the request of Congress, to determine whether BP maintains a complete and accurate set of required engineering drawings for the BP Atlantis," said Salazar in papers filed in federal court last week. However, the department won't have any answers until at least three months from now.
Food & Water Watch's response to Salazar? Close Atlantis or get out of the way.
"President Obama should demand his resignation and find someone who will regulate the industry -- starting with the shut-in of Atlantis until it is proven to operate safely," said Hauter in a statement Monday.
Last month, Food & Water Watch filed the case in conjunction with former BP employee Kenneth Abbott who sued Salazar, the Interior Department, MMS and its regional chief Michael Saucier for ignoring his warnings that Atlantis was not fit for operation.
Abbott, a former project control supervisor for BP, said MMS failed to respond when he brought his safety concerns to them in 2009 and again this year. The MMS had said it would look into the situation and report its findings in May, but apparently the investigation has only just begun.
"Given the quantity of records and need for MMS to focus on responding to the Deepwater Horizon accident, the investigation is only approximately 10 percent complete," Salazar said.
BP, for its part, insists that the Atlantis platform is safe and fully compliant with U.S. law.
About 100 miles north of Atlantis, the London-based company is struggling to cap another well that began leaking when BP's Deepwater Horizon caught fire and sank on April 20, causing the largest offshore oil spill in U.S. history.
"In reality, this is a simple examination that requires the agency to review BP's document databases. It should take mere days, not months..." said Hauter. "Furthermore, the response admits that there has been no meaningful investigation in over a year since they were first notified of safety deficiencies. The agency is simply dragging its feet."
Support HuffPost
The Stakes Have Never Been Higher
Related
Popular in the Community