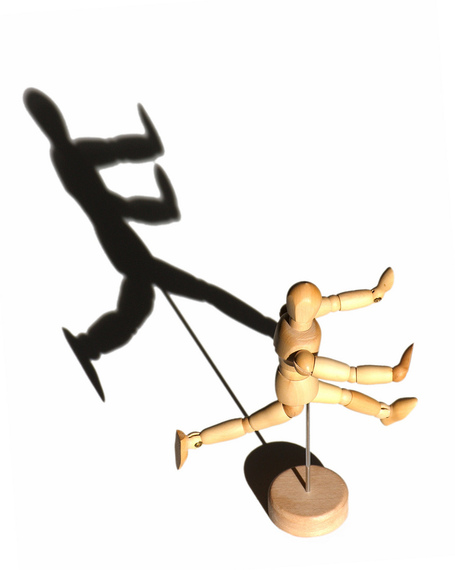 photo by theilr
I was recently asked if I'd consider participating in a program at a local college that aims to pair professionals with Honors students who are pursuing similar careers. The goal is to forge a mentoring relationship.

After hearing some of the details of the program, I expressed my interest. It sounded like a wonderful idea. I thought about how I never had an opportunity like this when I was a student, and how beneficial it would have been.

The college administrator told me what would be expected of me, "To start, there'd be meetings with the student to chat about being a novelist and answer her questions."

"Oh, yes. Yes," I said, "absolutely. Anything I could do to be helpful." I hoped my enthusiasm was obvious.
"It's important that the student have a window into the real day-in-the-life," she added.
"Of course." I agreed. "That's important."
"So, it would be ideal if the student could shadow you."
Silence. Uncomfortable silence.
Had I heard her right? Shadow? I quickly tore off a pair of fingerless gloves I wear in the winter while typing in my drafty office. And without thinking, I started to rake my fingers through my hair.

"Um, what?" I said while I looked down at what I was wearing. I had barely transitioned out of my pajamas and it was 2 o'clock in the afternoon. "Shadow? Like, watch me write?" It was clear that the person suggesting this was not a writer.
"Yes. Exactly! And whatever else you do," she said.
I started to giggle nervously. Partly because it freaked me out to think of someone sitting in my office watching me "be a novelist." The other part of me giggled at the thought of what I'd look like staring into space. Something I largely do during my writing day.

"I mean, I don't know." I stammered. "The most exciting thing I do is periodically forage through my refrigerator. It might be a little boring."
"Oh. Hmm." She said. "Maybe."
"The exciting stuff happens in my head," I added. "And then, if I'm really lucky, on the page. It would be more interesting to read the final product, I think."
In the end we decided it would be best for the two of us to talk about the condensed version of the writer's life: the good, the bad and the ugly. How at different times in one's career, it might mean different things. Whether that's starting a manuscript, finishing a manuscript, re-writing, working with feedback, preparing for a book launch, or marketing. We would also highlight the lowlights: navigating the really tough days--bad writing, a lack of ideas and motivation, loneliness and rejection. The student would also attend book readings and signings, and the talks I give on writing and publishing, marketing and perseverance.

This conversation was an eye opener for me. I never thought about the writing process in terms of what it looks like. It's not pretty; at least not for me. Or exciting. For one, my clothes are shlumpy. I can't be productive when I'm dressed nicely. Secondly, it's very quiet (unless I'm editing--the bawling could get disorderly). There's no office dynamics or politics or food cart emerging from an elevator or brainstorming meetings or presentations to clients or business trips to Asia. I'm sure it looks half as compelling as organizing cotton balls in size order. The magical part is, paradoxically, this dull process to witness has the potential to produce something heart-pounding, petrifying, mesmerizing, outrageous.
Eva Lesko Natiello is the award-winning author of the bestseller, THE MEMORY BOX, a psychological thriller about a woman who Googles herself and discovers the shocking details of a past she doesn't remember.