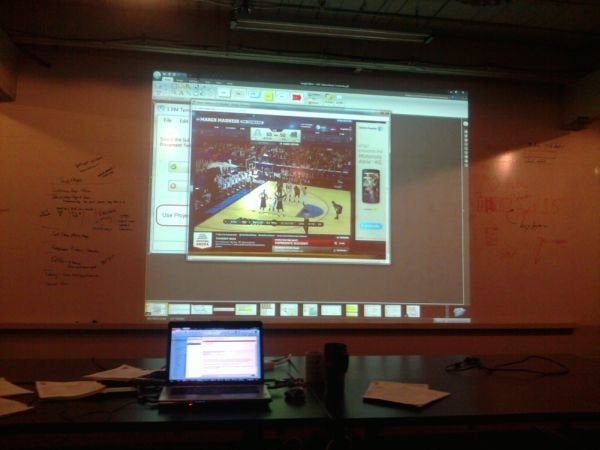 Ladies and gentlemen, it's tournament time. The next two weeks of your life will be consumed by watching young adults play and chant and cheer like their lives are on the line.
There's only one thing standing in the way of full-on fun: your job.
While entering your office's bracket pool may be easy, watching the games at work is not always so socially appropriate. Prowling bosses, conversation-needy co-workers and open office floor plans all pose threats to your ability to ignore your work and watch the games.
But there are ways to make sneaking in hours upon hours of The Madness a little bit easier at work, and we decided to collect all of them and put them in one place for you. The life hacks will make for the smoothest in-office March Madness experience ever when the round of 64 starts on Thursday.
But before we get there, make sure you have two things: A copy of the full NCAA Tournament schedule to set calendar reminders for must-watch games, and your cable, sattelite or Internet subscription service information. The latter of which allows you to access the NCAA's March Madness Live site, which will stream every single game. Be sure to bookmark that sucker too.
Now that you're logged in and familiar with the schedule, here's how to hack your way to March Madness nirvana at work.
1. Liberally use the "Boss Button"
The NCAA is well aware that you're prepared to waste your company's time to watch their basketball games. This year marks the 10th anniversary of the first NCAA-sanctioned "Boss Button" -- a feature built into their streaming website since 2006. Every March, it becomes your best friend. This year, the NCAA has three screen options for you: a fake search engine page, a fake slideshow page and fake class notes: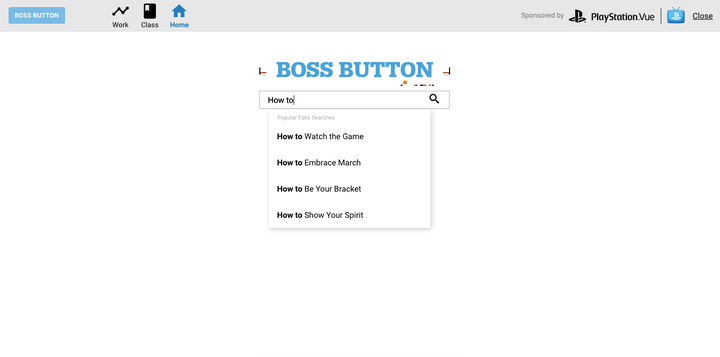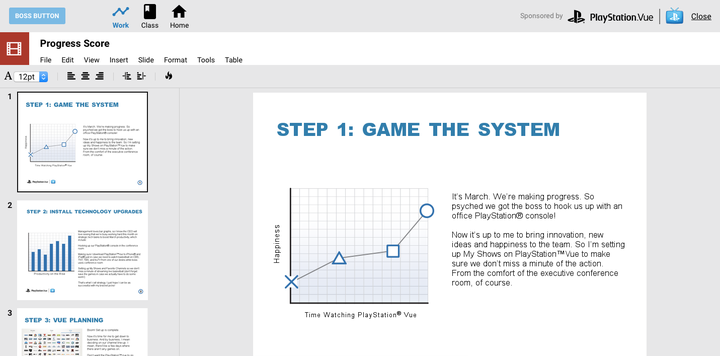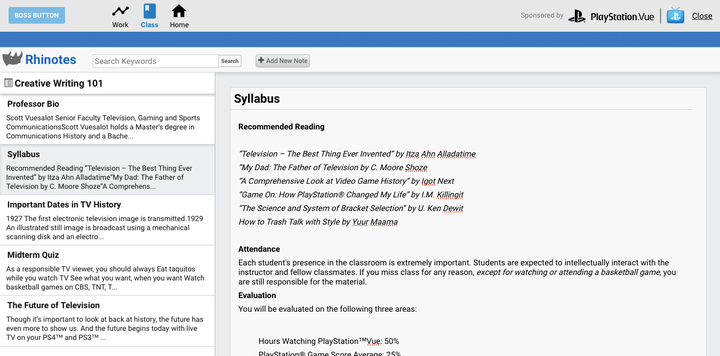 Hit the button in the upper left-hand corner, and the NCAA March Madness Live site will pull up a fake screen that totally looks like something work-related. Boom.
2. Buy privacy protectors for all of your screens.
This is your literal shield from the wandering eyes of your boss. Slap one of these onto your desktop, phone or tablet screen, and you -- yes, only you -- will be able to see what's directly happening while sitting in front them.
You can get these for your computer, too.
These privacy screen protectors come in all shapes and sizes, and it's not too late to score a handful online. If they're out of your budget, just charge them to your company card or expense them. "Work-related confidentially reasons" should be good enough to justify the cost to Jim in accounting.
3. Keep your second (or even third) screen close, and your shortcut keys closer.
Now that your privacy shields are affixed, you're 90 percent in the clear. The boss, however, is an unpredictable entity, and could appear directly behind your shoulder at a moment's notice. Most smartphones allow you to swipe between apps with a few pushes of a button.
Utilize that essential feature to switch from the March Madness Live app to your email app within seconds.
4. Use your phone as a Wi-Fi hotspot.
Some companies don't want to you live your best life, so they've banned access to all the fun websites while you're hooked up to their internet service at work. They're worried that you'll mess around on Facebook all day while using bandwidth-eating streaming sites like Netflix. Whatever. Get around these haters by using your smartphone as a mobile Wi-Fi hotspot and connecting your devices to its network.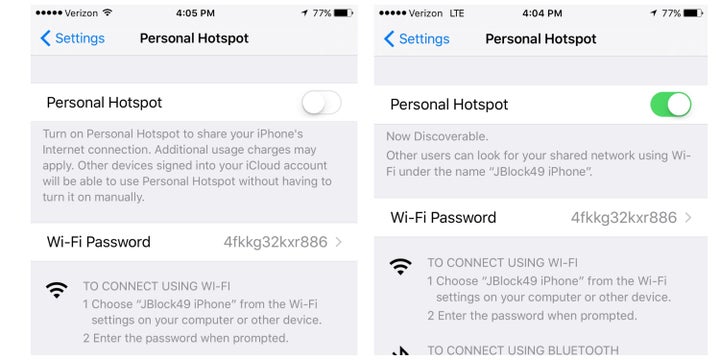 On an iPhone, it's easy to do. Go to Settings, then Personal Hotspot and then toggle the on/off button to your employer's clueless dismay. Stay winning.
5. Have a headset connected to your chosen device at all times.
Watching the games at work is already a triumph, but let's get greedy now. Watching the games without hearing the potentially legendary commentary and the roar of the crowd just isn't the same.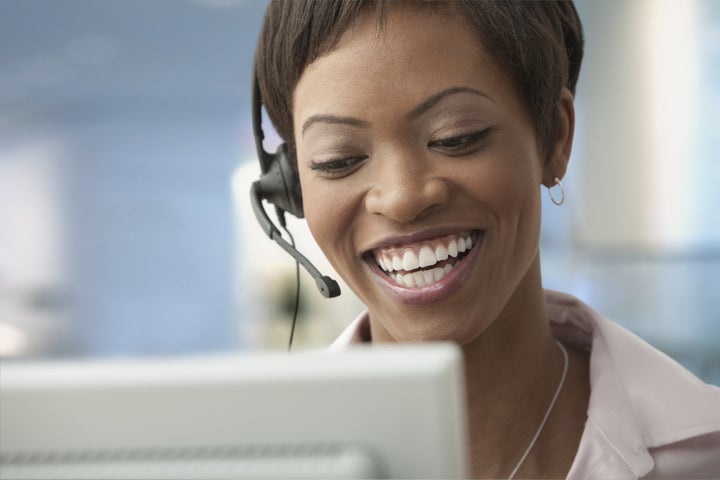 Yes you could use headphones, but a headset is better, as it works as an excuse to shoo co-workers and your boss away from you when they try and get your attention for something inane. Just pretend that you're on a really important phone call.
6. Use multiple virtual desktops within one tangible desktop.
Making a great escape from one screen to another has never been easier. If your computer's OS allows for multiple desktops, start lining them up. On a Mac, swiping up on the trackpad with three fingers will reveal this screen, and using the plus sign in the upper right-hand corner, you can add desktops at will: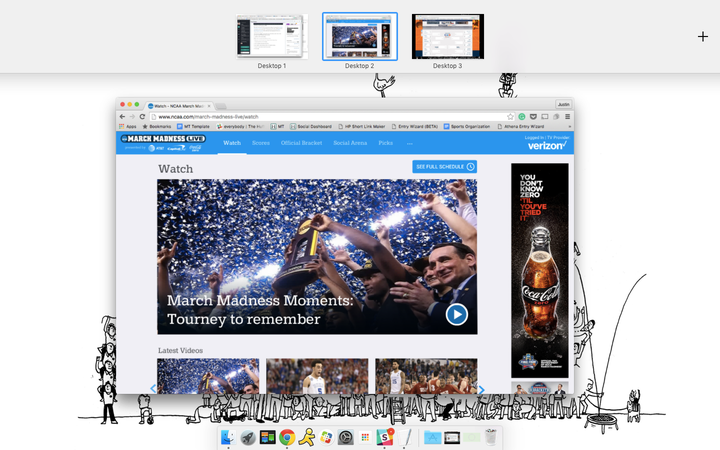 Above, we have three desktops ready for action. Have one browser window open for every game you want to stream, and spread them around to as many desktops needed. Just make sure at least one of them is devoted to, like, work stuff.
7. If you're on your break, make that very clear.
Everyone needs a break at work. Humans are not robots (yet). Working straight through an eight to 10-hour workday is bad for your health, and if your employer doesn't understand that, assume that they want you to die on the job. Thankfully, many bosses are chill enough to see the value in the occasional 20-minute break every few hours, so take advantage of that to watch some March Madness out in the open with your buddies.
What you do on your break is your business, so catching a half of a March Madness basketball game risk-free on company time is perfectly acceptable here. Hanging up an "ON BREAK, DO NOT BOTHER" sign on your desk will do, or simply hiding under your desk should visually get the message across. If your office space has lots of little conference/huddle rooms, duck into one of those.
8. And do not scream loudly at that amazing game-winner.
Don't give it away. Screaming "OH MY GOD DID YOU JUST SEE THAT?" will not only expose your dumb March Madness-watching butt, but it also may startle Muriel from human resources. Tweet your emotions instead.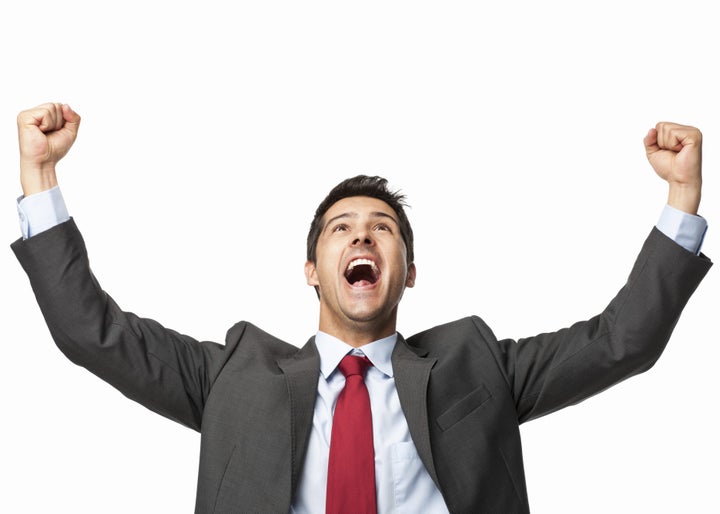 Now hack away, you college basketball-watching degenerates.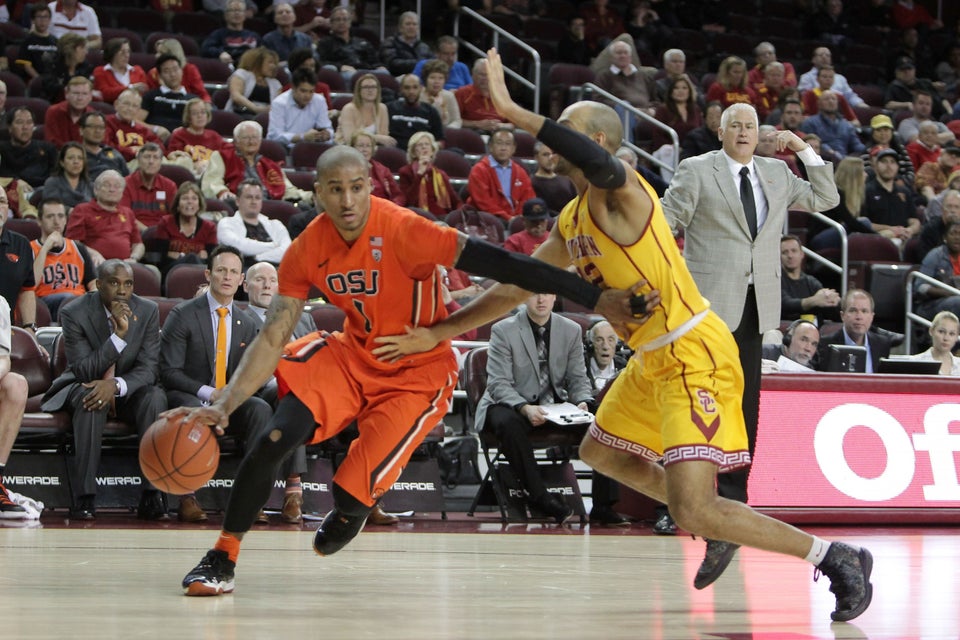 17 Names You Don't Know Now But Will By The End Of March Madness